WILLIAM B IRVINE (1843-1918)
CREE WOMAN (?-1872)
MARGARET CATHERINE PRITCHARD (1862-1896)
(Last Updated: June 17, 2015)
In 1843 William B IRVINE was born in Kirkwall (Orkney Islands of Scotland), son of Ann LESLIE (formerly BORWICK) and John IRVINE.
Inspiration for developing this linage comes primarily from William's great granddaughter, Barbara Petepiece, who made a donation and is sharing information and pictures that she has gathered from many years of excellent research. Her comments will be found under the various related Forum Topics.
In the Service of the Hudson's Bay Company
1862
On Feb 15, 1862 William signed a work contract with the Hudson's Bay Company (HBC) in Stromness, and on July 6, 1862 he sailed to York Factory aboard the Prince of Wales, arriving there on August 13.
Mackenzie River District
1863
In 1863 William was posted to the Mackenzie River District.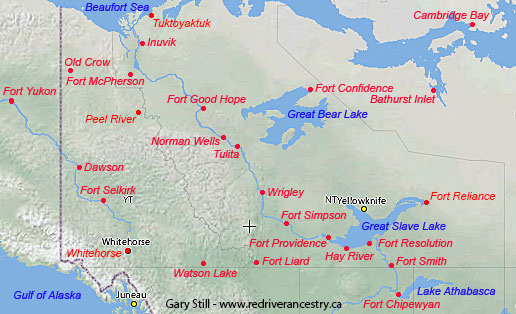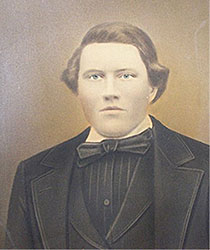 William Irvine about 1869
A Cree Wife
1872
By 1872 William was united with a Cree woman of unknown origins. Daughter Jessie was born that year, and William's Cree wife died before 1881.
From 1876 to 1878 William was the Postmaster at Fort Halkett (Toads River). Located in northern BC at the confluence of the Smith and Liard Rivers, southeast of Fort Liard as shown on the map above.
From 1878 to 1882 William was the Postmaster at Fort Simpson.
Census of 1881 at Fort Simpson: William IRVINE, widowed Fur Trader (age 36) and his daughter Jessie (age 9). They are with the family of Chief Trader Julian Stewart CAMSELL (1838-1907).
** MORE ABOUT JULIAN CAMSELL in MHS
Marriage to Margaret PRITCHARD
Fort Norman
1882-1900
In 1882 William was posted to Fort Norman (Norman Wells on map above) where he married Margaret PRITCHARD, the daughter of Catherine MATHESON and Richard PRITCHARD (1835-1914).
** MORE ABOUT RICHARD PRITCHARD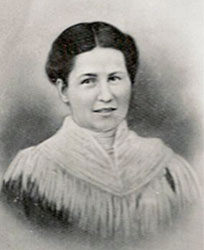 Margaret Catherine Pritchard-Irvine
From 1882 to 1900 William was a clerk at Fort Norman (Norman Wells on map above).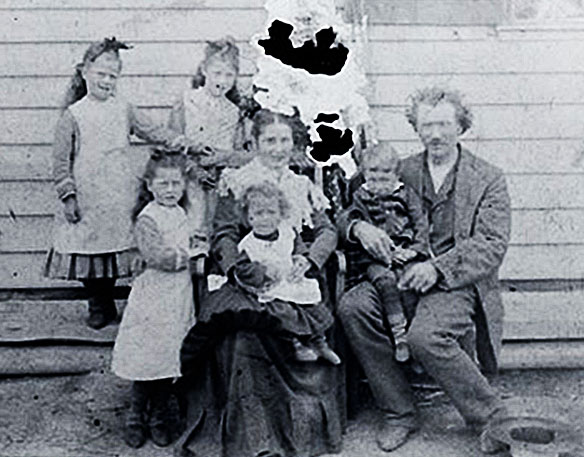 The William and Margaret Irvine Family around 1891
Rose, Margaret (with Dora), William (with Ned), Lena, Rita and Jessie
Jessie was "Rubbed Out." Her aboriginal heritage was apparently distressing to someone.
(Photo from Barbara)
Census of 1891 in the Mackenzie River District: William IRVINE, Clerk, age 47; wife Margaret, age 28. Children: Jessie (age 20), Theresa (9), Lilian (8), Rose (6), Edward (4), Dora (2) and baby Ida (age 4 months).
On Dec 11, 1896 Margaret (nee PRITCHARD) IRVINE died in Fort Norman after giving birth to twins. Only one twin survived, that being Stanley Charles.
HBCA Notes:  HBC Commissioner C.C. CHIPMAN wrote to the Board that "Mr. IRVINE, who unfortunately lately lost his wife, has a large family, and he feels it necessary to live somewhere where they can be educated and looked after, as he has but small means. He has said always to have been faithful and to have given satisfaction - - I beg to recommend him for a pension of £25 per annum."
Barbara: Shortly after the death of their mother Margaret, Dora and her siblings were sent to live with Margaret's parents, Richard and Catherine (Matheson) PRITCHARD. Prior to her marriage to William, Margaret had been a companion to Charlotte Selina (COX) BOMPAS, the wife of The Right Reverend William C. BOMPAS, the first Anglican Bishop of the Athabasca, Mackenzie River and Selkirk Dioceses. Bishop BOMPAS and Charlotte came to offer their condolences to the PRITCHARD-IRVINE Family and the children were instructed beforehand on the proper etiquette when presented to such esteemed guests. As Dora related the story, she and her siblings were told the bishop was a very important person and when they were presented to him, they should address him as "My Lord Bishop" (as Anglican Bishops were called in those days). When the moment of introduction came, Dora, who was very nervous said, "I am very pleased to meet you, My God." Apparently her grandparents were quite embarrassed, but Bishop BOMPAS laughed and thanked Dora for the elevation in status. ** MORE ABOUT BISHOP WILLIAM CARPENTER BOMPAS in DCBO
On June 4, 1897 HBC Commissioner CHIPMAN wrote: - - I beg to inform you that Mr. Wm. IRVINE, who retired from the Service last year, after the death of his wife, having since made satisfactory arrangements for his family being taken care of, has applied to be re-engaged in the Service; in view of the strong commendations as to his qualifications as an Indian Trader that I have, and that Mr. CAMSELL desired his services, the renewal of his Contract for three years has been sanctioned. The Pension authorised by the Board has therefore been cancelled.

Mary Defeo: Soon after that, his (Stanley's) father (William) realized he couldn't look after his large family up in the north. He took them south to his wife's family near Halcro, SK. They took a steamer or paddle wheeler down the Mackenzie River. The IRVINE children lived with their maternal grandparents, the PRITCHARDs, while their father went back to Fort Norman to work for the HBC for a few more years.
Halcro, Saskatchewan
Census of 1901: in Halcro, Saskatchewan: William B IRVINE, widowed farmer, age 56. Children: Rettey (age 18), Selina (17), Rose (14), Edward (13), Dora (11), Ida (10), Alexander (7) and Stanley (age 6).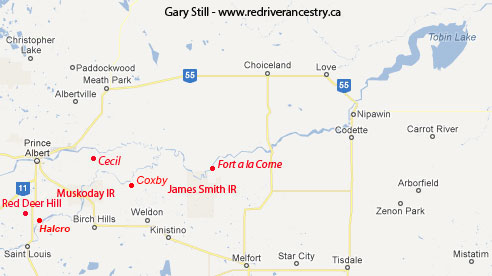 The Halcro Settlement is located to the southeast of Red Deer Hill
HBCA Note: On Sep 1, 1901 William wrote to Lord Strathcona from Halcro asking for a pension, indicating that with his large family he was having a hard time. He added a postscript to the effect that he had been advised to trade against the HBC in the Mackenzie River area but would not do so. CHIPMAN offered him a job but IRVINE asked too high a salary.
Around 1902 daughter Lena married  Roderick Malcolm CAMPBELL in Halcre, son of Mary McKAY and Alexander CAMPBELL (1844-1925), a retired HBC trader from Scotland.
In 1904 daughter Rita married Thomas Howard SPENCE in Halcro, son of Letitia Ann COOK and Andrews SPENCE (1837-1907).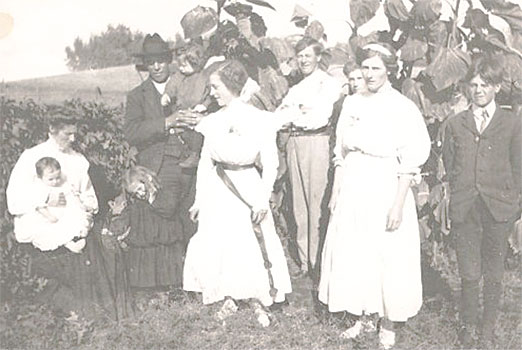 Mary Defeo wrote: Rita and Alfred Spence with their family presumably, accompanied by
Rita's siblings Dora, Ned, Rose and Alex Irvine, dated 1910.
It looks like Stanley may be poking his head out behind Rose.
In 1911 daughter Dora married John GERROND in Prince Albert, son of Mary Jane MONKMAN and James GERROND (1860-1937). ** MORE ABOUT JAMES GERROND
World War I
1914-1918
On Aug 4, 1914 Great Britain (Canada on Aug 5) declared war on Germany and Austria-Hungary to uphold treaties with France and Belgium which were under German attack. This marked the beginning of World War I.
On Dec 2, 1915 son Alexander enlisted in Prince Albert.
On Apr 1, 1916 son Stanley enlisted in Prince Albert.
In 1917 daughter Ida married John Milton FLYNN in Prince Albert.
In the spring of 1917 son Stanley was severely wounded during the battle in France with the 46th Battalion of the Canadian Expeditionary Forces. He was invalided to Canada and admitted to hospital in Regina.
In 1918 son Ned married Christina LEASK in Prince Albert, daughter of  Sarah FOULDS and Samuel LEASK (1856-1930) from the Orkneys.
On Oct 30, 1918 William IRVINE died in Prince Albert.
On Nov 23, 1918 son Stanley died of tuberculosis in the Regina hospital where he was being treated for his war injuries. He was buried in the Halcro (St. Andrews) Cemetery.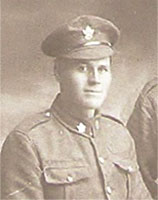 Stanly Charles Ross Irvine
November 11, 1918, Armistice Day (Remembrance Day) marked the end of the First World War.
In 1923 daughter Rose married Robert John WRIGHT in Saskatoon, son of Margaret Campbell LEITCH and Nobie WRIGHT (1835-1911).
Comments and queries at this link: FORUM DISCUSSING WILLIAM IRVINE and his DESCENDANTS
========================== Family Details ==========================
Child with Cree Woman:
1. 1872 JESSIE IRVINE (Died after 1919)
Children with Margaret PRITCHARD:
1. Sep 26, 1882 HENRIETTA AUGUSTA (THERESA, RITA) IRVINE (m. Thomas Howard SPENCE)
2. Mar 2, 1884 VICTORIA GEORGINA SELENA (LILLIAN, LENA) IRVINE (m. Roderick Malcolm CAMPBELL)
3. May 13, 1886 ROSE WILHELMINA IRVINE (m. Robert John WRIGHT)
4. Jan 13, 1888 WILLIAM EDWARD KIRBY 'NED" IRVINE (m. Christina LEASK)
5. Jan 26, 1890 DORA IRVINE (m. John GERROND)
6. Dec 22, 1891 IDA PRITCHARD IRVINE (m. John Milton FLYNN)
7. Oct 7, 1893 ALEXANDER McKENZIE NORTH IRVINE
8. Dec 11, 1896 CHARLES STANLEY ROSS IRVINE
9. Dec 11. 1896 Twin of Stanley (Died at birth)