WILLIAM GIBBS (1845-1903)
MARY JONES GABRIEL (1844-1883)
MARY ANN (nee GALLOWAY) GRIFFIN (1855-1949)
(Last Updated: July 07, 2014)
William GIBBS was born on July 10, 1845 in Puriton, Somerset, England. ** MORE ABOUT WILLIAM GIBBS in MHS
l
Marriage to Mary Jones GABRIEL
1869
In June of 1869 William married Mary Jones GABRIEL in Somerset, England, daughter of Jane YOUNG and Mark GIBBS (1817-1898).
England Census of 1871: 47 High St., Bridgewater, England: William GIBBS, Baker, age 25; wife Mary J (age 27) and daughter Annie A.M. (age 5 months). Servants: Margaret NICHOLLS (age 15) and Frederick BAKER (age 16). Visitor: Elizabeth A. GABRIEL (age 23). On July 3, 1872 son Harry was born in Bridgewaer.
Immigration to USA - Manitoba
1874-75
By 1874 William had immigrated to New York, USA, where he established a small store. That year son Clifford was born in Auburn, New York. Later that year, he moved to Winnipeg via Moorehead. He remained in Winnipeg for a year working at his trade as baker with a Mr. HACKETT. Then he removed to Woodlands and farmed for a season before moving on to Selkirk, Manitoba in 1875 where he would spend the rest of his life.
Soon after his arrival in Selkirk, William opened the town's first bakery. At first, he produced 20 loaves a day, which he sold from a dogsled at the Lower Fort and to settlers along the river.
On Mar 16, 1876 son Herbert was born in Selkirk, Manitoba.
Census of 1881 in Selkirk: William GIBBS, Baker (age 35); wife Mary (age 37). Children: Annie (age 11), Harry (9), Clifford (7), Herbert (5), George (3) and Lizzie (age 1).
In 1882 the Town of Selkirk was incorporated and James COLCLEUGH (1841-1918) became its first Mayor. 
** MORE ABOUT JAMES COLCLEUGH in DCBO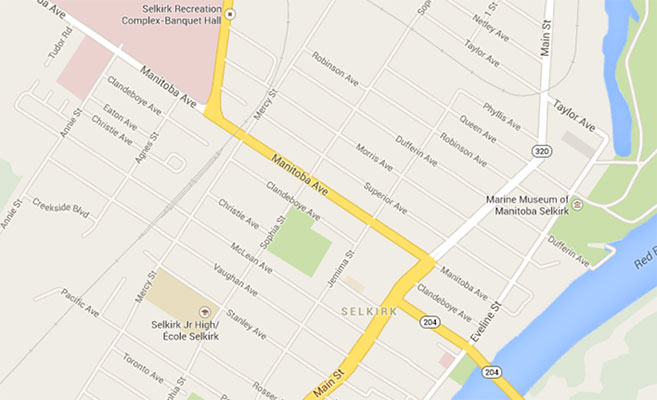 On Feb 5, 1883 Mary Jones (nee GABRIEL) GIBBS died at the age of 39.
Marriage to Mary Ann (nee GALLOWAY) GRIFFIN
1884
Around 1884 William re-married to Mary Ann (nee GALLOWAY) GRIFFIN in Selkirk, daughter of Mary LONG and John GALLOWAY (1820-1865). **MORE ABOUT JOHN GALLOWAY
In 1887 the first Merchant's Hotel was built in Selkirk by John Christian SHULTZ. (1840-1896)
Admired for his "sterling integrity," William GIBBS was elected first to the local school board and then to town council, and later he was an executive member of the Manitoba Liberal party.
In 1890, with fellow Liberals Frank HOOKER (1860-1935), W H EATON, Frederick COLCLEUGH (1845-1907), James F REID and William OVERTON, William GIBBS organized the Selkirk Electric Company to bring that modern convenience to the townspeople.
Census of 1891 in Selkirk: William GIBBS, age 45; wife MaryAnn, age 35. Children: Annie (age 20), Henry (18), Clifford (16), Herbert (15), George (13), Francis (6), Lottie (4) and Frederick (age 11 months). Lodger: Clara GRIFFIN, age 12 (born in Ontario).
In 1892 eldest daughter Annie married Edward Riley REDPATH, in Selkirk, a Railroad Station Agent from Ontario.
In 1896 son Clifford William married Catherine Ann HAMILTON in Kildonan, daughter of Janet SUTHERLAND and Daniel HAMILTON (b-c1835).
In 1898 eldest son Walter married Bella J MARSHALL in Selkirk, daughter of Caroline WATSON and John Kenneth WATSON (1847-1885). Caroline was a Hairdresser, born in Baddeck, Nova Scotia (Cape Breton Island).
In 1900 son Herbert immigrated to the USA.
Census of 1901 in Selkirk: William GIBBS, Baker, age 55; wife Mary A, age 45. Children: Frank S(age 16), Lottie C (14) and Frederick N (age 10). Son-in-law Stanley DEWAR (age 21), his wife (William's daughter) Clara (age 21) and their baby son Stanley DEWAR.
William was on the Town Council for a number of terms in the early days, and he was a School Trustee and Secretary Treasurer of the School Board for over 16 years, which office he still held at the time of his death. He was also the President of the Agricultural Society. He was one of the old time Masons, being a P.M. and one of the first members of the Lisgar Lodge No.2.
William GIBBS Dies
1903
On Jun 20, 1903 William GIBBS died in Selkirk, MB. His obituary indicated that he was survived by his wife, six sons and three daughters: Mrs. REDPATH in Greenwood, BC; Bert in Duluth; Clifford and Lottie in Winnipeg; George and Lizzie in Brandon; Harry in Selkirk; and Frank and Fred at home.
In 1905 son George married Marie Kathleen HARTY in Brandon.
In 1906 daughter Lottie married Frederick J LAWSON in Selkirk, a CPR railroad engineer who was born 1884 in Ontario.
In 1908 son Walter Henry "Harry" graduated in Medicine from the University of Manitoba.
In 1911 son Frank was married to Susanna TALBOT in Selkirk, daughter of Mary REID and William Wilson TALBOT (1852-1937) from Nova Scotia.
Census of 1911, Manitoba Avenue in Selkirk; household of Widow Mary Ann GIBBS, age 55. Children: Son Francis(age 26) and his wife Susanna, (age 20) and son Frederick (age 20). Boarders (all Teachers): Mary GORDON (age 28); Agnes B DOUGALL (age 27) and Kathleen POMFRET (age 26).
In 1912 son George immigrated to the USA (Seattle, WA).where he married that spring to (his second wife) Florence Palfrey HARDING of uncertain origins. We don't know what became of his first wife (Kathleen HARTY).
World War I
1914-1919
On Aug 4, 1914 Great Britain (Canada on Aug 5) declared war on Germany and Austria-Hungary to uphold treaties with France and Belgium which were under German attack. This marked the beginning of World War I.
In 1914 son Herbert married Ida Louise SLINDE in Duluth, daughter of Keen Olina THOMPSON and Sjur SLINDE (a Norwegian born 1851 in Wisconsin, USA).
Census of 1916, Manitoba Avenue in Selkirk; household of Widow Mary Ann GIBBS, age 60, and son Frederick, a Druggist, age 25.
In the spring of 1917, son Walter (the physician) enlisted at Winnipeg.
In 1917 son Frederick married Eleanor Irene Elizabeth HARPER in Winnipeg, the eldest daughter of Sarah Elizabeth NUGENT and Thomas James HARPER (1864-1904) from Ireland.
In 1918 sons Herbert (in Duluth, MB) and George (in Seattle, WA) were drafted into the US Army.
November 11, 1919, Armistice Day (Remembrance Day) marked the end of the First World War.
The Census of 1921 recorded Widow Mary Ann GIBBS with her Druggist son Frederick in an apartment over the Dominion Bank Building on Manitoba Ave in Selkirk.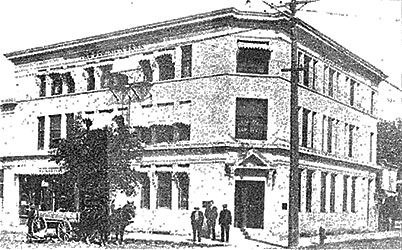 The Dominion Bank Building – Selkirk 1913
(Manitoba Archives)
In 1940 it was reported (Winnipeg Free Press) that relatives celebrated the 85th Birthday of Mary GIBBS in Selkirk at the home of her daughter, Mrs. DEWAR. Also mentioned were her two other daughters, Mrs. E.R. REDPATH in Vancouver and Mrs. F. LAWSON in Kenora (ON); and five sons: Dr. W.H.G. and Fred DEWAR of Selkirk; Frank of Winnipeg, H.J. in Nebraska and George in Seattle.
Comments and queries at this link: FORUM DISCUSSING the DESCENDANTS of WILLIAM GIBBS
========================== Family Details ==========================
Children with Mary GABRIEL:
1. Oct 16, 1870 ANNIE AGNES GIBBS (Edward Riley REDPATH)
2. Jul 3, 1872 WALTER HENRY GABRIEL "HARRY" GIBBS (m. Bella J MARSHALL)
3. 1874 CLIFFORD WILLIAM GIBBS (m. Catherine Ann "Cassie" HAMILTON)
4. Mar 16, 1876 HERBERT JOHN GIBBS (m. Ida Louise SLINDE)
5. Nov 6, 1877 GEORGE DENNIS GIBBS (m1. Kathleen Marie HARTY; m2. Florence Palfrey HARDING)
6. Dec 29, 1879 PHOEBE ELIZABETH "LIZZIE" GIBBS
7. Jan 12, 1882 SPENCER MORTIMER GIBBS (Died in infancy)
Children with Mary Ann GALLOWAY:
1. Jan 13, 1885 FRANCIS (FRANK) SPENCER GIBBS (m. Susanna TALBOT)
2. Oct 9, 1886 LOTTIE CLAIRE GIBBS (m. Frederick J LAWSON)
3. Dec 5, 1889 ARTHUR LANGILL GIBBS (Died in infancy)
4. Jun 7, 1890 FREDERICK HUGH GIBBS (m. Eleanor Irene Elizabeth HARPER)