ERNEST CHARLES "ERNIE" GOWEN (1908-1977)
HELEN NORA GERTRUDE FIDLER (1907-1956)
(Last Updated: May 23, 2013)
Ernest Charles "Ernie" GOWEN was born July 15, 1908 in Hertford, England, the eldest son of Ethel GORDON &. Charles GOWEN (1868-1932).  ** MORE ABOUT CHARLES GOWEN
In the fall of 1921, Ernest (age 13) and his brother George (age 10) sailed from London England. They arrived in Quebec in October that year; from there they travelled to Selkirk, Manitoba, to join their father (Charles) who was then working at the Manitoba Rolling Mills (MRM). ** MORE ABOUT GEORGE GOWEN
The Great Depression, the Dirty Thirties
1929-1939
Throughout the years of 1929 to 1939, there was a world wide Depression and Canada was one of the worst affected countries. Financially and economically the country began to collapse regardless of what was done by political power.
Marriage to Nora FIDLER
1934
On Feb 20, 1934 Ernie married at the St Clements Church in Mapleton to Nora FIDLER, daughter of Frances SPENCE & Peter FIDLER (1867-1955). ** MORE ABOUT PETER FIDLER
Nora was about four months pregnant when she married Ernie. She gave birth to a son, Sidney GOWEN, on July 7, 1934. Nora also had a seven year old daughter, Frances FIDLER with her at the time. She also had a third child (Lawrence ASHAM, age four) who was born in 1930 but had been adopted as an infant by Maude & Ronald ASHAM (1894-1962) from the Peguis Reserve (Fisher River), son of Jane Mary THOMAS & Chief William ASHAM.
** MORE ABOUT CHIEF WILLIAM ASHAM
Ernie was the caretaker of the St Clements Church and Cemetery in 1936, a Church Sexton in 1938.
Just recently Donald GOWEN (Ernie's son) posted some information on the PETER FIDLER FORUM that inspired me to post this Family Page.With his help we should be able to present the family history of his parents without too many errors.
In late 1930's step-daughter Frances became afflicted with something (perhaps polio). Many of us remember that Frances walked with a distinct limp (similar to her aunt (Sadie CAMPION). Donald recalled "All I know is she was operated on in the Shriner's Hospital in Winnipeg and had a steel pin inserted through her leg and hip joint in attempt to properly maintain their alignment. She always cried when she saw the Shriners in a parade proclaiming that if it wasn't for them she would have lost her mobility and been confined to a wheelchair within perhaps another year or so. I don't recall the year but I believe she was very young, perhaps from 9 to 11 years old."
The War Years
1939-1945
On Sept 4, 1939 Canada and Britain declared war on Germany, and almost immediately new recruits began pouring into Winnipeg to sign up with the Winnipeg Grenadiers and the Royal Rifles of Canada.
Ernie was a Soldier in WW II.  (He also worked at MRM). Perhaps Donald will have a little more info on these events.
On May 7, 1945 the War in Europe ended with surrender of Nazi Germany at the Battle of Berlin. The next day, May 8, was declared VE Day (Victory in Europe). On Aug 14, 1945 (after the Americans dropped atomic bombs on Hiroshima and Nagasaki) the Second World War officially ended with the surrender of Japan to allied forces in Tokyo Bay.
The 'Old England Inn' becomes a home for the GOWEN Family
c1945
It was around 1945 that Ernie bought a house in Old England (Mapleton) then occupied by the FAVEL family. This was the original 'Old England Inn'. The term 'Old England' began with the arrival of Thomas TAYLOR (1847-1877) who came from Manchester, England in the 1870's. It was originally built as a hotel, although it was never used as such. It did however have a store, and it was a stopping place that sold refreshments. Here's and interesting Advertisement that appeared in the Feb 23, 1876 issue of the Daily Free Press (Winnipeg): Important Annual Auction Sale of valuable cattle, etc, etc. Tom TAYLOR - - holding an annual sale at the "Old England For Ever" Store on Friday, March 10, Consisting or the following: 14 good Milch Cows, to calve early; 5 Young Heifers; 5 Young Steers; 4 Working Oxen; 8 Native Ponies.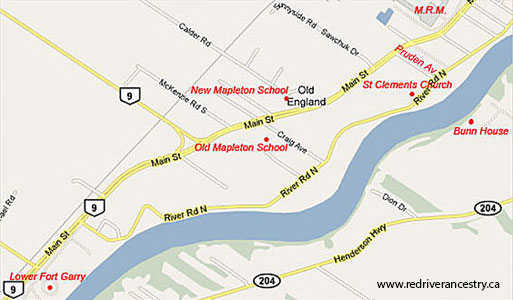 The Gowen house is located on Hwy 9, just south of the turnoff to the New Mapleton School
By the time the war ended, Nora had given birth to four of Ernie's children, Peter, Ruth, Ernest Jr. (Bud) and Donald.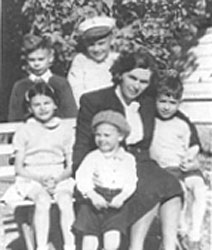 Nora and her children
At the back (L-R) Peter & Sid – Front (L-R) Ruth, Donald & Ernest 'Bud'
(Thanks to Peter Gowen for this photo)
Step-children, Frances FIDLER (age 18) and Sid GOWEN (age 11), were now in the care of their Aunt Myra and their grandfather, Peter FIDLER (who was now a 78 year old widower). This was just across the field to the east of the GOWEN house on the banks of the Red River. Aunt Myra FIDLER died on June 13, 1945.
Ernie & Nora Separate
1947-48
In the spring of 1947 Nora gave birth to twins (Maurice & Dudley). Not long after that, the marriage of Ernie & Nora soured; they separated. Ernie remained where he was, but (according to Donald) Nora moved to a house located on the west side of Hwy 9, across from the old Mapleton School (previously occupied by her deceased sister Myra). She then traded that house to Francis COUMONT for a house on Manchester Avenue in Selkirk. She lived there for a while then moved in with her father (Peter FIDLER) and daughter (Frances FIDLER).
Winnipeg Free Press: Published May 30, May 31, June 1, 1949:  "As my wife, Nora Gertrude GOWEN has, without legal justification and excuse, left my bed and board. I will no longer be legally liable for her support and maintenance, and she has no authority to pledge my credit. From this date; May 30, 1949 - Ernest C GOWEN, Box 157A, R.R.1, Winnipeg."
Of course all of the GOWEN kids attended Mapleton School and you can find most of them in the class pictures at this Link: ** MORE ABOUT MAPLETON SCHOOL
In 1950 I (Gary STILL) would have been about 11 years old; Donald about seven years old. I and my brothers John and Kenny often stopped in to frolic at the GOWEN place on our way home from school. Mr. GOWEN (Ernie) was away at work and we mischievously romped and played, unsupervised and with reckless abandon, both inside the GOWEN house and around the yard. My brother John (age 12) and Peter GOWEN (age 13) were very close friends. Bud GOWEN was about 10 years old then; Ruth about 12.

My brother Denis (age 16) was also a close friend of Sid GOWEN around that time. I think mother Nora (age 43), the twins Morris & Dudley (age 3), Sid (age 15) and Frances FIDLER (age 17) were all living with old Peter FIDLER near the river bank then..
It was in the early 50's that Peter GOWEN was sent to live with his Uncle Fred GOWEN on a ranch at Shining Bank, Alberta (south of Whitecourt and NE of Edson).
In the 50's step-daughter Frances FIDLER married Norman SCOTT. I seem to recall Frances living for a time with William FIDLER (1858-1959) on Lot 14 not far down the highway. William was a son of Henry FIDLER (1831-1908)
Also in the 50's Step-son Sidney GOWEN married Aadeline MICHAUD. They lived in the house at 408 Manchester in Selkirk for a while afterwards (three children). Adeline was the daughter of Mary and Alfred MICHAUD. She was born in 1937 at Netley Creek and her family later moved to Selkirk.
On Oct 7, 1956, Old Peter FIDLER died and apparently Nora FIDLER-GOWEN died that year as well. 
In 1968 Ernie bought a house in Selkirk and son Donald took possession of the Old England GOWEN House until his father died.
On Feb 25, 1977 Ernie GOWEN died. Son Peter returned from Alberta and moved into the old Gowen house and has lived there ever since.
On March 5, 1992 Sidney GOWEN died at the age of 56. Adeline re-married to Fred POLOSKI and she died in 2011.
Please post comments and queries at this link: FORUM DISCUSSING the ERNEST GOWEN FAMILY
============================ Family Details ============================
Step-Children (Nora's children):
1. Aug 29, 1927 HELEN ANNE FRANCES FIDLER
2. Oct 4, 1930 LAWRENCE EDWARD (FIDLER) ASHAM
3.  July 7, 1934 SIDNEY CLIFFORD (FIDLER) GOWEN (m. Madeleine MICHAUD)
Children by Nora & Ernest GOWEN:
1. 1936 CHARLES PETER GOWEN
2. 1938 RUTH GOWEN
3. 1941 ERNEST HERBERT "BUD" GOWEN
4. 1942 DONALD GORDON GOWEN
5. 1947 MAURICE FREDERICK "MOE" GOWEN
6. 1947 DUDLEY SPENCE GOWEN