HENRY HALLETT (1773-1844)
CATHERINE CRISE (c1775-c1800)
MARIE UNKNOWN (c1775-1807)
CATHERINE TENANSE
CATHERINE DUNGES
(Last Updated: July 08, 2014)
Thanks to the combined efforts of Heather Hallett, Pam Barrett and Barbara Mitchell, I think we finally have a consensus regarding origins of Henry HALLETT. Pam & Barbara's information can be seen at this link: FORUM DISCUSSING PHILIP TURNOR
Heather: On Sep 21, 1710 Thomas HALLETT SR was baptized at the St Mary's Anglican Church in Battersea, Surrey, England (near the heart of London). He married a lady named Elizabeth. Unfortunately this Thomas' parent's names were not listed on his baptismal record. But, from this information we can confirm our knowledge that the family were long time residents in that parish. There are many HALLETT's listed in the registers that I have been unable to identify.
Brief summary:
In January of 1734 son Thomas Jr. was born in Battersea.
On Mar 7, 1752, daughter Elizabeth was born.
Around 1759 son Thomas Jr. married a lady named Catherine. These were the parents of Henry HALLETT who was baptized on Apr 15, 1773 in Battersea.
On Dec 17, 1778 Thomas HALLETT SR was buried from St Mary's
In 1788 daughter Elizabeth married Philip TURNOR (1751-1799).
======================================= / / =======================================
Heather: Henry HALLETT was baptized on April 15, 1773 Battersea, Surrey, England (near the heart of London), son of Catherine & Thomas HALLETT (1734-1781) who was baptized on Jan 20, 1734 at St Mary's Anglican Church in Battersea, son of Elizabeth & Thomas HALLETTT SR (1710-1778).
In 1788 Henry's aunt, Elizabeth HALLETT, married Philip TURNOR (1751-1799), the "Official Surveyor" for the Hudson's Bay Company (HBC).** MORE ABOUT PHILIP TURNOR
Henry begins his career with the Hudson's Bay Company
1793
Apparently recruited by Philip TURNOR, in May of 1793 Henry HALLETT, "an educated young man of 21 years", was hired by the HBC as a Clerk. He left Battersea and arrived at York Factory on Hudson Bay in August that year.
Henry HALLETT likely spent the winter of 1793 at Holly Lake with David THOMPSON (1770-1857), the noted explorer and map-maker. ** MORE ABOUT DAVID THOMPSON in DCBO
Heather: Henry most certainly found himself a wife (perhaps Catherine, a Cree woman) early in 1794 or earlier. I think his eldest child was Sophia HALLETT, born in 1794.
Swan River District
1795-1797
On July 18, 1795 Henry left York Factory with Charles Thomas ISHAM (1755-1814), Peter FIDLER (1769-1822) and several other men for the Swan River District (see map below).
** MORE ABOUT CHARLES ISHAM aka ASHAM
** MORE ABOUT PETER FIDLER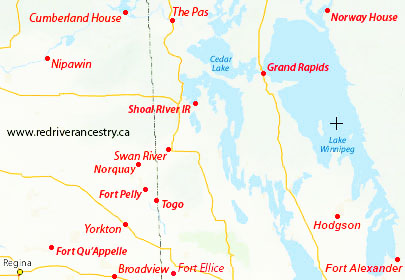 Around 1795 Henry's second child, Genevieve, born in the Swan River area, His third child, Nancy was born between 1796 and 1798.
In 1797 Henry was at Jack River (Norway House) helping to build a new fort in opposition to the North West Company (NWC).
Buckingham House – Island House – Fort Vermilion - Alberta
1797-1807
In 1797 Henry was sent to replace Peter FIDLER at Buckingham House (Elk Point, Alberta) on the North Saskatchewan River, not far from the opposing NWC Fort George Post which was then in charge of the famous Explorer and Suveyor, David THOMPSON (1770-1857). Heather mentions that Henry and David THOMPSON exchange visits during this period, adding that "David & Henry were both from London, and both knew Henry's uncle, Philip TURNOR, the HBC Surveryor."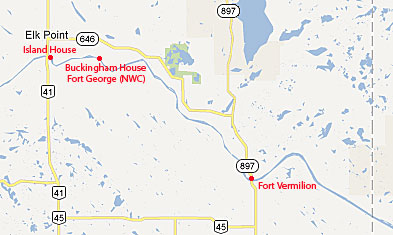 In 1799 Henry's fourth child, Henry HALLET Jr. was born at Buckingham House. In 1800 son James was born. Heather believes that Henry's first wife Catherine (Cree) died shortly after James was born.
On June 20, 1806, daughter Marie Julie was born during an annual trip to York Factory from Island House. Marie would later state in her Scrip application that her mother was Marie, a mixed-blood woman.
In 1807 Island House was abandoned and in 1808 Henry was in charge of the HBC post at Fort Vermilion (also known as Paint Creek House). Around that time, daughter Sophia married James KNIGHT (1783-1854), an HBC voyageur born in the Orkneys of Scotland.
On Sep 13, 1808 Alexander HENRY the Younger (1765-1814) became Henry HALLET's neighbour at Fort Vermilion.
On May 31, 1909 daughter Ann was born, Henry's 6th child. Her mother was Catherine TENANSE.
Edmonton
1810
On May 10, 1810 Henry left with his wife and family to begin construction of the new White Earth Hous fpr the HBC. Alexander HENRY was in charge of Edmonton House for the NWC. Fort Vermilion was abandoned by both Companies. These forts were at the mouth of the White Earth River, a short distance below (east) of the Victoria Settlement (see map below).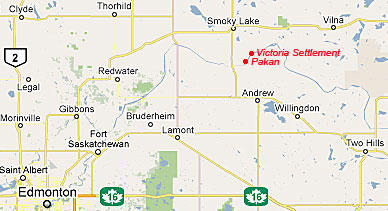 On Oct 9, 1810 Alexander HENRY wrote in his post journal that two young Cree men had drifted into the area and one of them tried (unsuccessfully) to steal the horses from the HBC post. Alex HENRY sent his men out and they captured the would-be thief. Henry HALLETT and Robert LONGMOOR insisted that the man be put on trial. A makeshift trial was held by the HBC people and the young Cree was convicted and summarily sentenced to death. The next morning he was marched out and shot by a 15 gun firing squad.
In 1811 son William Peter was born.
Henry becomes a NWC employee
1811
The execution of the young Cree man previously mentioned caused a great deal of consternation and upheaval in the whole Fur Trade. The HBC had a pretty good record concerning it's treatment of Indians and this event was a definitely negative anomaly. Although there is no direct indication that Henry HALLETT actually took part in the murder, as the man in charge, he was held responsible. In the summer of 1811 William AULD (1770-1830) ordered that Henry HALLETT be suspended from duty and on May 24 Henry walked over to the rival NWC's Fort Augustus and took up the job as Master there, displacing Alexander HENRY.
In 1814 Henry HALLETT reopened Fort Vermilion. By this time he  had a fourth wife, Catherine DUNGES who became the mother of daughter Elizabeth who was born that year.
Selkirk Settlers and a Métis Rebellion
1814-1817
By 1814 a large number of Selkirk Settlers had arrived at Red River under the auspices of the HBC and the new HBC's Governor of Assiniboia, Miles MACDONELL (1767-1828), and there were many more on their way. They were trying to establish a settlement in the Kildonan area. The NWC and the Métis inhabitants of the area were strongly opposed to their coming and did everything they could to force their removal. The settlers required a large amount of buffalo meat and pemmican to sustain them until they could establish crops and the Nor'Westers cleverly created a shortage by buying up most of the available supplies and hoarding them away. To counter this, MACDONELL issued his fateful Pemmican Proclamation and began to forcibly make seizures of stashed pemmican and meat.
.
In July of 1814 the NWC held its annual meeting at Fort William where an indignant William McGILLIVRAY (1764-1825) declared regarding actions taken by MACDONELL, "It is the first time the Nor'Westers have permitted themselves to be insulted".  From that day forward there would be civil war in the North-West.
Throughout the winter and the spring of 1815 the colony was subjected to harassing raids by the Métis and the intrigues of the Nor'Westers. By casting doubt on the legality of the Selkirk Grant, creating fear of Indian attacks, and making invidious comparisons between the lot of settlers in Upper Canada and those in the west, Duncan CAMERON (1764-1848) tried to induce the colonists to leave. When he offered free passage to Upper Canada more than 40 settlers abandoned the colony in the spring of 1815.
Around 1815 daughter Genevieve married Joseph PELLETIER (1791-1851).
On June 19, 1816, The Battle (Massacre) at Seven Oaks occurred with Governor SEMPLE and twenty of his men killed on Frog Plain. Cuthbert GRANT (1796-1854) and his Métis soldiers then took Fort Douglas.
In the fall of 1816 Lord Selkirk arrived at Fort William with soldiers where he arrested William McGILLVRAY and the NWC partners.
In January of 1817 Fort Douglas was recaptured by Selkirk's soldiers and that summer Lord Selkirk himself arrived there to end the insurrection; the HBC was now in control.
Henry HALLETT's activities during the years 1816-17 are unknown. Heather suggests that he may have had some involvement in the events that occurred in Red River during that time. We do know that in 1818 he was in charge of the NWC Fort La Montee, near the HBC's Fort Carlton.
The HBC – NWC merger
1821
In 1821 union of the North West Company (NWC) and the Hudson's Bay Company (HBC) occurred, ending years of bitter rivalry for dominance of the fur trade in Western Canada. After the merger, almost 1,300 employees lost their jobs since the single HBC organization that emerged had no need for most of the voyageurs and retired fur traders.
It was around 1820-21 that daughter Nancy married Thomas Jonathan FIDLER, son of Peter FIDLER (1769-1822).
In 1821 daughter Julie became the wife of Louison LETENDRE at Fort Carlton..
Henry retires to Red River
1822-23
At the time of the HBC-NWC union, (Sir) George SIMPSON (1786-1860) became the Governor of Rupert's Land. On May 20, 1822, SIMPSON reported to the board of governors of the HBC that he had established a fort at the junction of the Red and Assiniboine Rivers. He named it Fort GARRY (the Upper Fort). Around this fort was to grow the city of Winnipeg.
In 1822 Henry was retired and received a small pension. In 1823 he was granted two river lots (Lots 249 and 250) fronting on the Assiniboine River in the Fort Rouge area of Winnipeg. He married Catherine DUNGAS that year at the St Johns Anglican Church, probably by Reverend John WEST (1778-1845)  who arrived from England in 1822 as the first Chaplain in the northwest.
On Oct 18, 1824 at St Johns Church the following children were baptized: Henry Jr. and his wife Catherine, James, Anne, William and Elizabeth. Son Henry also married Catherine PARENTEAU that day, daughter of Jean Baptiste PARENTEAU from Quebec.
In the Red River Census of 1827 Henry and his family were enumerated on Lot 249. He had a house and stable, four horses, two carts, five cows and five calves, a canoe, and a plow and harrow. His wife and his youngest four children were recorded with him: Elizabeth, William, Ann and James.
Around 1828 son James began a connubial relationship with Sally (nee FIDLER) WILLIAMS, daughter of Peter FIDLER (1769-1822).  Sally had been abandoned by her previous husband, HBC Governor William WILLIAMS (1770-1837).
** MORE ABOUT SARAH "SALLY" FIDLER
On Nov 6, 1828 daughter Anne married at St Johns to Andrew FIDLER, son of Peter FIDLER (1769-1822). That same year daughter Elizabeth married Alban FIDLER, Andrew's brother.
Around 1835 son William Peter married Suzette LUNES.
In 1844 Henry HALLETT died. He was about 72 years old.
Please post comments and queries at this link: FORUM DISCUSSING the HENRY HALLETT FAMILY
=========================== Family Details ===========================
Children:
1. 1794 SOPHIA HALLETT (m. James KNIGHT)
2. 1795 GENEVIEVE HALLETT (m. Joseph PELLETIER)
3. 1797 NANCY HALLETTm. THOMAS JOHNATHAN FIDLER)
** MORE ABOUT THOMAS JONATHAN FIDLER
4. 1799 HENRY HALLETT JR (m. Catherine PARENTEAU)
5. 1800 JAMES HALLETT (m. Sarah "Sally" (nee FIDLER) WILLIAMS)
6. May 31, 1806 MARIE JULIE HALLETT (m. Louison LETENDRE)
7. May 31, 1809 ANN HALLETT (m. Andrew FIDLER)
** MORE ABOUT ANDREW FIDLER
8. 1811 (Est) WILLIAM PETER HALLETT (m. Susette LUNES, m. Maria PRUDEN)
9. 1814 ELIZABETH HALLETT (m. Alban FIDLER)
** MORE ABOUT ALBAN FIDLER
?10. 1823 ANTOINE (EDWARD) HALLETT (m. Jane SPENCE)
?11. 1839 JANET HALLETT (m. Joseph SPENCE)