CHARLES THOMAS PRICE ISHAM aka ASHAM (1755-1814)
Indian or Halfbreed Wife(s)
(Last Updated: February 10, 2015)
Charles Thomas Price ISHAM aka ASHAM was born around 1754, probably at York Factory, to RUEHEGAN, a Cree Indian, & Englishman James ISHAM (1716-1761), Hudson's Bay Company (HBC) Chief Factor there. His father apparently gave him the name of Price to honour a friend at York. ** MORE ABOUT JAMES ISHAM
Jennifer S.H. Brown (Associate Professor of History, University of Winnipeg, MB) was the author of a Biography about Charles ISHAM in the Dictionary of Canadian Biography Online (DCBO). Much of what follows is based on Jennifer Brown's biography (I frequently use direct quotes from her article), but I will toss in a few tidbits from other sources as well. Here's the link to Jennifer's Bio: ** MORE ABOUT CHARLES THOMAS ISHAM in DCBO


RUEHEGAN's people were known around the Bay as the "Homeguard Cree who lived close to the Company forts; in her case Fort Prince of Wales (Churchill). RUEHEGAN was first the wife of Robert PILGRIM who had also been an HBC Chief Factor at York Factory. PILGRIM died in England in 1750 and RUEHEGAN later became the wife of James ISHAM.
When Charles was born, his father (a polygamist) already had a wife (Catherine MINDHAM) and a daughter in England. However, when his father prepared his Will in 1760, he made no mention of his British family and bequeathed all his "money goods and Chattels" to his son, Charles.
On Apr 13, 1761, Charles' father (James) died at York Factory. The London Governor and Committee instructed the new chief at York (Ferdinand JACOBS) to "send home Charles - - an Indian Lad said to be the Natural Son of Mr James ISHAM Deceased." and they later ordered that Charles, still under age, be delivered to ISHAM's brother, Thomas ISHAM (Rich 1949: 325).
Charles with Uncle Thomas ISHAM in England
1763-1766
In 1763 Charles was allowed to travel to England for his education, a privilege rarely granted in the 18th century to the Hudson Bay children of traders. In September Ferdinand JACOBS noted, "We have sent home. . . Charles Price ISHAM with his apparel." That November the committee, still hesitant over the boy's surname, directed that "Charles Price . . . Servant to Mr James ISHAM deceased, be delivered to the said Mr. ISHAM's Brother and Administrator Mr. Thomas ISHAM." Charles remained with his uncle until 1766.
Charles becomes an HBC Employee
1766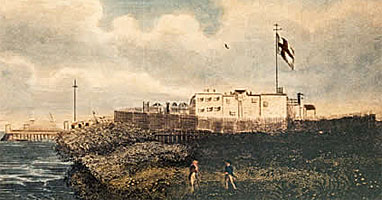 York Factory in the 1770's (from an engraving by Samuel Hearne), coloured, Mar 1, 1797
On May 7, 1766 the Company "Entertained Charles Price ISHAM as an Apprentice. . . at York Fort, for 7 years."  That summer Charles sailed for Hudson Bay with Thomas HUTCHINS (a company surgeon) and Ferdinand JACOBS (who was returning to his command at York) sailed for Hudson Bay, arriving in August. We don't know whether his Indian mother (RUEHEGAN) was sill living, but if she was, perhaps she was there to greet him. The youngster, after all, was only about 11 years old then.
Base map from Yahoo (Fort locations added by G.N. Still)
A brief timeline re ISHAM's HBC Service from Jennifer Brown's biography
(See the Bio for more details provided by Brown. My own comments in Italics)
1766: Charles first served under Andrew GRAHAM (c1733-1815) at Severn House (Fort Severn, ON), along with William
TOMISON (1739-1829). Andrew GRAHAM had entered HBC service in 1749 at Churchill, under Charles' father
(James).In 1772 his superiors at York wrote to London, "Charles Price ISHAM submits himself to Your Determination
a Strong Good working sober Lad." By August 1773 Charles had "Contracted for five years at 10£ a Year" as a Labourer.
1774: The Pas – Cumberland House, working under Samuel HEARNE (1745-1792).
1775-76: Cumberland House, working under Matthew COCKING (1743-1799); co-worker: Isaac BATT
(1730-1791). Notable associates and encounters during this period: Robert LONGMOOR (1755-1813); Humphrey MARTIN (1729-1790); William TOMISON (1739-1829); Alexander HENRY the ELDER (1739-1824) and brothers Joseph and Thomas FROBISHER (1744-1788), independent traders from Canada.
1777-79: Additional noteworthy associations included Malcolm ROSS (1755-1799); Philip TURNER (1752-1799)
1780's: ISHAM continued as inland Labourer, Canoeman (Voyageur), and interpreter at £15 to £20 a year through the 1780s. Additional noteworthy associations and encounters during this period: David THOMPSON (1770-1857)
1788-89: He apparently revisited England, perhaps the parish of St George, Bloomsbury (London), the home address he
listed in 1787–88. He would have been visiting his uncle (Thomas ISHAM) who had kept him as a youngster when he
was going to school.
May, 1789: Contracted as "Inland Trader & Supervisor of Canoes in Swan River" at £30 annually plus "premium on all the
made Beaver I can procure."
1789-1797: Master at Swan River House (MB), Marlborough House (near Fort Pelly, SK.), Somerset House (near Swan
River).
** From the Journals of Peter FIDLER(1769-1822): In 1790 ISHAM built Swan River House. - - On July 18, 1795 Henry HALLETT (1773-1844) and Peter FIDLER  left York Factory for the Swan River District with Charles Thomas ISHAM where they were to become traders. They built a post named Marlborough House (renamed Somerset House the following year). Later that summer, HALLETT learned that he was to be in charge as Master at Swan River House, as Mr ISHAM was not coming back - - On Oct 9, 1795 ISHAM & FIDLER closed the post.
1797-1799: At Jack River House (near Norway House, Man.).
On Aug 20, 1797, Donald McKAY, who was travelling from Albany noted that on arrival at Jack River House (Norway
House), "Charles ISHAM master with five men and a Negro from Canada". This was Joseph LEWIS alias Levy
JOHNSON (1773-1820). LEWIS served there under ISHAM until 1799. 
1800-1812: Continuing a mobile inland life, he served at various posts as far west as Edmonton House (near Fort
Saskatchewan, Alta)
1812: Interpreter for Miles MACDONELL at the new Red River Colony.
============================ // ============================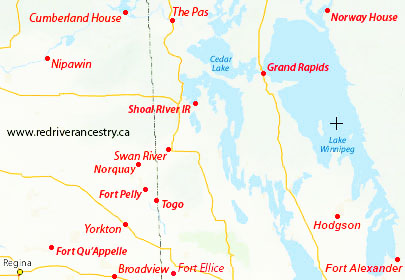 An Indian Wife (or Wives)
Brown does not say much about ISHAM's Indian wife (or wives); no birth dates or places, no clues whatsoever. There were certainly no white women at the HBC posts in those days; only half-breed and Indian ones. Until I get a chance to review my information (or some informed reader comes to our aid), perhaps we can speculate -
From 1766 to 1773, according to Brown, Charles Price ISHAM was in the York Factory District for the first seven years of his HBC service, initially serving at Fort Severn. He was still in his teens throughout this period.
1774-1811
This would seem to be the most likely period during which Charles might have acquired a spouse (or spouses) and began to have children. He was about 19 years old in 1774; about 33 years old in 1788. In 1774 he was posted to The Pas and Cumberland House districts where it seems he remained until he went home on a furlough to England in 1788-89.
When he returned to the Bay in 1789 he was contracted as an Inland Trader, posted to the Swan River District until 1797. By that time he was about 42 years old; certainly still fully capable of producing children. In fact, by that time he may have even had grandchildren.
It has been said that ISHAM travelled extensively during the period leading up to the arrival of the first Red River settlers in 1811-12. It should be kept in mind that it was customary for inland traders to make frequent trips to the headquarters at York Factory, usually in the spring and summer when they transported the furs they had acquired during the previous winter. Then, in the late summer or fall they would return to their inland posts, loaded with trade-goods for the next winter. This however was not always the case. Some of the senior traders remained at their inland posts all year round, depending on their voyageurs to do the transportations.
Arrival of the first Selkirk Settlers
1811-1814
 On Sep 24, 1811, Miles MACDONELL (1767-1828), slated to be the new Governor of Assiniboia, arrived at York Factory with the first contingent of Lord Selkirk's settlers, too late in the season for a long overland trek inland. They had to winter in log huts several miles up the Nelson River.
In 1812 an Advance Party was assembled (about 20 able-bodied men) to go on ahead and prepare the way for the rest of the settlers. Ice in the river prevented them from breaking camp until June 22.
On Aug 11, 1812, MACDONELL arrived at Norway House with his advance party. On Aug 30 they arrived at the Forks of the Red River. Somewhere along the way, or perhaps after they arrived at the Forks, Charles ISHAM was recruited as an Interpreter by MACDONELL. On Sep 6, 1812, he wrote a letter to Lord SELKIRK in which he stated "I went with a boats crew down the river (from the Forks) to make choice of a place to begin work took the Bull & Cow, winter wheat & other Stores along. After an excursion of three days subsisting on what the river furnished, I returned to this place as the most eligible spot an extensive point of land through which fire had run & destroyed the wood, there being only brushwood & weeds left; these could be easier overcome than woods or grass. The people were set to work immediately to clear ground for sowing the winter wheat. Mr. ISHAM was left with them to fish & trade meat from the natives.
On Oct 4, 1812, MacDONELL reported "The party here was reduced to five men, the rest sent upwards with Mr. ISHAM and family.
Another report by MacDONELL: "We set off on May 4 (1813) with 22 men & got there in 21 hours. No accounts from Brandon House yet been received there A few fish were caught which supplied us with one meal a day. The little meat brought with us being consumed I sent off Mr. ISHAM & family as useless lumber & also 12 of the men were sent down to Mr HILLIER's quarter near Deadmans River (Netley Creek), to fish for themselves. ** Not very complimentary! Consider that Charles was now about 58 years old.
Charles ISHAM dies in England
1814
By 1814 Charles' salary had dropped to £40 from the £80 he was getting in 1812. He retired and returned to England where he died on Christmas Day, Dec 25, 1814. He was buried Dec 30 at Limehouse in Middlesex County, London, England.
Brown: Although London clearly valued his service, ISHAM became no more than a minor officer in obscure and often difficult posts. He was probably the first Hudson Bay native; however, to rise that high (the origins of Moses NORTON being uncertain); and his colleagues ranked him as English, without making a racial distinction. At his death ISHAM's estate, which amounted to £1,800 in three per cent annuities, benefited four Hudson Bay children, Thomas, Mary, Jane, and James, designated as natural; like older colleagues such as Malcolm ROSS and George ATKINSON, and unlike some later traders, he did not seek to affirm their legitimacy. Thomas and one Price ISHAM were company Labourers in the Winnipeg district at the time of his death, and ISHAMs appear in later Red River mission records.
Treaty of 1817
In 1817, in order to secure greater stability for his colony, Lord SELKIRK entered into an agreement with Chief PEGUIS and several other local chiefs by which some 300, 000 square km of land along the Red and Assiniboine Rivers were granted to George III for use of the colony. The ceded territory included land occupied by PEGUIS and his followers on both sides of the Red River, from Sugar Point north to the mouth of the river at Lake Winnipeg.
Sons James & Thomas
It's hard to say when the surname ISHAM changed to ASHAM. Many historians and genealogists use both spellings for James and Thomas. The ASHAM spelling is almost exclusively used by descendants, Charles Price had only two sons, James and Thomas, so all ASHAM families of that era descended from one or the other but in most cases it is very difficult to determine which. It appears that  they married Indian women and became assimilated into the Peguis Band.
Daughters Jane & Mary
A daughter Jane is indicated in the ISHAM will, and some Descendant Trees (particularly from Ancestry.com) indicate that she married Joseph HEYWOOD and later Adam MOWAT. However, thanks to John Paterson (see the Forum), I now believe that is in error, and that that Jane was more likely a daughter of son James. I will have to re-examine my info.
Daughter Mary, born around 1790, married around 1803 to Peter SABISTON of unknown origin, born around 1778 (Ancestry.ca Trees). The SABISTON name appears frequently in the genealogies of early Red River families.
I am currently reviewing all my information on James and Thomas and hope to post pages for them in the near future. Ancestry.com has no less than 15 Public Member Trees referring to this family and children, almost all are problematic; almost no tangible, documentary evidence to support what they have. I would be most grateful to receive assistance, and look foreword to discussion and debate at this link: FORUM DISCUSSING CHARLES PRICE ISHAM aka ASHAM
============================ Family Details ============================
Living Children from the Will of ISHAM:
1. 1772 JANE ISHAM aka ASHAM (m1. Joseph HEYWOOD, m2. Adam MOWAT)
2. c1780 JAMES ISHAM aka ASHAM (m. Jane INDIAN)
3. est c1780 MARY ISHAM aka ASHAM (m. Peter SABISTON)
4. 1789 PRICE ISHAM aka ASHAM (m. Hannah)
** MORE ABOUT PRICE ISHAM aka ASHAM
5. 1792 THOMAS ISHAM aka ASHAM (m. Nancy INDIAN)