JAMES ISHAM (1716-1761)
CATHERINE MINDHAM (1727-1760)
RUEHEGAN
(Last Updated: August 23, 2016)
James ISHAM was born in 1716 in Holborn, London, England, son of Ann SKRIMSHIRE & Whitby ISHAM (b-1690). His later endeavours indicate that James had received a fairly good education in his youth.
The details of ISHAM's life are fairly well documented, so the main focus of this narrative will be on his family relationships (genealogy). For more information a good place to start is in the Dictionary of Canadian Biography Online (DCBO). Here's the link: ** MORE ABOUT JAMES ISHAM in DCBO by E.E.RICH
ISHAM Begins his HBC Career at York Factory
1732-1741
In 1732, at the age of 16, ISHAM began his career with the HBC as a "writer" at York Fort, there to be instructed in book-keeping.At that time Thomas McCLEISH was the Chief Factor and Thomas WHITE was second in command. The land around the Bay was the ancestral land of the Swampy Cree Indians.
In 1734 McCLEISH went home, and was replaced as Chief by Thomas WHITE.
Base map from Yahoo (Fort locations added by G.N. Still)
On May 4, 1737, when WHITE departed for England, James ISHAM took command as the Chief Factor of York Fort. He was only 21 years old and was anxious himself to return to England. His appointment was at first intended to be only temporary until another replacement could be found, but as fate would have it, ISHAM remained there for another four years. He gained competence as a trader, and increased his knowledge of the "French Indians" who came down from the posts that Pierre Gaultier de Varennes, Sieur de La VERENDRYE (1685-1749) was then establishing near Lake Winnipeg.
ISHAM at Prince of Wales Fort (Churchill)
1741-1745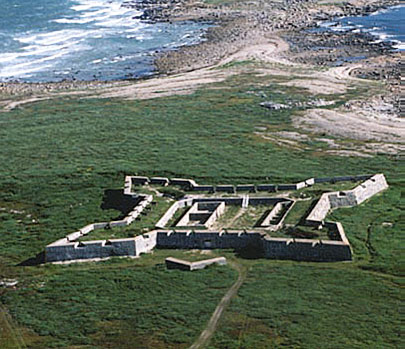 Fort Prince of Wales (Still standing today)
Construction of this stone fort began with the first stones laid on Jun 3, 1732
The walls of the original ramparts were completed in 1739
Richard NORTON moved to the new site in 1740; James ISHAM in 1741
In 1741 Richard NORTON (1701-1741), the Chief Factor at Fort Prince of Wales, returned to England due to illness (he died there that winter); James ISHAM from York Factory was selected to replace him.
One of the men who would begrudgingly serve under ISHAM at Churchill was Robert PILGRIM, a man who had over 10 years of HBC service. PILGRIM had begun his service as a ship's steward working under Captain Christopher MIDDLETON (died 1770), had been a sloop master for three years, and had been on several trans-Atlantic voyages. When NORTON died in 1741, PILGRIM probably thought he would be selected to replace him. Instead, ISHAM, probably much younger and with only eight years of service, was appointed as the man in charge.
By 1745 ISHAM had apparently been suffering from a bronchial complaint for a few years, and was lame from gout and a strained groin. He was anxious to make another trip home and he was undoubtedly happy when he was recalled to England.  During ISHAM's absence Robert PILGRIM replaced him as Chief Factor at Fort Prince of Wales, finally getting a temporary promotion. Ferdinand JACOBS (1713-1783) became second in command.
Robert PILGRIM & RUEHEGAN
Not only was PILGRIM known to be somewhat of a sluggard; he also had a reputation for having young Indian women frequent his abode. This was strictly against Company rules at that time. It would later become known that one of his 'favourites' was a young maiden named THU-A- HIGON (RUEHEGAN). RUEHEGAN's people were known around the Bay as the "Homeguard Cree" Indians; who lived close to the Company forts.
By about 1746, PILGRIM's relationship with RUEHEGAN at Churchill had become well known.
ISHAM back at York Factory
1746

York Factory around 1880 (Parks Canada)
In August of 1746 ISHAM returned from England, this time to York Factory.
In May, 1747, a communication of the London Committee to PILGRIM indicates that he had been keeping two Indian women with their children in his Churchill apartments. His attachment to REUHEGAN was apparently not monogamous.
ISHAM remained at York until 1748, when he was yet again recalled to England.
On Oct 29, 1748 James married in London, England to 21 year-old Catherine MINDHAM. A daughter (no name found) was born there, probably around 1749-50.
In 1750, badly afflicted with rheumatism, Robert PILGRIM, accompanied by his Indian wife RUEHEGAN and a son, returned to England (from Moose Factory), where soon after he died. His Will expressed the wish that his son (John Jr.) be placed under a guardian in England and RUEHEGAN be allowed to rejoin her family at Churchill. The HBC afforded facilities for her to return to the Bay but ordered its captains to refuse in future to bring any natives as passengers to Britain.
In 1750, for the last time, ISHAM was sent out again from England to York Factory. It has been said that RUEHEGAN may have returned on the same ship.
Sometime after his return to York, RUEHAGEN became ISHAM's wife. Around 1754 she gave birth to his son, Charles.
In 1758-59 ISHAM made one last trip home to England for health and family reasons. During his absence, Humphrey MARTEN (1729-1792) was delegated to act as chief of York Factory.
In 1760 James prepared a Will in which he left all his property to his halfbreed son Charles Thomas Price ISHAM. His will made no mention of his British family (wife & daughter); they may have died by that time.
James ISHAM died on Apr 13, 1761 at York Factory.
Humphrey MARTIN (1729-1792) was then appointed acting chief of York by the factory's council. The London governor and committee instructed the new chief at York to "send home Charles - - an Indian Lad said to be the Natural Son of Mr James ISHAM Deceased." and they later ordered that Charles, still under age, be delivered to ISHAM's brother, Thomas (Rich 1949: 325).
Charles remained with his uncle in England from 1763 to 1766. He then returned as an apprentice to Rupert's Land where he served the Company until 1814. In this case, as in many later ones, a fur trade child was placed with a collateral relative at home who assumed responsibility for his education and care; and the Company became involved in his affairs first as administrator and later as employer.
The name ISHAM would eventually change to ASHAM, and through his only son, Charles, the family tree would produce many branches; descendants would greatly multiply establishing James ISHAM as the ancestor of countless Red River families.
Comments and queries at this link: FORUM DISCUSSING the ISHAM – ASHAM ORIGINS
============================ Family Details ============================
Child by Catherine  MINDHAM re Rich:
1. c1749 Daughter ISHAM
Child by  RUEHEGAN:
1. c1754 CHARLES THOMAS PRICE ISHAM aka ASHAM (m. Native WOMAN)
** MORE ABOUT CHARLES PRICE ISHAM aka ASHAM