JOSEPH HUPPE (1818-1875+)
JOSEPHTE CYR (1822-1899)

(Last Updated: January 19, 2017)
Joseph HUPPE was born Nov 1, 1818 in Portage la Prairie, Red River, son of Marguerite MARCELLAIS and Joseph HUPPE SR (1782-1841), a voyageur with the North West Company (NWC) until he lost his job in 1821 after the NWC was merged with the Hudson's Bay Company, and the HUPPE family settled in Red River.
Voyageur with the Hudsons Bay Company
1835-1838
From 1835 to 1838 Joseph was employed by the Hudson's Bay Company (HBC) as a voyageur.
Joseph HUPPE and Josephte CYR
St Boniface
1840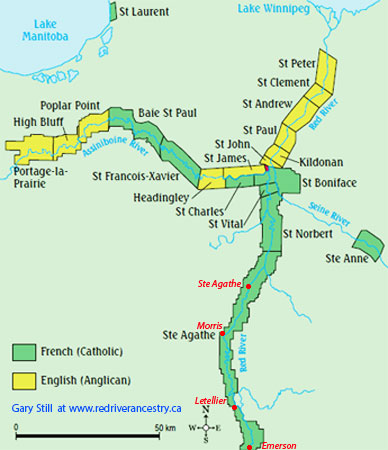 Red River Parishes in 1870
By 1840 Joseph was in a connubial relationship with Josephte CYR, daughter of Nancy and Louis CYR (1777-1871). Son Joseph Jr. was born in St Boniface that year. ** MORE ABOUT LOUIS CYR
Mackenzie River District
1849-1852
Between 1849 and 1852 Joseph was again a voyageur with the HBC, this time in the Mackenzie River District.

In 1861 son Joseph Jr. married Marie Joseette SAYIS, daughter of Marguerite SAUTEUSE and Francois SAYIS aka SAYER (1810-1861).
About 1861 daughter Philomene married Jeremie BERARD in St Boniface, son of Marie FORTIN and Pierre BERARD (1792-1870).
In 1866 daughter Josephine married her brother-in-law, Simon BERARD in St Boniface, son of Marie FORTIN and Pierre BERARD (1792-1870).
Canadian Confederation
A Red River Rebellion
Manitoba becomes a Province
1867-1870
On July 1, 1867 the British colonies in North America were united under the British North American Act to become the Dominion of Canada.  Sir John A MACDONALD (1815-1891) was appointed as Canada's first Prime Minister. William McDOUGALL (1822-1905) became the Minister of Public Works, and he began negotiations to acquire Rupert's Land from the HBC; surveyors were sent to Red River to prepare the way for an expected influx of settlers.
By 1867 son Isidore was married to Catherine HARRISON in St Boniface, daughter of Pauline LAGIMONIERE and Thomas HARRISON (1814-1891).
On Oct 11, 1869, Louis RIEL (1844-1885) placed his foot on the surveyors' chain to tell them their work was finished! This marked the beginning of the historic Red River Métis Rebellion.
On July 15, 1870 the Rebellion ended when RIEL's Provisional Government accepted the terms of the Manitoba Act and Manitoba became the fifth province of Canada.
Census of 1870 in St Boniface: Joseph HUPPE, age 50; wife Josephte, age 45. Children: Thomas (age 21), John (18) and Jean (age 12).
In 1872 son Thomas married Louise DECOINE at Lac la Biche to Louise b-1853, daughter of Suzanne Josephte DESJARLAIS and Francois DECOINE (b-1805).
Around 1873 son John was married to Catherine MORIN dit PERREAULT, daughter of Catherine GROUETTE and Jean Baptiste PERREAULT (1824-1902).
In 1875 both Josephte and Joseph claimed Half-breed Scrip as residents of St Boniface.
Census of 1881 in the District of Provencher: Widow Josephine (Josephte), age 60, with her youngest son Jean in the District of Provencher.
Census of 1891 in RM of Tache:  Josephte HUPPE, age 73. Children: Jean (age 32) and Jean Baptiste (age 9; b-1882). Also Julie MORAND, age 9 (b-1882).
In 1899 Josephte (nee CYR) HUPPE died in Lorette, MB.
Comments and queries at this link: FORUM for DISCUSSING THE FAMILY OF JOSEPH HUPPE
========================== Family Details ==========================
Children:
1. 1840 JOSEPH HUPPE (m. Marie Josette SAYIS aka SAYER)
2. 1843 PHILOMENE HUPPE (m. Jeremie BERARD)
3. Jan 6, 1846 ISIDORE HUPPE (m. Catherine HARRISON)
4. Nov 1, 1847 THOMAS "DAMASE" HUPPE (m. Louise DECOINE)
5. 1850 JOSEPHINE AGNES HUPPE (m. Simon BERARD)
6. Jul 4, 1852 JOHN HUPPE (m. Catherine MORIN dit PERREAULT)
7. Dec 27, 1861 JEAN HUPPE