JOSEPH HUPPE (1782-1841)
MARGUERITE MARCELLAIS (1793-1880)

(Last Updated: January 18, 2017)
Joseph HUPPE, a French Canadian, was born March 6, 1782 in Charlesbourg, Quebec.
North West Company
1811-1821
In 1811 Joseph began to work for the North West Company in the Lower Red River District as a 'Boute' (canoe man; voyageur).
Marriage to Marguerite MARCLLAIS
1815
About 1815 Joseph married Marguerite MARCELLAIS, daughter of Angelique (Assiniboine Indian) and Jean Baptiste MARCELLAIS, a French Canadian.
Union of the North West Company with the Hudson's Bay Company
1821
In 1821 the union of the North West Company (NWC) and the Hudson's Bay Company (HBC) occurred, ending the years of bitter rivalry for dominance of the fur trade in Western Canada. After the merger, almost 1,300 employees lost their jobs since the single HBC organization that emerged had no need for most of the voyageurs and fur traders.
In 1821 Joseph lost his job and became a 'Freeman' in the Red River Settlement.
Around 1833 daughter Therese married Joseph LECLAIR, son of Marguerite DUGAS and Alexis LECLAIR (1764-1808).
Around 1840 son Joseph was in a connubial relationship with Josephte CYR, daughter of Nancy and Louis CYR (1777-1871). ** MORE ABOUT LOUIS CYR
Oct 24, 1841 Joseph HUPPE died in St Boniface.
In 1845 son Jean Baptiste married Elizabeth CHARBONNEAUin St Boniface, daughter of Louise BOUCHER & Jean Baptiste CHARBONNEAU (1795-1882).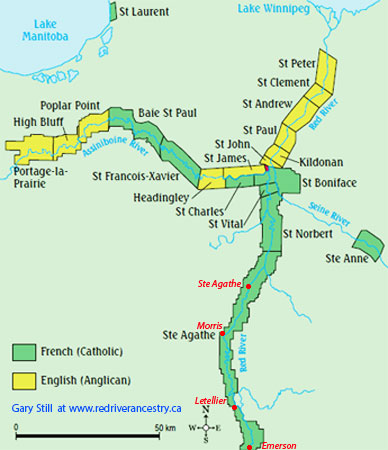 Red River Parishes in 1870
On Ma4 31, 1880 Marguerite (nee MARCELLAIS) HUPPE died in St Agathe, MB.
Comments and queries at this link: FORUM for DISCUSSING THE JOSEPH HUPPE FAMILY
========================== Family Details ==========================
Children:
1. 1815 THERESE HUPPE (m. Joseph LECLAIR)
2. Nov 1, 1818 JOSEPH HUPPE JR (m. Josephte "Josette" CYR)
3. 1822 JEAN BAPTISTE HUPPE (m. Elizabeth "Betsy" DUCHARME dit CHARBONNEAU)