JOSEPH LECLAIR aka LECLERC (1796-1875)
THERESE HUPPE (1815-1890)
(Last Updated: January 17, 2017)
Joseph LECLAIR was born around 1796, probably in Louiseville, Quebec, son of Marguerite DUGAS and Alexis LECLAIR (1764-1808).
The First Selkirk Settlers Arrive at the Forks of the Red and Assiniboine River
The First Metis Rebellion in Red River
Union of the North West Company and the Hudson's Bay Company
1812-1821
In 1812 the first group of Selkirk Settlers arrived at the forks of the Red and Assiniboine Rivers. This was during the era of fierce rivalry between the North West Company and the Hudson's Bay Company (HBC) who were competing for dominance of the fur trade in Rupert's Land. This was followed in 1815-16 by the first Metis Rebellion, led by Cuthbert GRANT (1796-1854) who opposed the intrusion of white settlers into the domain of the predominantly French Metis buffalo hunters. ** MORE ABOUT CUTHBERT GRANT and the FIRST METIS REBELLION
Around 1815 Therese HUPPE was born in St Boniface (Red River), daughter of Marguerite MARCELLAIS & Joseph HUPPE (1782-1841), a French Canadian voyageur with the North West Company (NWC).
On July 16, 1818, Fathers Joseph Norbert PROVENCHER (1787-1853) and Joseph DUMOULIN (1793-1853) arrived in Assiniboia. Lord SELKIRK had set aside 25 acres for them east of the junction of the Red and Assiniboine rivers, opposite the site of the demolished Fort Gibraltar. Called St. Boniface Settlement, after the German patron saint, the settlers there were predominantly the German-speaking De Meuron soldiers who had been recruited by SELKIRK. PROVENCHER built a small log building (20' x 30') in St Boniface that would serve as a residence. It also served as the first chapel and the first school west of the Great Lakes. ** MORE ABOUT THE FIRST RED RIVER CHURCHES AND SCHOOLS
In 1821 the NWC was absorbed by the HBC and peace was restored. Many of the early voyageurs and fur traders lost their jobs in the cut-backs that followed.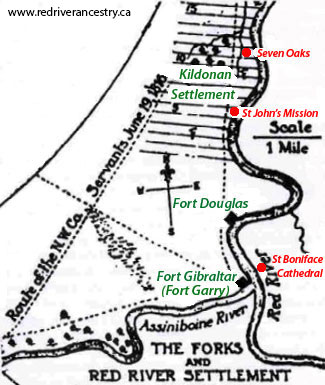 Joseph marries Therese HUPPE
St Norbert – Red River
1833
It is uncertain when Joseph LECLAIR came to Red River from Quebec, but around 1833 he married the aforementioned Therese HUPPE. Son Joseph Jr. was born on Feb 6, 1834 in St Boniface area.
In 1835 Joseph was farming one acre of land on Lot 138 in St Norbert Parish. There were four persons in his household. This indicates two children who would have been toddler Jean Baptiste and baby Joseph Jr.
In 1847 Therese had a child with James McNABB (John LECLERC-McNABB), probably illegitimate. However, Therese would go on to have more children with Joseph LECLERC.
Around 1852 daughter Marguerite married William BOUSQUET, son of Louisa VENDETTE and Michel BOUSQUET (b-1810-1876).
Around 1854 son Joseph married his sister-in-law, Louise BOUSQUET, daughter of Louise VANDETTE & Michel BOUSQUET (1810-1876).
In 1857 the first church in St Norbert was built of logs.
Around 1861 daughter Charlotte married Isaic PARISIEN in St Norbert, son of Louise ALLARD & Augustin PARISIEN (1840-1898). ** MORE ABOUT AUGUSTIN PARISIEN
Around 1865 son Jean Baptiste married Elizabeth "Betsy" STEVENS of uncertain origins, probably in St Peters.
Canadian Confederation
A Red River Métis Rebellion
Manitoba becomes a Province
1867-1870
On July 1, 1867 the British colonies in North America were united under the British North American Act to become the Dominion of Canada. Sir John A MACDONALD (1815-1891) was appointed as Canada's first Prime Minister. William McDOUGALL (1822-1905) became the Minister of Public Works, and he began negotiations to acquire Rupert's Land from the HBC. Surveyors were sent to Red River to prepare the way for an expected influx of settlers.
In 1868 Therese's child, John LECLERC-McNAB married Marie PEPOONEKAPOW or CAMPEAU at Shoal Lake, daughter of Catherine CHARTRAND and Baptiste PEPOONEKAPOW, a Swampy Indian.
On Oct 11, 1869, Louis RIEL (1844-1885) placed his foot on the surveyors' chain to tell them their work was finished! This marked the beginning of another Red River Métis Rebellion. RIEL began to organize resistance to the anticipated transfer of the North-West to the Dominion of Canada without prearranged terms.
On July 15,1870 Manitoba became the fifth province of Canada, the Canadian Government having acquired the territory previously governed by the HBC. The Rebellion was essentially over.
Census of 1870 in St Boniface: Therese LECLAIRE, age 55. Children at home: Marie (age 22) and Elisa (age 14).
In 1870 daughter Marguerite married Francois DESJARDINS in St Charles, son of Marguerite HAMELIN and Jean Baptiste DESJARDINS (1799-1884).
Around 1874 son Xavier married Marguerite MERCREDI at Grand Rapids (MB),daughter of Genevieve LAMIRANDE and Francois MERCREDI (1832-1900). ** MORE ABOUT FRANCOIS MERCREDI
Western Land Grants: Dated Jun 30, 1875: Joseph LECLERC for Lot 98 in Parish of St Charles.
On Aug 25, 1875 Joseph LECLAIR died in Selkirk.
In 1875 Therese (of St Boniface) claimed her Scrip as the widow of Joseph LECLERC.
In 1881 daughter Marie married in St Boniface to Edouard SMITH (b-1846) of uncertain origins.
On May 10, 1890 Therese (nee HUPPE) LECLAIR died in Tache (MB).
Comments and queries at this link: FORUM DISCUSSING the FAMILY OF JOSEPH LECLAIR
========================== Family Details ==========================
Children:
1. 1833 JEAN BAPTISTE LECLAIR (m. Elizabeth STEVENS)
2. Feb 6, 1834 JOSEPH LECLERC (m. Louise BOUSQUET)
3. 1835 MARGUERITE LECLERC (m. William BOUSQUET)
3. 1841 CHARLOTTE LECLAIR (m. Isaic PARISIEN)
Child of Therese HUPPE & James McNABB:
1. Jul 25, 1844 JOHN LECLERC-McNABB (m. Marie PEPOONEKAPOW or CAMPEAU)
More Children by LECLERC & HUPPE:
4. Feb, 1850 MARIE LECLERC
5. May 3, 1851 XAVIER LECLERC or LECLAIR (m. Marguerite MERCREDI)
** MORE ABOUT XAVIER LECLERC aka LECLAIR
6. 1854 ELIZA LECLAIRE (?m. Louis BOYER)
7. Jan 1, 1855 MARGUERITE LECLAIR (m. Francois DESJARDINS)