FRANCOIS MERCREDI (1832-1900)
GENEVIEVE LAMIRANDE (1835-1900)
(Last Updated: June 15, 2017)
Francois MERCREDI was born around 1832 at Slave Lake in the Mackenzie River district, son of Francoise DAOUST & Francois MERCREDI SR. (b-c1795).
From 1846 to 1851 Francois worked as a voyageur (Middlman) for the Hudson's Bay Company (HBC) in the Mackenzie River District. In 1851 he went to the Red River Settlement.
Marriage to Genevieve LAMIRANDE
1851
In 1851 Francois married in Red River to Genevieve LAMIRANDE, daughter of Marguerite DAUNAIS & Louis LAMIRANDE (a French Canadian).
On May 16, 1853 Francois was re-engaged as a voyageur by the HBC. He spent the next four years in the Athabasca District as a Middleman and Bowsman. He spent the winter of 1856-57 at Fort Chipewyan and that spring he left the Company to return to Red River.
St Norbert
1857-1865
From 1857 to 1865 Francois had his home at St Norbert/ St Vital (just south of Winnipeg). By 1865 he had four children; Sophie (age 10), Marguerite (8), Harriet (age 5) and baby Rosalie. He was not employed by the HBC during this period.
Cumberland District
1865-1873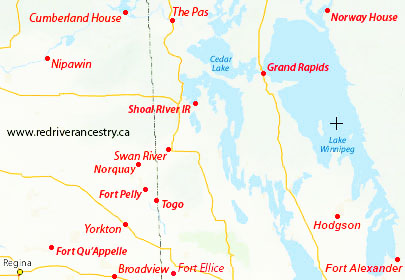 In 1865 Francois was hired yet again as a Voyageur by the HBC. He was assigned to the Cumberland District. Son Alex was born at Grand Rapids that year.
Canadian Confederation
A Red River Métis Rebellion
Manitoba becomes a Province
1867-1870
On July 1, 1867 the British colonies in North America were united under the British North American Act to become the Dominion of Canada. Sir John A MACDONALD (1815-1891) was appointed as Canada's first Prime Minister. William McDOUGALL (1822-1905) became the Minister of Public Works, and he began negotiations to acquire Rupert's Land from the HBC. Surveyors were sent to Red River to prepare the way for an expected influx of settlers.
In 1867, the year of Canadian Confederation, Francois and his family were at Grand Rapids. In 1868 his position changed from that of Voyageur to Fisherman. In 1869 the family was probably at Grand Rapids when the Red River Métis Rebellion began.
On Oct 11, 1869, Louis RIEL (1844-1885) placed his foot on the surveyors' chain to tell them their work was finished! This marked the beginning of another Red River Métis Rebellion. RIEL began to organize resistance to the anticipated transfer of the North-West to the Dominion of Canada without prearranged terms.
On July 15, 1870, Manitoba became the fifth province of Canada, the Canadian Government having acquired the territory previously governed by the HBC.The Rebellion was essentially over.
Census of 1870 in St Norbert: Francois MERCREDI, age 40; wife Genevieve, age 34. Children: Sophie (age 15), Francois (15), Marguerite (11), Henrietta (9), Rosalie (7) and Alexander (age 4).
Around 1871 eldest daughter Sophie married Maxime VERMETTE, son of Angelique LALIBERTE and Joseph VERMETTE (1810-1900).
In 1874 Francois HBC career ended. He was a "freeman" at Grand Rapids.
A good read regarding the history of Grand Rapids:
** THUNDERING WATERS STILLED: THE GRAND RAPIDS of the SASKATCHEWAN

Treaty Number Five
1875-1876
In 1875-76 Treaty Number 5 was signed at Grand Rapids. At that time the Native people of that community lived at the bottom of the Grand Rapids tramway, a site important to the future transportation developments in the area. The commissioners invited the inhabitants to accept a new reserve across the river. On Oct 7, 1876 the Federal Government passed the first Indian Act.
In 1875 daughter Marguerite married Xavier LECLAIR, son of Therese HUPPE and Joseph LECLAIR (1796-1875) from Quebec. ** MORE ABOUT JOSEPH LECLAIR
In 1878 daughter Rosalie married William MOORE at Grand Rapids. William MOORE was born about 1853 in the Orkneys of Scotland. ** MORE ABOUT WILLIAM MOORE
That same year, daughter Harriet married Joseph HOURSTON, an HBC Post Master from Ireland.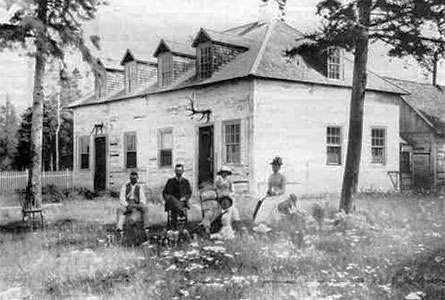 Hudson's Bay Company post, Grand Rapids, 1890 (Archives of Manitoba)
Around 1892 son William married Eliza CHARTIER, daughter of Christina ROBERTSON and Joseph CHARTIER (b-1855).
In 1895 son Alexander married Rose Marie BEAULIEU, daughter of Marie Anne FLAMMAND and Joseph King BEAULIEU (1836-1916).
In 1900 son Norbert married Charlotte STOVE in Grand Rapids, daughter of Flora TEABOY and John STOVE (1826-1895), an HBC voyageur from the Orkneys of Scotland.
Most sources indicate that both Genevieve (nee LAMIRANDE) and Francois MERCREDI died about 1900.
Comments and queries at this link: FORUM DISCUSSING the FRANCOIS MERCREDI FAMILY
============================= Family Details =============================
Children:
1. 1855 SOPHIE MERCREDI (m. Maxime VERMETTE)
2. 1857 MARGUERITE MERCREDI (m. Xavier LECLAIR)
3. 1860 HARRIET MERCREDI (m. Joseph HOURSTON)
4. 1862 ROSALIE MERCREDI (m. William MOORE)
5. 1865 ALEXANDER MERCREDI (m. Rose Marie BEAULIEU)
6. Oct, 1869 WILLIAM MERCREDI (m. Eliza CHARTIER)
7. 1871 NORBERT MERCREDI (m1. Victoria, m2. Charlotte Jane STOVE)