AUGUSTIN PARISIEN (1810-1881+)
THERESE DUCHARME (1812-1834)
LOUISE ALLARD (1819-1847)
ANGELIQUE McPHERSON aka FRANCOISE ADAM (1820-1881+)
(Last Updated: September 11, 2014)
Augustin PARISIEN was born about 1810 in St Norbert (MB), son of Isabelle (Indian) and Bonaventure LEGER aka PARISIEN (1757-1834) from Quebec.
Agustin and Therese DUCHARME
1829
Around 1829 Augustin was in a relationship with Therese DUCHARME, daughter of Marie Louise RIVET and Francois CHARRON dit DUCHARME (1771-1855) from Quebec. They had a child (Pascal) who was born on Apr 12, 1830.
 
Therese re-married before 1832 to Joseph HAMELIN, son of Angelique TOURANGEAU and Jacques HAMELIN (1772-1868) from Quebec.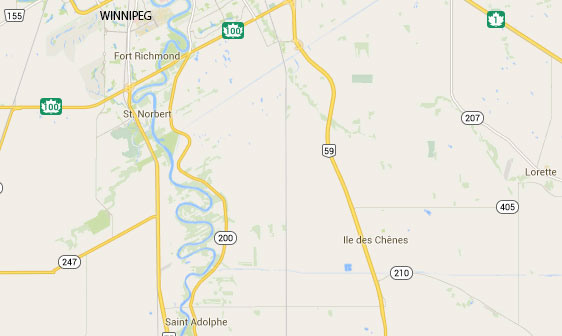 Augustin and Louise VIVIER dit ALLARD
1835-1847
Around 1835 Augustin married Louise VIVIER dit ALLARD of uncertain origins. On Dec 10, 1835 son Pierre was born in St Norbert. About 1840 son Isaic/Isaie was born, and in 1845 daughter Rosalie.
In 1847 Louise (nee ALLARD) PARISIEN died.
Augustin and Angelique McPHERSON aka ADAM
Pembina, Dakota Territory
1847
Soon after Louise died in 1847 Augustin remarried to Angelique McPHERSON in St Norbert, daughter of Angelique RACETTE, a half-breed, and George McPHERSON, a Scotchman of uncertain origins.
Around 1857 son Pascal married Catherine COURCHENE, daughter of Francoise BEAUCHAMP and Francois COURCHENE (1786-1860) from Quebec.
Around 1859 son Pierre married Marguerite ADAM, daughter of Archange OUELLETTE and Joseph ADAM (1825-1887).
Around 1861 youngest son Isaic married Charlotte LECLAIR in St Norbert, daughter of Therese HUPPE (Metis) & Joseph LECLAIR (1796-1875) from Quebec. ** MORE ABOUT JOSEPH LECLAIR
Around 1863 daughter Rosalie married Joseph DUCHARME alias COMTOIS, son of Marguerite MARTIN and Gilbert COMTOIS (1815-1874).
Canadian Confederation
A Red River Métis Rebellion
Manitoba becomes a Province
1867-1870
On July 1, 1867 the British colonies in North America were united under the British North American Act to become the Dominion of Canada. Sir John A MACDONALD (1815-1891) was appointed as Canada's first Prime Minister. William McDOUGALL (1822-1905) became the Minister of Public Works, and he began negotiations to acquire Rupert's Land from the HBC. Surveyors were sent to Red River to prepare the way for an expected influx of settlers.
On Oct 11, 1869, Louis RIEL (1844-1885) placed his foot on the surveyors' chain to tell them their work was finished! This marked the beginning of another Red River Métis Rebellion. RIEL began to organize resistance to the anticipated transfer of the North-West to the Dominion of Canada without prearranged terms.

On July 15,1870 Manitoba became the fifth province of Canada, the Canadian Government having acquired the territory previously governed by the HBC.
Around 1870 daughter Angelique married Bernard HAMELIN, son of Francoise DUCHARME and Jean Baptiste HAMELIN (1810-1866).
Census of 1870 in St Norbert (Lot 198): Augustin PARISIEN, age 60; wife Angelique, age 45. Children: Cecile (age 21), Caroline (18), Soloman (17), Clemence (14), Rosalie (13), Joseph (13, Adelaide (11), Elzear (11), Athanase (9), Edward (8), Marie (7), Esther (age 5) and Elise (age 4).
Around 1873 son Cyrille was married to Marie CYR, daughter of Catherine BERARD & Joseph CYR (1832-1882).
In 1873 daughter Clemence married Alexander LATRIELLE in St Norbert, son of Marguerite JOLIBOIS (GOULET) and Felix LATREILLE (1825-1892).
In 1874 son Solomon married Marie (nee CAPLETTE) LEPINE, daughter of Genevieve DAIGNEAULT and Joseph CAPLETTE (b-1827). Marie was previously married to George LEPINE.
Census of 1881 in St Norbert: Augustin PARISIEN, age 83; Angelique, age 55. Children: Saloman (age 26), Joseph (23), Edouard (19), Marie (17), Esther (15) and Elise (age 13).
Around 1881 son Edward married Marguerite COURCHENE, daughter of Marguerite and Alexis COURCHENE (1835-1897).
In 1883 daughter Marie Esther married George PATTERSON in St Norbert, son of Anna BEHRENS & Klaus Dinklen PATTERSON.
In 1887 son Edward married a second time to Marie Julie Caroline COURCHENE (his sister-in-law), also a daughter of Marguerite and Alexis COURCHENE (1835-1897).
Also in 1887 daughter Elise married Pierre GLADU in St Pierre Jolys (MB), son of Nancy DEASE & Pierre GLADU.(1815-1905). 
Comments and queries at this link: FORUM DISCUSSING the AUGUSTIN PARISIEN FAMILY
========================== Family Details ==========================
Child by Therese DUCHARME:
1. Apr 12, 1830 PASCAL PARISIEN (m. Catherine COURCHENE)
Children by ALLARD:
1. Dec 10, 1835 PIERRE PARISIEN (m. Marguerite ADAM)
2. 1840 ISAIC/ISAIE PARISIEN (m. Charlotte LECLAIR)
3. 1845 ROSALIE PARISIEN (m. Joseph DUCHARME alias COMTOIS)
Children by Angelique McPHERSON:
1. Feb 15, 1848 CYRILLE PARISIEN (m. Marie CYR)
2. 1852 CAROLINE PARISIEN
3. Jun 6, 1852 ANGELIQUE PARISIEN (m. Bernard HAMELIN)
4. 1853 MARIE ESTHER PARISIEN (m. George PATTERSON)
5. 1855 SALOMON/SOLOMAN PARISIEN (m1. Marie (nee CAPLETTE) LEPINE, ?m2. Marguerite BRADLEY)
6. c1856 CLEMENCE "ELISE" PARISIEN (m. Alexander LATREILLE)
7.  1857 JOSEPH PARISIEN
8. May 6, 1858 ELZEAR PARISIEN
9. 1860 ADELAIDE PARISIEN
10. c1860 THERESE (ATHANAISE) PARISIEN
11. Jun 5, 1862 EDWARD PARISIEN (m1. Marguerite COURCHENE, M2. Marie Julie Caroline COURCHENE)
12. 1864 MARIE PARISIEN
13. 1866 ESTHER PARISIEN
14. 1868 ELISE PARISIEN (m. Pierre Andre GLADU)