THOMAS FALKNER MILLER (1848-1930)
MARION McKAY (1861-1914)
(Last Updated: May 24, 2014)
Thomas Falkner MILLER was born Sep 5, 1848 in County of Lanark, Ontario (southwest of Ottawa). He was the son of Margaret FALCONER and William MILLER (1805-1848) from Scotland who came to Canada and settled there in the early 1840's.
One of the primary sources of information about the genealogy of this family was 'Lindas Buds' (Immcrafts) on Ancestry.ca. Linda's husband is a descendant.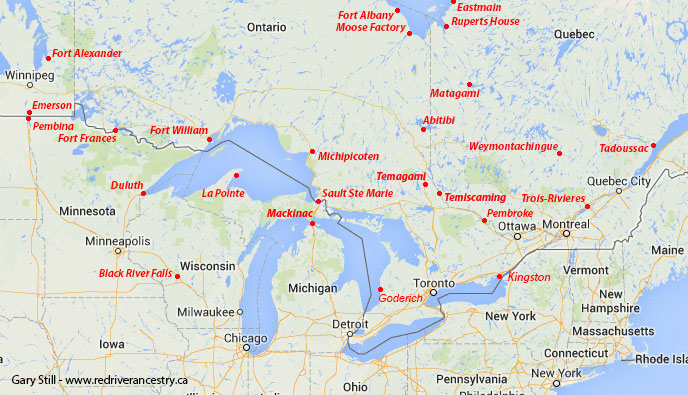 Canadian Confederation
1867
On July 1, 1867 the British colonies in North America were united under the British North American Act to become the Dominion of Canada. Sir John A MACDONALD (1815-1891) was appointed as Canada's first Prime Minister.
In the USA, construction of the Northern Pacific Railroad began near Duluth (Minnesota) in 1870 and it reached Red River in1871.
In an excerpt from 'The Story of Saskatchewan and its People' Thomas MILLER stated: "I went to Minnesota in 1873 being attracted by the prospect of high wages. At that time railroad building was beginning to be general in the Western States.  Railroads were being built in all directions, in fact railroad building was just running wild.  In the spring of 1875 I came down from Okagema Lake in Minnesota to Minneapolis. There was an advertisement in the St. Paul Pioneer Press by the Clifton Glass Company (the head of which was the father of Sir Clifford SIFTON and the Hon. Arthur SIFTON) calling for a thousand men to cut out the right of way for the C. P. Railroad from Selkirk east in Manitoba. The advertisement read 'A thousand men wanted to commence cutting the right of way, etc.'
Prince Albert, Saskatchewan
1875
On Aug 1, 1875, Thomas left Winnipeg for Saskatchewan, having been employed there by Captain Henry Stewart MOORE (1858-1908). Two months later they arrived in Prince Albert with MOORE's grist mill plant.
In 1877 Bishop John McLEAN (1828-1886) reported to the Church Missionary Society in London, England that he now had succeeded in having a second church built in Prince Albert. This was St. Catherine's Church situated on a knoll West of Prince Albert. The original church was built and dedicated by Bishop McLean in 1877 but as a result of depreciation was later removed and a new church built and consecrated in 1932. It is significant however, that St. Catherine's Church was at that time considered a part of the Prince Albert settlement. (From Project Canterbury by W.F. Paynton)
** MORE ABOUT BISHOP JOHN McLEAN in DCBO

Marriage to Marion McKAY
1880
Around 1880 Thomas married Marion McKAY in Winnipeg, the daughter of Elizabeth McDONALD and John McKAY (1830-1913) from Scotland.
The Northwest Rebellion
1885
In the Northwest Rebellion of 1885, Prince Albert Volunteers bore the heaviest casualties of the fighting at the Battle of Duck Lake. Surrounding settlers took refuge with the North-West Mounted Police in a hastily improvised stockade at Prince Albert, fearing an attack by Gabriel DUMONT which never came. After the Battle of Batoche, Major General Frederick MIDDLETON marched to Prince Albert to relieve the town. Prince Albert was incorporated the same year under its first mayor, Thomas McKAY (1849-1924). This McKay family was not related to Thomas' wife Marion.
Thomas' former employer, Captain Henry MOORE, lost his leg from wounds her received during the Rebellion.
** MORE ABOUT the NORTH-WEST REBELLION in WIKIPEDIA

In 1888 Thomas received a Land Patent for the SW-20-47-27-W2. Also undated for SE-20-47-27-W2 (this record is undated). These locations are at place called Kirkpatrick, near Red Deer Hill as shown on the map below. In the 1891 census he and his family were enumerated there as follows:  Thomas MILLER (age 42), his wife Marion (age 30) and their children: William (age 10), Thomas (8), Margaret (7), Adam (6), Marion (4), Grace (2) and baby Susan (8 months). With them were two farm laborers from Ontario; David LOGAN (age 32) and Leonard DUNN (age 28).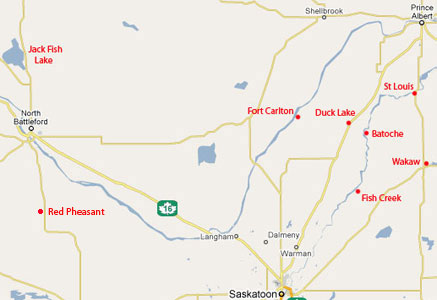 From the 1901 Census at Kirkpatrick: Thomas F MILLER, age 52; wife Marion, age 37. Children: William (age 19), Thomas F (18), Adam (14), Marion (13), Grace (11), Susan (10), Nelson (8), Newton (5), Lizzie (3) and baby James W (4 months).
In 1902 son William married Annabella FIDLER in St Catherine (Prince Albert), daughter of Margaret SWAIN & Peter "Peach Ass" FIDLER (1850-1941). ** MORE ABOUT PETER "PEACH ASS" FIDLER
1904 in Kirkpatrick: Tom Miller's threshing machine on John Edward Sinclair's farm. On wagon, Horace Adams.
L-R: George Sanderson (Nooch), Willie Sinclair, John Edward Sinclair, Jonach Anderson,
Harry Sinclair, R Kennedy, Wollock Anderson. Leaning against the wheel, Wilfred Flanagan,
Tom Miller against the barrel and sitting on engine, William John Miller.
(From Immcrafts on Ancestry.ca)
From 1909 to 1916 Thomas was the Postmaster at the Kirkpatrick Post Office which was located on his property.
In 1909 daughter Marion married Lloyd WOODS (1881-1968) from Manitoba, son of Robert WOODS (b-1851).
Also in 1909 daughter Grace married Leroy Daniel GELETTE from the USA, son of Mary Susan ELLIS and Montreville William GELLETTE (1844-1922).
In 1911 daughter Susan married Alfred James BRYANT (1889-1973) from England, son of Evelyn BARCLAY and James Jones BRYANT.
On Apr 28, 1914 Marion (nee McKAY) MILLER died in Kirkpatrick.
In 1915 daughter Elizabeth married Frank SCOTT, son of Mary and Thomas SCOTT (1854-1931) from Scotland.
Perhaps around 1916 son Adam married Josephine MACKIE, daughter of Harriet Marie Margaret ANDERSON and James MACKIE (1849-1934) from the Orkneys.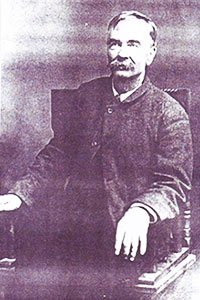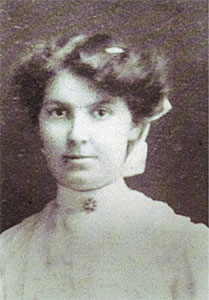 Thomsd Falkner Miller – Marion McKay Miller
(from Immcrafts)
In 1920 son Nelson married Edith McKAY, daughter of Maria ROWLAND and William McKAY (1852-1932). Edith had been previously married to Harry LYONS (born 1880 in Nova Scotia).
In the 1921 Census Thomas was recorded as a 73 year old widower, with his daughter and son-in-law, Elizabeth and Frank SCOTT on their farm in the RM of Prince Albert.
In 1922 son Newton married Myrtle HORAN, daughter of Martha BURTON and Martin Joseph HORAN (1872-1937).
On Jan 31, 1930 Thomas Falkner MILLER died in Richard, SK (East of North Battleford).
Around 1930 son James married Hazel Georgina McELROY, daughter of Allice Mary PATTERSON and Arthur William McELROY (1883-1977) from Ontario.
Comments and queries at this link: FORUM DISCUSSING the THOMAS FALKNER MILLER FAMILY
=========================== Family Details ===========================
Children:
1. Jun 26, 1881 WILLIAM JOHN MILLER (m. Annabella "Bella" FIDLER)
** MORE ABOUT WILLIAM JOHN MILLER
2. Nov 14, 1882 THOMAS FALKNER MILLER
3. Mar 30, 1884 MARGARET MAY MILLER (Died age 10)
4. Mar 20, 1886 ADAM MILLER (m. Josephine MACKIE)
5. Oct 18, 1887 MARION "MINNIE" MILLER (m1. Lloyd WOODS, m2. Thomas ROSS)
6. Jan 27, 1889 GRACE MILLER (m. Leroy Daniel GELETTE)
7. Sep 1, 1890 SUSAN MILLER (m. Alfred James BRYANT)
8. Aug 27, 1892 NELSON MILLER (m. Edith McKAY)
9. Oct 5, 1895 JASPER NEWTON MILLER (m. Myrtle HORAN)
10. Jul 29, 1897 ELIZABETH "LIZZIE" MILLER (m. Frank SCOTT)
11. Dec 1, 1900 JAMES WILFRED MILLER (m. Hazel Georgina McELROY)
12. Feb 17, 1907 EDITH GLADY MILLER (Died in infancy)