WILLIAM JOHN MILLER (1881-1942)
ANNABELLA "BELLA" FIDLER (1882-1961)
(Last Updated: May 24, 2014)
Most of the credit for the Miller-Fidler genealogies and for her collection of related photographs is due to Linda (Immcrafts) and her excellent research that is presented on Ancestry.ca under 'Linda's Buds'.
William John MILLER was born Jun 26, 1881 in Winnipeg, son of Marion McKAY and Thomas Falkner MILLER (1848-1930). ** MORE ABOUT THOMAS FALKNER MILLER
William grew up on his father's farm at Kirkpatrick, Saskatchewan (near Red Deer Hill as shown on the map below).
Marriage to Annabella FIDLER
1902
On Dec 22, 1902 William married Annabella "Bella" FIDLER at her home in St Catherines (Prince Albert, SK), daughter of Margaret SWAIN & Peter Charles "Peach Ass" FIDLER (1850-1941).
** MORE ABOUT PETER "PEACH ASS" FIDLER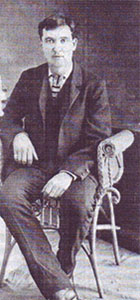 William John Miller and his bride, Anna Bella Fidler (From Immcrafts)
By 1906 William and Annabella had their own farm near Fielding, southeast of Battleford. In the census that year their children were recorded ad Bella (age 1) and baby Jessie (10 months).
Hand Hills – Little Fish Lake, Alberta
1911
In the Census of 1911 we find William (age 29) and Annie (age 28) on a farm east of Drumheller (Alberta) and Little Fish Lake (5-29-14-W4) with children as Florence (age 7), Jessie June (5), Olive Margaret (4) and Louella May (age 2). In 1912 daughter Gladys was born there.
MacDowall, Saskatchewan
1915
By 1915 William and his family returned to Saskatchewan where they began to farm near MacDowall (west of Red Deer Hill along Hwy #11 on map below). Son James Grant was born there that year.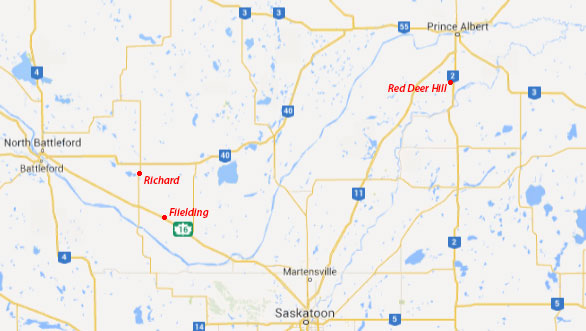 Census 1916 at MacDowall: John MILLER, age 35; wife Bella, age 33. Children: Bella (age 13), Jessie (11), Olive (9), May (7), Gladys (3) and baby James (10 months).
In 1925 daughter Jessie Irene married Arthur VORACHEK in Prince Albert, son of Mary and James VORACHEK.
In 1927 daughter Florence Bella married James CORRIGAL in Prince Albert, son of Susan MOFFAT and Joseph CORRIGAL (1851-1903).
Don't know when or where daughter Olive Margaret married Harry CRONE of uncertain origins.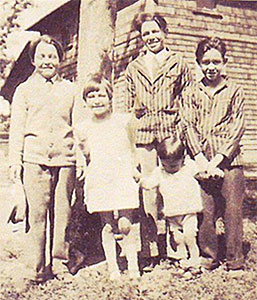 William John & Belle MILLER Family - 1929 in MacDowall, Saskatchewan
L-R: Wilson, Geraldine, James, John & baby Wilfred Miller. (From Ron Vorachek)
Carrot River
Probably in the early thirties William and some of his family moved east to Carrot River.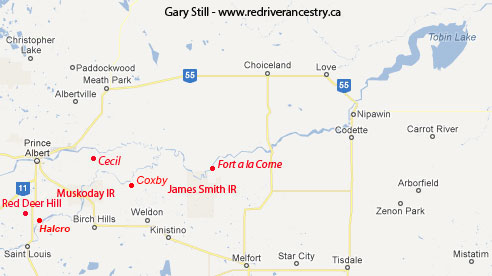 In 1933 daughter Sylvia May married Herbert Eldridge KELLETT in Melfort, son of Alberta NEWELL and William George KELLETTT (1877-1944).
In 1936 daughter Gladys Marion married Rolland Louis QUINNELL, son of Ella LENBLE and Charles QUINNELL (1879-1939).
World War II
1939-1945
On Sept 4, 1939 Canada and Britain declared war on Germany.
In 1941 daughter Theresa married her brother-in-law Clarence Leonard QUINNELL, son of Ella LENBLE and Charles QUINNELL (1879-1939).
On Sep 9, 1942 William John MILLER died in Carrot River; buried in Crescent Park Cemetery.
In 1942 son John Lewis, at 21 years, enlisted in the Canadian Army. He served in the United Kingdom and Continental Europe. He was wounded in action in Germany on March 8, 1944.
In 1943 son Woodrow Wilson joined the Armed Forces and went overseas.
On May 7, 1945 Germany surrendered and the War in Europe ended; the next day, May 8, is declared VE Day.
In 1945 son Wilfred joined the armed forces. After volunteering for Japan and the Far East, it was discovered he was only 17. He was given a discharge. He returned home and continued with the farm.
On August 6, 1945 the atomic bomb was dropped on Hiroshima in Japan and, days later, Nagasaki, ending the necessity of sending into battle the approximately 80,000 Canadian troops who volunteered to serve in the Pacific.
On August 14, 1945 Japan surrendered - VJ Day. The Second World War was officially over.
In 1949 son Woodrow Wilson married Dorothea BONTHOUX in Aylsham (SK), daughter of Flora PICHE and Martin BONTHOUX (1876-1952). Aylsham is located to the southwest of Carrot River (SE of Nipawin).
On July 31, 1961 Anna Bella (nee FIDLER) MILLER died in Carrot River. She was buried with her husband in Crescent Park.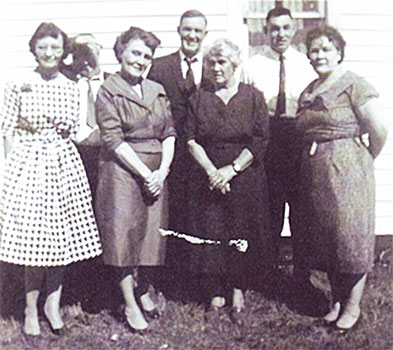 Miller Siblings, August 1961 at Carrot River
L-R: Geraldine, Wilson, Olive, Johnny, Jessie, Wilfred, May Miller.
Picture taken after mother's funeral. (From Bill Kellett)
Comments and queries at this link: FORUM DISCUSSING the WILLIAM JOHN MILLER FAMILY
========================== Family Details ==========================
Children:
1. Dec 10, 1903 FLORENCE BELLE MILLER (m. James Wilfred "Jimmy" CORRIGAL)
2. Aug 10, 1905 JESSIE IRENE (JUNE) MILLER (m. Arthur Stephen VORACHEK)
3. May 19, 1907 OLIVE MARGARET MILLER (m. Harry CRONE)
4. Mar 4, 1909 LOUELLA (SYLVIA) MAY MILLER (m. Herbert Eldridge KELLETT)
5. Sep 13, 1912 GLADYS MARION MILLER (m. Rolland Louis QUINNELL)
6. Aug 10, 1915 JAMES GRANT MILLER (Died age 25)
7. Mar 8, 1918 WOODROW WILSON MILLER (m. Dorothea "Alice" Margaret BONTHOUX)
8. Aug 4, 1920 JOHN LEWIS MILLER
9. Feb 27, 1923 THERESA "GERALDINE" MILLER (m. Charles Leonard QUINNELL)
10. Nov 8, 1927 WILFRED LEO MILLER (m. Elsie "Norma" DUCOMMON)