JOSEPH MOORE (1891-1929)
ETTA PEARL BELL (1889-)
(Last Updated: August 28, 2012)
Joseph Alphonse Roger MOOR(E) was born Nov 29, 1890 in the RM of De Salaberry (MB), probably at St Pierre-Joly, the sixth child of Rosalie MERCREDI & William MOORE (1853-1909). ** MORE ABOUT WILLIAM MOORE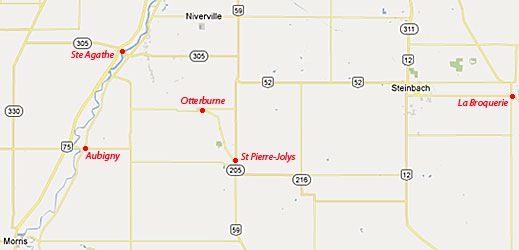 A = St Pierre-Jolys in the RM of De Salaberry
In 1892 Joseph's younger brother Frederick was born at Otterburne (MB), indicating the MOORE family had moved closer to Winnipeg. By 1901 they ultimately settled in Winnipeg proper.
In the Censuses of 1901 and 1906 Joseph was enumerated with his parents in Winnipeg. In 1906 he was recorded as age 16; the family was located at the corner of Home Street & Portage Avenue.
In 1909 Joseph 's father (William) died in Winnipeg (stomach cancer). This left Widow Rosie with a very large family of youngsters ranging in age from 8 years old and upward. Joseph would have been about 18 years old then, his brother Fred about 19.
In the 1911 Census we find an Etta MOORE living in a boarding house at 367 Balmoral Street (just north of Portage Ave). Her age is indicated as 22; her birth date as Feb, 1889. She's a Supervisor for 'Govt Telephones'. Her fellow boarders include professional people such as a bank clerk, an auditor and a draftsman.
World War I
1914
On Aug 4, 1914 Great Britain (Canada on Aug 5) declared war on Germany and Austria-Hungary to uphold treaties with France and Belgium which were under German attack. This marked the beginning of World War I.
On July 5, 1915, Joseph's brother Fred MOORE enlisted at Winnipeg stating he was born Dec 5, 1892 at Otterburne, MB (midway between St Pierre-Jolys and Winnipeg; his next-of-kin as his mother (Mrs. Rosie MOORE of 167 Flora Avenue (north of China Town and the CPR rail yards ("The North End").
On July 10, 1915 Joseph's brother Robert MOORE enlisted at Winnipeg stating he was born on Jan 28, 1884 at Lake Winnipeg (Grand Rapids).
In 1915 Joseph's address was 267 Flora Avenue (north of China Town and the tracks, about a block west of Main Street).
Marriage to Etta Pearl BELL
1915
In 1915 Joseph married Etta Pearl BELL, daughter of Elizabeth Ellen DUNKELD & John Wesley BELL (1852-1929) who was born in England. Etta, a 21 year old Laundress, indicated her home was in Neepawa. St Philip's Church (an Anglican Church located at 240 Tache Ave. in St Boniface). ** MORE ABOUT JOHN WESLEY BELL
On May 31, 1916 Joseph himself enlisted stating he was born in St Peters; his address as 450 Jarvie Street. I have problems with both of these statements. Considering the birth places of his siblings, it seems more likely that this was actually St Pierre-Jolys. Joseph may have had a French accent and the recruitment officer likely misinterpreted St Pierre as St Peters (the French version of Peter being Pierre). The other problem is his address as Jarvie Street. Google map searches fail to locate such an address. I think this was more likely 450 Jarvis Ave (in Winnipeg's North End).
A = 450 Jarvis Avenue
It seems that Rosie and her children lived at various times and places on both sides of the
CPR Rail Yards, essentially within walking distance of each other
On Aug 11, 1918 Joseph's brother Fred died in France, probably during the Battle of the Somme. He was buried in the cemetery located there.
November 11, 1919, Armistice Day (Remembrance Day) marked the end of the First World War.
Greg/ Donohoe: In August of 1919, Joseph's occupation: Motorman, Winnipeg Electric Railway Company; residence at 21 Guay Avenue in St Vital.
On Jan 30, 1926 Rosalie died in St Boniface Hospital from burns to her arms, legs and body.
Greg: Joseph MOORE died on Nov 15, 1929 in Winnipeg at the age of 39 (Tuberculosis of the peritoneum).  Buried in Brookside Cemetery, Wpg. The Brookside Cemetery is located off Notre Dame Ave right next to the Winnipeg International Airport (west of the Rail Yards). Wes: Joseph is buried in the Field of Honor section.
In 1937 daughter Phyllis married John MILLER (1910-1987), son of Julianna MAHRT & Frank MILLER (1878-1936).
Etta & Joseph LANDMESSER
Wes: Etta apparently remarried at some point - - I cannot find a marriage cert for Etta and Joseph LANDMESSER, so perhaps they were married outside Manitoba, or the papers were not received by the Manitoba Government (info from Manitoba Vital Statistics).- - Joseph LANDMESSER born in Chicago on either 1888 (Attestation papers) or 1884 (head stone). As far as I know, they did not have any children. Joseph LANDMESSER passed away in 1954 and is buried (military headstone) beside Etta and two of her daughters - Phyllis (1919-2002) and Kathleen (1923-1991).
Daughter Kathleen married Richard MILLER (probably in Winnipeg; when I do not know).

Joseph's Aunt Annie MILLER (sister of the above) married into the BERTHELETTE family (Greg's ancestral line).
Wes: On Jan 7, 1948 Etta died (age 58). She was buried under the surname of LANDMESSER (according to her death cert and Brookside Cemetery). - - Phyllis and Kathleen are listed by Brookside as having the surname of MILLER (both having married men by the surname of MILLER) (In the late forties, Phyllis is listed in Henderson's and on Etta's Obit as having the surname of BAILEY [Charlie or Chas BAILEY]). The surname on the headstone for Etta, Phyllis and Kathleen is MOORE. Phyllis had three daughters.
In Etta's 1948 obit she is listed as residing at 1125 Aberdeen Avenue, Winnipeg (that's just off McPhillips St, north of Burrows Ave)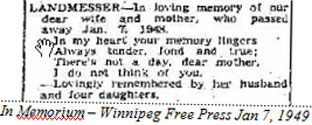 To avoid confusions I have created a Forum Topic specifically for discussing this particular family. Please post comments and queries under this Link: DISCUSSIONS about the JOSEPH MOORE FAMILY
============================= Family Details =============================
Children:
1. 1916 ARTHUR MOORE (Died young)
Greg: Arthur died between 1916 and 1920 in Winnipeg
2. 1917 MARGARET MOORE (Died young)
Greg: Margaret died between 1917 and 1920 in Winnipeg
3. 1918 HELEN MOORE (Died young)
Greg: Helen died between 1918 and 1920 in Winnipeg
4. Aug 17, 1919 PHYLLIS MARGARET MOORE (m. John MILLER)
** MORE ABOUT JOHN MILLER
5. 1923 KATHLEEN EDNA MOORE (m. Richard MILLER)
6. 1926 DOROTHY MOORE (m. Victor GOUDREAU)
7. 1928 ELSIE PEARL MOORE (m. Richard W STEINKE)