JOHN MILLER (1910-1987)
PHYLLIS MARGARET MOORE (1919-2002)
(Last Updated: August 28, 2012)
John MILLER was born Feb 2, 1910 in Hamburg, Germany, son of Juliana MAHRT & Frank MILLER (1878-1936).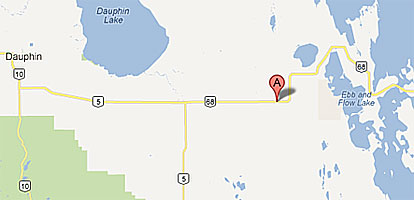 A = Shergrove (Elkdale is to the north)
By 1916 John's parents had immigrated to Canada and the family was living on a farm near Elkdale, Manitoba (John was six years old then).
The Dirty Thirties
1929-1939
Throughout the years of 1929 to 1939, there was a world wide Depression and Canada was one of the worst affected countries. Financially and economically the country began to collapse regardless of what was done by political power.
By 1930 John (age 20) and his siblings were young adults, ready to leave the 'mother's nest', find jobs and make a life for themselves. The Depression was undoubtedly a factor that necessitated his father (Frank) to leave the farm and move his family to Winnipeg where there were more opportunities for employment. His father (Frank) died there in 1936. I myself (and Wes) was born in the declining years of the Great Depression. My own father was also forced to give up farming and he had to enlist during the Second World War (which began in 1939) in order to provide for his family.
Marriage to Phyllis MOORE
1937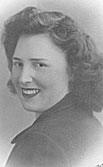 Phyllis (from Obit)
Greg: In June of 1937 John married in Winnipeg to Phyllis Margaret MOORE, daughter of Etta Pearl BELL & Joseph MOORE (1891-1929). ** MORE ABOUT JOSEPH MOORE
Greg: On Jan 11, 1938 John lived at 855A, 4th Ave South, Kenora, Ontario John was a Mechanic.
World War II
1939-1945
On Sept 4, 1939 Canada and Britain declared war on Germany, and almost immediately new recruits began pouring into Winnipeg to sign up with the Winnipeg Grenadiers and the Royal Rifles of Canada.
On May 7, 1945, Germany surrendered and the war in Europe ended. On August 14, 1945, Japan surrendered. The Second World War was officially over.
Wes: I recall John MILLER. I called him Uncle Johnny. He was a nice guy. I was pretty young, but I recall him taking me to the show to see a John Wayne movie.
Dryden, Ontario
Greg: On Aug 20, 1987 John MILLER died in Dryden, Ontario; buried there on Aug 22.
On Oct 13, 2002(re Greg), Phyllis Margaret MOORE-MILLER died at Parkview Place, 440 Edmonton Street in Winnipeg (from obit).
Bardall Obit: Phyllis Margaret Moore MILLER died (Oct 13, 2002) at Parkview Place, 440 Edmonton Street; predeceased by her parents Joseph and Etta Pearl (Bell) MOORE; three younger sisters Elsie, Dorothy and Kathlene. Cherishing her memory are her three daughters Elva WINKLER (George), Elaine FITZPATRICK (Dennis) and Carol Lynn MILLER (Guy). She will be sadly missed by her grandchildren Serena, Wendy, Teena, Derek, and Greg.
Wes: Phyllis and Kathleen are listed by Brookside as having the surname of MILLER (both having married men by the surname of MILLER) (In the late forties, Phyllis is listed in Henderson's and on Etta's Obit as having the surname of BAILEY [Charlie or Chas BAILEY]). The surname on the headstone for Etta, Phyllis and Kathleen is MOORE. Phyllis had three daughters.
We now enter the realm of living descendants, many of whom understandably do not want to have their personal information in the public domain. However, in order to accurately establish ancestral ties, we need their input. Personal information can remain confidential if these descendants come forward using an anonymous or hidden identity (username, etc) although it is much better if they do use their real names. Birth-dates, spouse, children's names, etc, don't necessarily have to be revealed. We are only interested in your ancestral ties, and more particularly stories, pictures, etc that are of interest.
Keep in mind that in every family tree there may be a few bad apples and lots of nuts; in-laws and outlaws included. Without them this would be a pretty dull world to live in!
Let's share some info; here's the Link: FORUM Discussing the FAMILY of PHYLLIS & JOHN MILLER
============================= Family Details =============================
Children (from obit):
1. ELAINE MILLER (m. Dennis FITZPATRICK)
2. ELVA MILLER (m. George WINKLER)
3. CAROL LYNN MILLER (m. Guy BERTHELETTE?)