FRANK MILLER (1878-1936)
JULIANA MAHRT (1882-)
(Last Updated: July 30, 2016)
Frank MILLER was born about 1878 in Hamburg, Germany.
Border Crossings: Mexican Border Inspection: On Jan 29, 1908 Frank MILLER (age 31; born c1877 in Hamburg) arrived at Douglas, Arizona. Described as 5' 9"; single; a Sta. Engineer. Previously in San Francisco (1903-1907).
** In the following the denotation Greg refers to information presented by gregbb in the Greg Barthelette Family Tree on Ancestry.com. Greg indicates that Frank MILLER was born (no date provided) in Hamburg, Germany, that his spouse was Juliana MAHRT born (no date) in Denmark. He indicates three children: 1) Private (a daughter, no other info); 2) John MILLER born Feb 2, 1910 in Hamburg; and 3) Richard MILLER born May 20, 1912 in RM of Pembina, Manitoba.
In 1909 Frank immigrated to Canada (from USA). (From census records)
Marriage to Juliana MAHRT
On Feb 2, 1910 son John was born in Hamburg (this re Greg; no source indicated). At this point we can't be sure when or where Juliana became Frank's wife. The documented records seem to indicate that Frank was actually in Canada by the time John was born. This suggests that Frank and Juliana were perhaps not legally married at the time.
On March 13, 1911 daughter Margaret was born in Morden, MB. This from Manitoba Vital Stats which indicates her mother's maiden name as Juliana MARTH.
In the Census of 1911 Frank MILLER (age 38) was recorded in the Dauphin District of Manitoba (probably near Shergrove) as 23 years old and single; a Farm Labourer in the household of Frank BRAUN. The census record verifies that he was of German origin and that he emigrated from the USA in 1909.
Outbreak of World War I
1914
On Aug 4, 1914 Great Britain (Canada on Aug 5) declared war on Germany and Austria-Hungary to uphold treaties with France and Belgium which were under German attack. This marked the beginning of World War I.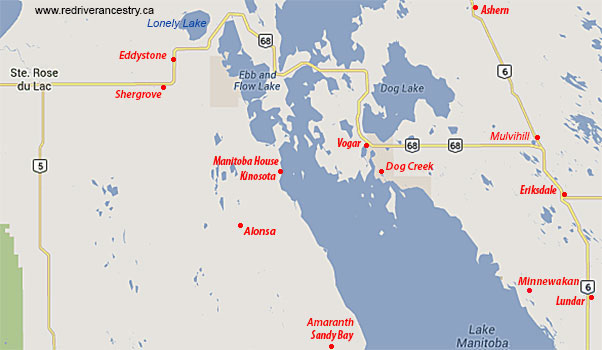 In the Census of 1916 Frank was on 25-13-W1 (legal description for a property near Elkdale) in the Dauphin District, Shergrove Sub-District (just west of the Lake Manitoba Narrows). His wife is Juliana (age 34) and they have six children: John (age 6), Marguerite (5), Richard (4), Annie (3), Frank 2 and baby Walter. This is the first documented record we have for Juliana as Frank's wife. It indicates she was born in Germany and immigrated in 1910.
  Census of 1921 in the RM of McCreary (4-21-15-Wpm; west of Alonsa): Frank MILLER, age 42 (born in Germany; immigrated 1909); wife Julianne, age 38 (born 1883 in Germany; immigrated 1910). Children: John (age 11), Margaret (10), Richard (9), Annie (8), Francis (7), Walter (6), Norman (3) and baby George (age 7 months). Eldest son John indicated born in Germany; the rest in Manitoba.
The Great Depression, The Dirty Thirties
1929-1939
Throughout the years of 1929 to 1939, there was a world wide Depression and Canada was one of the worst affected countries. Financially and economically the country began to collapse regardless of what was done by political power.
Vital Stats: On Mar 20, 1936, Frank MILLER died in Winnipeg, age 62 (b-c1874). We can't be certain, but it seems very likely that this was our Frank.
In June of 1937 son John married in Winnipeg to Phyllis Margaret MOORE, daughter of Etta Pearl BELL & Joseph MOORE (1891-1929). ** MORE ABOUT JOSEPH MOORE

Greg: In 1939 son Richard married in Winnipeg to Kathleen Edna MOORE (Phyllis' sister).
** We don't know which 'Private' daughter became Greg's ancestor. It seems apparent that it was either Marguerite or Annie.
Comments and Queries are welcomed: DISCUSSIONS about FRANK MILLER & FAMILY
============================= Family Details =============================
Children:
1. Feb 2, 1910 JOHN MILLER (m. Phyllis Margaret MOORE)
** MORE ABOUT JOHN MILLER
2. 1911 MARGUERITE MILLER (?m. BERTHELETTE)
3. May 20, 1912 RICHARD MILLER (m. Kathleen Edna MOORE)
4. 1913 ANNIE MILLER (?m. BERTHELETTE)
5. 1914 FRANK MILLER
6. 1916 WALTER MILLER
7.  1918 NORMAN MILLER
8.  1920 GEORGE MILLER