JOHN McLEOD (1861-1938)
FLORA BELLA ANN McDONALD (1864-1927)
(Last Updated: January 17, 2016)
John McLEOD was born Aug 25, 1861, son of Clementine HARPER and John McLEOD SR (1835-1912).
** MORE ABOUT JOHN McLEOD SR
Marriage to Flora Bella Ann McDONALD
1888
By about 1888 John was married to Flora Bella Ann McDO NALD, daughter of Margaret FRASER and Joseph McDONALD (1837-1912).
       
Census of 1891 in Edmonton:John McLEOD, age 31; wife Bella, age 23; daughter Charlotte (age 2).
Census of 1901 in Strathcona West (Edmonton): John McLEOD, Freighter, age 41; wife Flora B, age 37. Children: John (age 9), Christy (6), Henry (4) and Joseph (age 2).
Census of 1906 in Edmonton: Jacob (John) McLEOD, age 49; wife Bella, age 46. Children: John (age 15), Christie (12), Andrew (10), Joe (8) and Willy (age 6).
Athabasca Territory
1911
Census of 1911 at Trout Lake in Athabasca Territory: John McLEOD, age 51, alone.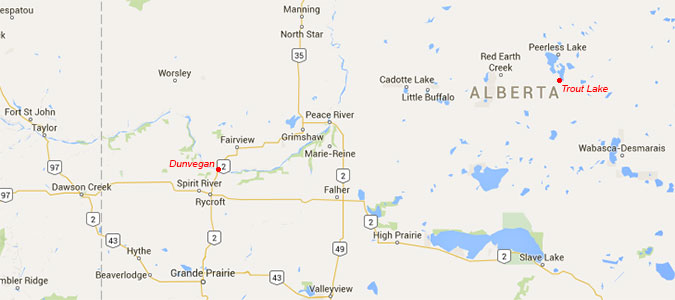 Around 1913 daughter Christiana was married to Albert Frank SAVOYARD of uncertain origins, possibly the son of Francoise BOUCHER and Joseph SAVOYARD (b-1849).
World War I
1914-1918
On Aug 4, 1914 Great Britain (Canada on Aug 5) declared war on Germany and Austria-Hungary to uphold treaties with France and Belgium which were under German attack. This marked the beginning of World War I.
Census of 1916 in Township 77-6-W6: John McLEOD, LS, age 56. Children: Jack (age 23), Henry (18), Joseph (17) and William (age 15). ** This location would be somewhere between Grande Prairie and Rycroft. Note: no wife mentioned.
On Jan 22, 1918 son Henry enlisted at Calgary. He stated his next of kin as his mother, Balla McLEOD of 2519-106A Street in Edmonton.
November 11,1918, Armistice Day (Remembrance Day) marked the end of the First World War.
Census 1921 in the Athabasca district:John McLEOD, Preacher Mission), age 62. ** Would appreciate more information about John as a Preacher.
In the 1921 census daughter Christiana was recorded in Spirit River as divorced from Frank SAVOYARD with four children. She apparently re-married later to George BREMNER, son of Half-breed Marguerite TASTAWICH and Charles BREMNER (1965-1927) from the Orkneys of Scotland.
Two of Christiana's younger brothers apparently married daughters of Charles BREMNER. Henry McLEOD married Harriet BREMNER and William McLEOD married Mary BREMNER.
On Nov 27, 1927 Flora Bella Ann (nee McDONALD) McLEOD died in Edmonton.

On July 14, 1938 John McLEOD died in Fort St John, BC.
Comments and queries at this link: FORUM DISCUSSING THIS JOHN McLEOD FAMILY
========================== Family Details ==========================
Children:
1. Feb 9, 1889 CHARLOTTE McLEOD
2. Sep 26, 1891 JOHN (JACK) McLEOD (m1. Nora; m2. Florence ALOOK)
3. May 16, 1894 CHRISTIANA (CHRISTY) McLEOD (m1. Albert Frank SAVOYARD; m2. George BREMNER)
4. Feb 14, 1897 HENRY McLEOD (m. Harriet BREMNER)
5. Mar 13, 1900 JOSEPH McLEOD
6. Jul 1, 1901 WILLIAM (WILLY) McLEOD (m. Mary BREMNER)
7. Apr 6, 1904 DONALD M McLEOD