ADRIAN AUGUSTUS NEISON (1849-?)
CATHERINE (-)
MARGARET YOUNG (-)
(Last Updated: November 22, 2015)
Adrian Augustus NEISON was born around 1849 in Manchester, England, son of Esther Maria Teresa SHAW and Francis Gustavius NEISON (1816-1875).
Note from Alex Neison 1934: Francis Gustavius Paulus NEISON was an actuary for an insurance company in England.
Passenger List for Ship Alyssinias; Arrival New York Apr 13, 1874 from Liverpool, England: Adrian NEISON, age 25 (born 1849).
Census 1881: Adrian NEISON (age 38, a Civil Engineer from Scotland) in the St Clements Parish household of Maria (PRUDEN) and William FOLSTER (1827-1912).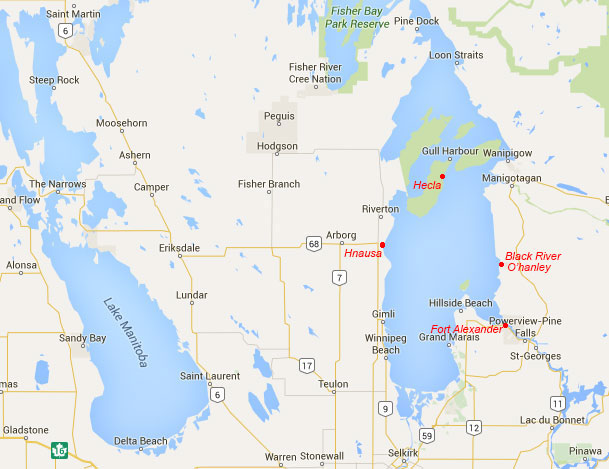 Black Island is the large island between Gull Harbor and Wanipigow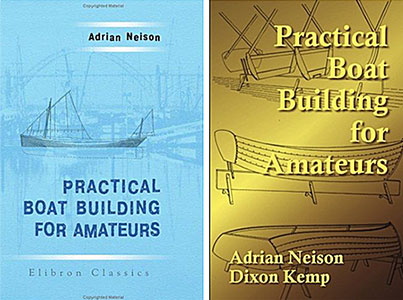 Books Published in 1880 and 2008
Commissioned to build the Tug Millie Howell
1881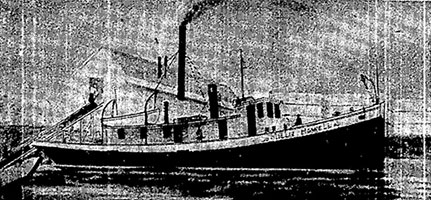 The Millie Howell at the mill-site in the Slough at Selkirk, before the mill was moved to Manigotagan
(Photo from the following Free Press article)
THE TUG THAT NEVER MADE THE FRONT PAGE by Captain Ed Nelson (Appeared in the Winnipeg Free Press Aug 31, 1963).  I believe Captain Ed NELSON was Adrian NEISON's son. Following are excerpts from that article:
Logging, not fishing, was Lake Winnipeg's big source of wealth in the 1880's. It was a common sight during those early years to see large side-wheel streamers at Selkirk, with steam tug fussing alongside as tender.
Captain John HOWELL, one of the lumbermen of the period, wanted a tug which would serve as a reliable tender, but was versatile enough to take on other types of work if need be. He acquired an engine and boiler, and in 1881 commissioned Adrian NEISON, a geologist and boat-builder of fair renown, to build him such a craft.
NEISSON, who had to find his own timber, immediately thought of Indian legends of the isolated stand of Norway Pine on Black Island. The next summer (1882) he investigated with the tug Island and several helpers, and to his delight found that the timber was all that he had hoped for. The logs were cut, chained into a raft, and cautiously – for the Island was underpowered for such an undertaking - - the precious timber was towed to Selkirk. - - The Millie Howell's end came in the spring break-up of 1900. - - Rampaging ice carried away the cabins and superstructure, leaving only a battered hull (beyond repair).
On Aug 28, 1883 the Selkirk Herald published an article about Adrian NEISON's account of two years of exploration of the Lower Saskatchewan River.
Adrian and Margaret (or Catherine?) YOUNG
1888
By about 1888 Adrian's wife was Margaret (or Catherine?) YOUNG of uncertain origins. On Feb 15, 1887 their first child, Edward Adrian, was born at Manigotagan.
Note from Alex Neison 1934: Adrian Neison had two wives, Catherine the first wife and Margaret YOUNG his second wife. I think they were sisters. Catherine died five years after marriage.
An 1891 report from the Dominion Government lists Adrian NEISON as a Teacher at the Hollow Water Indian School.
In 1909 eldest son Edward married Mary SINCLAIR in Selkirk.
Daughter Catherine married John MOREAU of uncertain origins.
Daughter Dolly marriedFrederick George HIGGINBOTTOM of uncertain origins.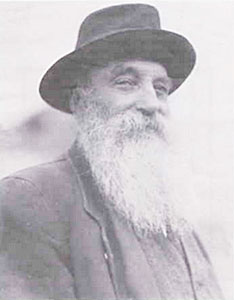 Adrian Augustus Neison circa 1923
Comments and queries at this link: FORUM DISCUSSING THE FAMILY OF ADRIAN AUGUSTUS NEISON
========================== Family Details ==========================
Children:
1. Feb 15, 1889 EDWARD ADRIAN NEISON (m. Mary SINCLAIR)
** MORE ABOUT EDWARD ADRIAN NEISON
2. 1893 CATHERINE NEISON (m. John MOREAU)
3. Apr 13, 1894 MICHAEL ROSS NEISON (m. Margaret Kathleen IMRIE)
4. 1900 DOLLY NEISON (m. Frederick George HIGGINBOTTOM)