WILLIAM NORN (1825-1902)
SARAH (SALLY) WHITFORD (1836-1907)
(Last Updated: August 28, 2012)
William NORN was born on July 6, 1825 in South Ronaldshay, Orkney, Scotland.
HBC Service
1848
On Dec 6, 1848 William began service with the Hudson's Bay Company (HBC). A short bio can be viewed at this link: HBCA BIO of WILLIAM NORN
From 1849 to 1851 he was a Labourer in the Saskatchewan District.
From 1851 to 1854 he was a Labourer in the Upper Red River District (Winnipeg).
Marriage to Sarah WHITFORD
1850
On Nov 5, 1850 in Winnipeg, William married Sarah (Sally) WHITFORD, daughter of Mary SPENCE & James WHITFORD (1795-1872). Their first child was Margaret, born about 1853.
On June 1, 1854 William retired from HBC service at Winnipeg.
In 1857 son James was born in Winnipeg, daughter Ann in 1859, sons Joseph and Thomas were born by about 1862.
In 1864 daughter Adeline was born in Portage la Prairie. She later stated she was two years old when she went to Victoria.
Victoria Settlement (Pakan)
It was in 1863 that Reverend George McDOUGALL (1821-1876) established a mission, Victoria (later Pakan, AB), on the North Saskatchewan River about 80 miles east of Edmonton House.
** MORE ABOUT REVEREND GEORGE McDOUGALL in DCBO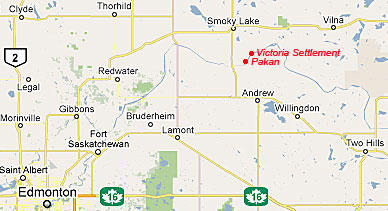 McDOUGALL sent an invitation down to Benjamin McKENZIE (1837-1928) at Portage la Prairie, inviting him to come to the Victoria Mission as a teacher and to tell his neighbours about the new homesteading opportunities. He accepted, and in 1865 he and his family made their way from Portage to Victoria Settlement, joined by an exodus of a large portion of the population of Portage la Prairie who had decided to take up homesteads there as well, including James WHITFORD, William NORN, and their families. It is said that 130 Scotch and English mixed-blood people from Red River settled in the area east of the Victoria Mission. ** MORE ABOUT McKENZIE and VICTORIA SETTLEMENT
In December of 1865, daughter Flora was the first of their children born at the Victoria Settlement.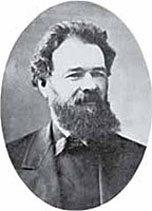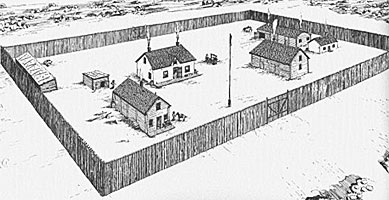 Reverend George McDougall and Fort Victoria
Canadian Confederation
1867
On July 1, 1867 the British colonies in North America were united under the British North American Act to become the Dominion of Canada. Sir John A MacDONALD (1815-1891) was appointed as Canada's first Prime Minister.
Around 1867 daughter Margaret married Peter BAHAN.
By 1871 Sarah gave birth to three more children: Cleophas, Francis and Jemima.
In 1872 Sarah's father, James WHITFORD, died.
Around 1873 daughter Mary married Daniel MACAULAY (1842-1929) from Scotland.
On Mar 17, 1875 Sarah gave birth to their last child, Isabella.
In the spring of 1877 Sarah's mother (Mary) died at Victoria. Daughter Anne married in Edmonton that year to Richard STEELE.
In 1881 daughter Adeline married Louis THOMPSON.
When the Census of 1881 was taken, William NORN was recorded as age 52, Sarah as age 45. Still at home were the following children: Joseph (age 20), Cleophas (13), Francis (11) and Jemima (age 9).
In 1885 Sarah, living at Victoria (for the last 20 years she says) claimed Scrip, listing 10 living children/ ages as follows:  Marguerite (age 32), James (30) Mary (28), Ann (26), Joseph Alexander (24), Cleophas (18), Adeline (22), Francis (16), Jemima (14) and Isabella (age 12). She also listed two deceased children: Thomas (died 1869) and Flora (died 1871).
In 1885 son Joseph Alexander married in Edmonton to Elizabeth Jane PRUDEN, daughter of Genevieve DESJARLAIS & James PRUDEN (1823-1902).
In 1886 Sarah's brother, Philip WHITFORD (of Victoria) claimed Scrip on behalf of the heirs of Mary (nee SPENCE) & James WHITFORD (then also deceased). Heirs were her eight children: John, Mary, Philip, Sarah, Francis, Andrew, Donald and Nancy.
Lac la Biche
When the Census of 1891 was taken, William NORN was recorded as a 68 year old farmer in Lac la Biche; wife Sarah as age 58. With them were the following children/ ages: Cleophas (age 23), Francis (22), Jemima (19), and Bella (age 17). Grandchildren (born in AB; their father in USA) Donald BAHAN, age 23 (born c1868) and Harriet BAHAN, age 13 (born c1878)
Around 1892 daughter Jemima married James ERASMUS b-1868, son of Charlotte JACKSON & Peter ERASMUS (1833-1931).
Around 1900 son Cleophas married Liza WHITFORD.
Census 1901: NWT, Alberta (#202), SD-131 (Pakan), HH-81: William NORN, age 75 (born Jul 6, 1825 in Scotland; wife Sarah, age 60 (born Aug 7, 1834 in SK.
On Nov 30, 1902, William NORN died at Pakan, Alberta.
On May 30, 1907 Sarah died.
Please post comments & queries at the following: FORUM DISCUSSING the FAMILY of  SARA & WILLIAM NORN
================================ Family Details ================================
Children:
1. c1852 MARGARET NORN (m1. Peter BAHAN; m2. McRAE)
2. Jun 4, 1857 JAMES NORN
3. c1857 MARY NORN (m. Daniel MACAULAY)
4. 1859 ANNE NORN (m. Richard STEELE)
5. Jan, 1862 JOSEPH ALEXANDER NORN (m. Elizabeth Jane PRUDEN)
6. 1862 THOMAS NORN (Died age 5)
7. Jan, 1864 ADELINE NORN (m. Louis THOMPSON)
8. Dec, 1865 FLORA HELEN NORN (died age 6)
9. Aug 31, 1867 CLEOPHAS NORN (m. Liza WHITFORD)
10. Jun 20, 1870 FRANCIS NORN (m1. Flora Harriet ANDERSON; m2. Christiana)
11. 1871 JEMIMA NORN (m. James C ERASMUS)
12. Mar 17, 1875 ISABELLA NORN