JAMES PALMER (1881-1963)
ANNABELLA MARGARET "BELLA" FIDLER (1892-1976)
(Last Updated: July 19, 2016)
James PALMER was born on June 30, 1881 in Wolverhampton, Staffordshire, England.
Around 1885-1890 James came to Canada. There are discrepancies in the records regarding James' immigration year. In any case it seems that he was only five or 10 years old and most likely came with his parents who so far we know nothing about. It seems like a possibility that he may have been a near relative of Sid PALMER (1871-1949); they both lived in Selkirk in their later years. ** MORE ABOUT SID PALMER
Census of 1901 in St Paul Parish: James PALMER, age 20 (born Jun 30, 1880), is a domestic in the household of Ellen and Samuel TAYLOR (b-1872 in England). This record describes James as a domestic, farm laborer who emigrated from England in 1885.
Marriage to Bella FIDLER
1910
On Aug 17, 1910 James married Annabella Margaret "Bella" FIDLER in St Paul (Middlechurch), the daughter of Annie Caroline BIRD and Joseph FIDLER (1863-1934). In the 1911 Census the newlyweds were recorded with Bella's parents in East St Paul (Middlechurch on map below). ** MORE ABOUT JOSEPH FIDLER
Census of 1916 in East St Paul: James PALMER, gardener on Estate, age 35 (born 1881 in England; immigrated 1890); wife Annabella, age 24. Children: James S (age 5), Rose (3), Mary (1) and baby Clara.
Census of 1921 in East St Paul: James PALMER, age 40 (born in England; immigrated 1891; wife Annie Bell, age 29. Children: Rosa Lillian (age 8), Mary Elizabeth (6), Clara Eileen (4), Viola Jane (3) and Gordon Manlius (age 1).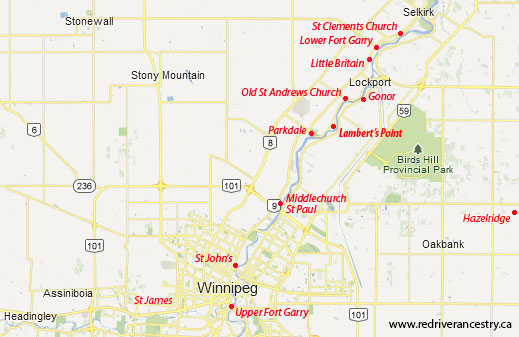 Selkirk
Sometime after 1921 James moved his family to Selkirk, Manitoba.
Around 1936 eldest daughter Lillian married Alban FIDLER, son of Eliza BALLENDYNE & Angus Cornelius FIDLER (1877-1919).
In 1937 daughter Mary Elizabeth married Lawson DILLABOUGH, son of Duncan DILLABOUGH.

Daughter Clara married John Cy LAYE (1918-2006), son of Alexander Stephen LAYE (b-1890).

Around 1938 daughter Viola married Ivan Sidney NICHOLS, son of Jessie CONROD and Sidney NICHOLS SR.
World War II
1939-1945
On Sept 4, 1939 Canada and Britain declared war on Germany, and almost immediately new recruits began pouring into Winnipeg to sign up with the Winnipeg Grenadiers and the Royal Rifles of Canada.
1940 Voters List: 238 Dufferin Ave. in Selkirk: Mr. & Mrs. James PALMER and Mr. & Mrs. John LAYE (this being daughter Clara and son-in-law).
In 1944 soldier son-in-law Lawson DILLABOUGH was killed in action in Italy.
On May 7, 1945 Germany surrendered and the War in Europe ended; the next day, May 8, is declared VE Day.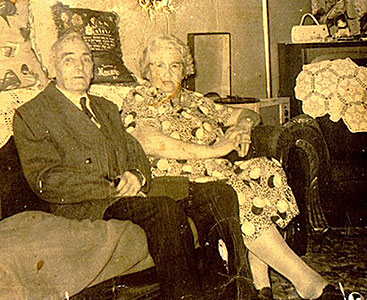 Jim and Bella Palmer in their house on Eveline Street, Selkirk (From Witigo)
Son Gordon married Evelyn HARGREAVES, daughter of Albert HARGREAVES of North Kildonan.
In 1946 son Leslie married Elizabeth Pearl PEARSON in Selkirk, daughter of Elizabeth BLINCO and Percy Massey PEARSON (1882-1952).

Youngest son Crawford married Gloria SVEINSON, daughter of Bernice KINDZIERSKI and Captain Allan Roy SVEINSON (1914-1987).
In 1948 widowed daughter Mary DILLABOUGH re-married to Lorne WESTON, son of Catherine and George WESTON.
1949 Voters List: 352 Main Street in Selkirk: Mr. & Mrs. James PALMER (gardener) and their son Clifford, a musician.
Youngest daughter Lucy first married a Tom HERMANSON of uncertain origins. Later she married Joe DELARONDE, also of uncertain origins. ** Need help with Lucy's details.
Son Clifford married a lady names Patricia GEARD, daughter of Nellie PITMAN and Harry GEARD.
1953 Voters List: 409 Main Street in Selkirk: Mr. & Mrs. James PALMER (gardener).
On Nov 28, 1963 James PALMER of 339 Eveline Street in Selkirk, died at his son's residence in St James. His obituary states husband of Margaret PALMER. He was survived by four sons, Gordon, Leslie and Clifford of Selkirk and Crawford of St James. Five daughters, Mrs Bud FIDLER (Rose); Mrs. Lorne WESTON (Mary); Mrs Jack LAYE (Clara); Mrs Tom HERMANSON (Lucy) all of Selkirk; Mrs Ivan NICHOLS (Viola) of Fort William; a brother, George of Sarnia and  a sister in England.
In 1975 when her brother, Joseph FIDLER, died, his obit indicated that his sister Mrs B PALMER was living in Selkirk.
On Nov 11, 1976 Bella (nee FIDLER) PALMER died in Beausejour (MB).
Comments and queries at this link: FORUM DISCUSSING JAMES PALMER and his DESCENDANTS
=========================== Family Details ===========================
Children:
1. Dec 4, 1910 JAMES STEWART PALMER (Died age 10)
2. Mar 25, 1913 LILLIAN ROSE PALMER (m. Alban FIDLER)
3. Feb 12, 1915 MARY ELIZABETH PALMER (m1. Lawson DILLABOUGH, m2. Lorne WESTON)
4. Jun 19, 1916 CLARA HELENE PALMER (m. John Cy LAYE)
5. Dec 31, 1917 VIOLA JANE "VI" PALMER (m. Ivan Sidney NICHOLS)
6. 1920 GORDON MANLIUS PALMER (m. Evelyn HARGREAVES)
7. Aug 6, 1921 LESLIE GEORGE "LES" PALMER (m. Elizabeth Pearl "Betsy" PEARSON)
8. 1924 JOSEPH CLIFFORD "CLIFF" PALMER (m. Patricia GEARD)          
9. LUCY ANN PALMER (m1. Tom HERMANSON; m2. Joe DELARONDE)
10. Nov 9, 1932 JAMES CRAWFORD PALMER (m. Gloria SVEINSON)