JAMES PARK (1831-1900)
MARGARET INKSTER (1831-1900)
(Last Updated: December 19, 2012)
James PARK was born Sep 2, 1831 at Parks Creek (Parkdale), the son of a halfbreed woman named Margaret & John PARK (1770-1847), a retired Hudson's Bay Company (HBC) voyageur born in the Orkneys of Scotland.
On Dec 19, 1849 Bishop David ANDERSON (1814-1883) consecrated the new stone church built in the area of 'The Rapids' by Reverend William COCKRAN (1798-1865). It was named St. Andrews after the patron saint of Scotland. The majority of the settlers here came from the Orkney Islands in Scotland. The area from then on became known as St. Andrews.
James & Margaret INKSTER
1854
Around 1854 James married Margaret INKSTER, daughter of Letitia SUTHERLAND & James INKSTER (1809-1888). In 1855 daughter Margaret Ann was born; she died in 1866, only 11 years old.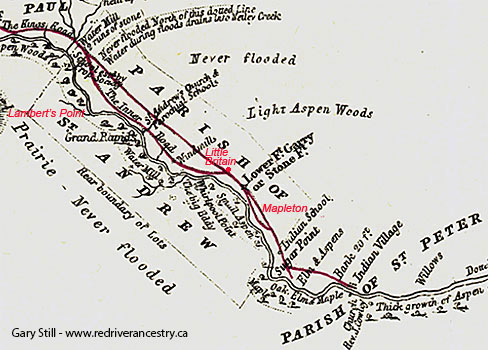 St Andrews Parish from Hind's Map of 1857
Canadian Confederation
Manitoba becomes a Province
1867-1870
On July 1, 1867 the British colonies in North America were united under the British North American Act to become the Dominion of Canada.  Sir John A MACDONALD (1815-1891) was appointed as Canada's first Prime Minister. On July 15, 1870 Manitoba became the fifth province of Canada, the Canadian Government having acquired the territory previously governed by the Hudson's Bay Company (HBC).
In December of 1870 a Census of Red River was completed. The results recorded 5, 757 French-speaking Métis; 4, 803 white settlers and 558 Indians in the census region. This information would be later used to determine who would be eligible for Land Grants and Scrip. James and his family were recorded on Lot 4 St Andrews/ Parkdale) with children as John (age 14), William (12), Catherine (10), Letitia (8), Isabella (4) and Henry (age 2).
In 1875 Métis Scrip applications were made for Margaret & James PARK of St Andrews, and for four of their children: William, Catherine, Letitia and Isabella Jane. (Eldest son John James applied for his own Scrip that year).
Around 1878-79 daughter Catherine married William Robert MASSEY, son of Sarah Hannah SMITH & Robert MASSEY (1823-1897).
Around 1880 son John James married Catherine FIDLER, daughter of Jane LAMBERT & Peter FIDLER (1825-1887). Around the same time son William married Margaret HARCUS, daughter of Ann LILLIE & George HARCUS (1834-1880).
In the Census of 1891 in St Andrews, both Margaret & James PARK were recorded as age 59. Children at home were Letitia (age 28), Isabella (23), Henry G (21), Elizabeth (18) and  Alexander  (age 15). Also with them was a grandson named Royal PATTON (age 1). This grandson is a mystery to me. Who were his parents?
In 1895 son Henry George married Margaret McDONALD, daughter of Isabella ROBILLARD & Alexander McDONALD (b-1826).
In 1899 daughter Elizabeth Mary married George MORRISON, son of Hannah STRUTHERS & John MORRISON (b-1830).
On October, 1900 Margaret PARK died in St Andrews, a month later James PARK died.
Please post comments & queries at this link: FORUM DISCUSSING the JAMES PARK FAMILY
============================= Family Details =============================
Children:
1. 1855 MARGARET ANNE PARK (Died age 11)
2. Jan 23, 1857 JOHN JAMES PARK(S) (m. Catherine "Kate" FIDLER)
3. Dec 8, 1858 WILLIAM PARK (m. Margaret HARCUS)
** MORE ABOUT WILLIAM PARK
4. Jan 11, 1861 CATHERINE PARK (m. William Robert MASSEY)
5. Dec 23, 1862 LETITIA ANN PARK
6. Aug 28, 1867 ISABELLA JANE PARK
7. Oct 27, 1871 HENRY GEORGE PARK (m. Margaret Jane "Maggie" McDonald)
8. 1873 ELIZABETH MARY PARK (m. George MORRISON)
9.  May 29, 1875 ALEX ARCHIBALD "ARCHIE" PARKS