BENJAMIN PRITTIE aka PRETTE (1828-1911)
ELIZABETH WENBORNE (1832-1868)
CYNTHIA HOWEY (1848-1922)
(Last Updated: February 26, 2013)
Surname variations: PRITTIE, PRETTIE, PRETTE, PRETTY
The following is a brief summary based primarily upon several fairly well researched family trees found on Ancestry.ca.
Benjamin PRITTIE aka PRETTE was born Oct 18, 1828 in Dublin, Ireland, son of Tryphania Mary HAYES and Oliver PRETTE (1791-1860).
Quebec
1832
In 1832 Benjamin (age 4) arrived in Quebec City with his family from Ireland. This was the year of the Great Cholera Epidemic that killed 6, 000 people.
Wikipedia: In 1840 the mass emigration out of Quebec began - Brought on by the "push" of overpopulation in rural areas that could not sustain themselves under the seigniorial system of land tenure, but also because the expansion of this system was in effect blocked by the "Chateau Clique" that ruled the Province of Quebec under the new British governors, who reserved new land developments for the English and the English system of colonization and the "pull" of industrialization in New England, approximately 900,000 residents of Quebec (French Canadians for the great majority) left for the United States seeking work. About half of those are reported to have eventually returned to Canada. Often those who stayed organized themselves in communities sometimes known as Little Canadas.  
Marriage to Elizabeth WENBORNE
New York
1851-1868
On Feb 27, 1851 Ben married Elizabeth WENBORNE at Cape Vincent, Jefferson County, New York, daughter of Margaret Mary WATTS and Joseph WENBORNE (1792-1845). In the census that year the newly-weds were recorded in Frontenac County (Wolfe Island in the St Lawrence River) near Kingston, Ontario; Benjamin (age 22) and Elizabeth (age 19). On Dec 7, 1852 their first child, Margaret Ann, was born there.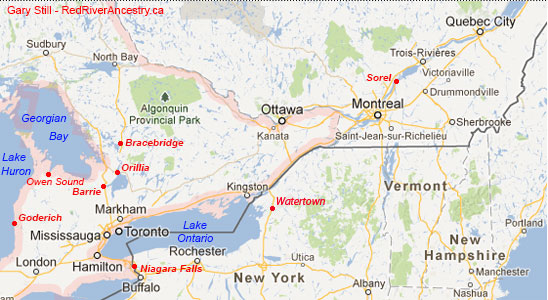 Cape Vincent and Wolfe Island are located on the St Lawrence River near Kingston, Ontario
(East end of Lake Ontario)
By 1856 Ben was farming near Montague in Lewis County (NY), southeast of Watertown. Son Joseph was born there that year and by 1862 Elizabeth had given birth to five children: Margaret, Joseph, Benjamin, Eliza Jane and Thomas.
Canadian Confederation
1867
On July 1, 1867 the British colonies in North America were united under the British North American Act to become the Dominion of Canada. Sir John A MACDONALD (1815-1891) was appointed as Canada's first Prime Minister.
Elizabeth Dies
1868
In 1868 Elizabeth (WENBORNE) died in Quebec. This left Benjamin a widower with five youngsters ranging in age from six year old Thomas to 16 year old Margaret Ann.
Marriage to Cynthia HOWEY
Ottawa West
1871
By 1871 Benjamin had re- married to Cynthia Ann HOWEY, daughter of Alvira GILBERT and John HOWEY (1825-1881) who was born and died in Ontario. The census that year in Ottawa West (Pontiac County) recorded Cynthia (age 24) with Benjamin (age 40) and his children; Joseph (age 16), Benjamin (14), Thomas (12) and Eliza Jane (age 10). Daughter Margaret had married earlier that year to Henry DAY (1844-1904) from England.
On Apr 17, 1873 Cynthia gave birth to a son John (Jack), their first child together.
On Feb 17, 1881 the Canadian Pacific Railway Act was formally announced. That year marked the completion of the railroad section from East Selkirk to Telford near the Ontario-Manitoba boundary. Plans were under way to construct a trans-continental railroad all the way to the Pacific Ocean. On Aug 28, 1881 daughter Eliza Jane died in Pontiac County.
Whitemouth, Manitoba
1882
In 1882 the CPR railroad line from Telford finally met up with the line coming west from the Lakehead. However, no decision had been reached regarding the main east-west line; whether it would be to Winnipeg or to Selkirk. It was around this time that Ben and his family moved to the Whitemouth area in the Province of Manitoba.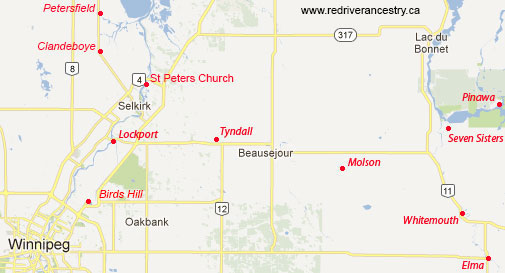 Around 1883 son Joseph married Mary Jane KEYS from Ontario.
In 1886 son Benjamin Jr. married Mary MINARY in Rat Portage, ON, daughter of Ellen Nellie COLEMAN and Joseph David MINARY (1828-1875) from Ireland.
In 1891 Benjamin obtained a Land Grant for Section 2-12-11-Epm, not far to the southeast of Whitemouth where the family was recorded in the Census that year with Benjamin (age 60), Cynthia (age 40) and children at home as John (age 18), James (16), Oliver (14), Lawson (8) and Richard (age 3).
In 1899 son John (Jack) married Mary Ann HODGSON, daughter of Esther FRANKS & Henry HODGSON (1838-1913).
In 1903 the CPR built a new section of the railway from Molson through Oakbank to Winnipeg. Henceforth all transcontinental traffic moved over the new section and the original line to Selkirk and thence east was used only for local traffic.
In 1904 son James married Mary Eugenie ROY; son Oliver married Edith Ida KULPIN and son Lawson married Sarah Ann BRUNSDON.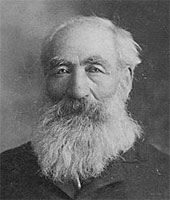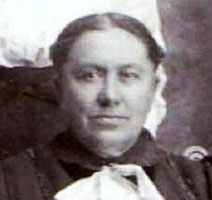 Benjamin & Cynthia Prette around 1907 (From Ancestry.ca)
In 1907-08, son Oliver and his wife Edith both died. Their daughter Gladys (about 5 years old) was taken in by her grandparents (Ben & Cynthia).
Benjamin PRETTE Dies
1911
Jan 25, 1911 Benjamin PRETTE died in Whitemouth, at the age of 82. The census later that year recorded Widow Cynthia (age 64) with granddaughter Gladys (age 5).
World War I
1914-1919
On Aug 4, 1914 Great Britain (Canada on Aug 5) declared war on Germany and Austria-Hungary to uphold treaties with France and Belgium which were under German attack. This marked the beginning of World War I.
In 1915 youngest son Richard enlisted for war service in Ottawa.
In 1917 son Richard married Mary Mabel TURNER, daughter of Susan ACRES and John TURNER (1850-1918).
November 11, 1919, Armistice Day (Remembrance Day) marked the end of the First World War.
On Jan 15, 1922 Widow Cynthia PRETTE died in Carlton, Ontario.
Please post comments & queries at this link: FORUM DISCUSSING the BENJAMIN PRETTE FAMILY
========================== Family Details ==========================
Children by Elizabeth WENBORNE:
1. Dec 7, 1852 MARGART ANN PRITTIE (m. Henry DAY)
2.  Jun 1, 1856 JOSEPH PRETTIE (m. Mary Jane KEYS)
3. Oct 2, 1859 BENJAMIN UMPHRY PRETTE (m. Mary MINARY)
4. May 1, 1862 ELIZA JANE PRETTE (Died age 17)
5. c1863 THOMAS PRETTE (Died age 21)
Children by Cynthia HOWEY:
1. Apr 17, 1873 JOHN (JACK) PRETTE (m1. Mary Ann HODGSON; m2. Mary Elizabeth CLARKE)
** MORE ABOUT JOHN (JACK) PRETTE
2. Dec 15, 1875 WILLIAM JAMES PRETTE (m. Marie Eugenie Laura ROY)
3. Aug 21, 1877 OLIVER PRETTE (m. Edith May KULPIN)
4. Mar 4, 1883 LAWSON PRETTE (m. Sarah Ann BRUNSDON)
5. Jan 6, 1888 RICHARD PRETTE (m. Mary Mabel TURNER)