DAVID PRINCE (c1840-1902)
ANNE INDIAN (c1842-1912)
(Last Updated: August 28, 2012)
David PRINCE, an Indian, was born around 1840 in the Indian Settlement (later  the St Peters Indian Reserve). We cannot be sure who his parents were but I recently received information from one of his descendants suggesting that his parents may have been Nancy BEARDY & George PRINCE born around 1800 which would make him possibly a grandson of Chief PEGUIS (1774-1864). ** MORE ABOUT CHIEF PEGUIS
David probably attended school in the late 1840's at which time Joseph COOK (1788-1848), a half-breed was teaching at a school located at Cook's Creek in the Indian Village. COOK was fluent in Cree and Ojibwe as well as English. He died in 1848.
In 1849 the Diocese of Rupert's Land was founded upon the arrival of Bishop David ANDERSON (1814-1885). At that time Reverend John SMITHURST (1807-1867) was the clergyman in charge of the Indian Settlement.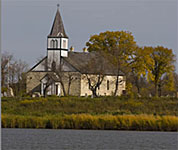 St Peters Church
On May 23, 1853 Bishop ANDERSON placed the cornerstone for a new stone church, assigning it the name St Peters Church. In 1854 Reverend Abraham COWLEY (1816-1887) was indicated as the clergyman at St Peters.
Many years later we discover that David PRINCE worked for a time in the capacity of a missionary and that he was conversant in English as well as Indian languages, suggesting that he received more than just a rudimentary schooling, and some religious training as well,  at some point in his youth.
David and an Indian woman named Anne
1857
Around 1857 David PRINCE married an Indian named Anne. Their first child was Andre, born in 1858, followed by son William in 1860 and daughter Marie in 1862.
An 1863-64 David PRINCE is included in a list of Documented HBC servants and Free Traders.
Chief PEGUIS dies and Henry PRINCE becomes Chief
1864
In 1864 Chief PEGUIS died and his son, Henry PRINCE (1819-1902), MISKOOKENEW or RED EAGLE as he was known to the Band, became Chief of the Saulteaux. ** MORE ABOUT HENRY PRINCE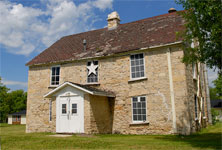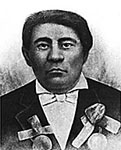 The St Peters-Dynevor Anglican Church Rectory – Chief Henry Prince
On Aug 19, 1865 Reverend COWLEY moved into the historic old stone house on the west side of the River which is still with us today, forming part of the Dynevor Hospital.
Canadian Confederation
Louis RIEL and the Red River Rebellion
1867-1870
On July 1, 1867 the British colonies in North America were united under the British North American Act to become the Dominion of Canada. Sir John A MACDONALD (1815-1891) was appointed as Canada's first Prime Minister. William McDOUGALL (1822-1905) became the Minister of Public Works, and he began negotiations to acquire Rupert's Land from the HBC. In 1868 McDOUGALL sent his surveyors to initiate the construction of a road from Lake of the Woods to Upper Fort Garry (Winnipeg) and to begin surveying river lots to accommodate an expected influx of new settlers.
On Oct 11, 1869, Louis RIEL (1844-1885) placed his foot on the surveyors' chain to tell them their work was finished! This marked the beginning of another Red River Métis Rebellion. On Nov 2 that year he took possession of Upper Fort Garry, taking prisoners in the process. On Nov 16 eleven elected English-speaking council members met with their French-Métis counterparts in the Court House at Fort Garry (RIEL's Convention of Twenty Four). Chief Henry PRINCE attended, representing St Peters.
Chief PRINCE met with RIEL on more than one occasion and voiced his disapproval of the Métis' behaviour.  He was particularly annoyed when RIEL called a general meeting, and refused to allow his speech, in French, to be translated into Cree. When there were rumours of RIEL taking over the Lower Ft Garry as well, PRINCE led 100 men to the fort.  Here the Canadian Govt surveyors were billeted.  PRINCE offered to assist the chief surveyor, Colonel Stoughton DENNIS(1820-1885), is suppressing the Métis uprising. DENIS did not wish to engage Red River in civil war but he gratefully received a dozen Saulteaux as guards.  PRINCE kept his young men at St Peters and rejected all appeals from RIEL to join forces with him.
On Nov 27, 1869 after a number of meetings, RIEL reached a compromise with the English-speaking delegates and they agreed to the formation of a Provisional Government to replace the Council of Assiniboia.
On July 15,1870Manitoba became the fifth province of Canada, the Canadian Government having acquired the territory previously governed by the HBC. Colonel Garnet Joseph WOLSELY (1833-1913) and his company of soldiers arrived on the scene, and on Aug 24 they forced their way into Upper Fort Garry. Having learned that the soldiers were planning to lynch him, RIEL vacated the forty and fled to the USA; the Rebellion was over. Having accomplished their mission, many of the soldiers were then billeted to Lower Fort Garry.
In December of 1870 a Census of Red River was completed. The results recorded 5, 757 French-speaking Métis; 4, 803 white settlers and 558 Indians in the census region. This information would be later used to determine who would be eligible for Land Grants and Scrip.
In that 1870 census David PRINCE was recorded in the St Peters Reserve with the following children: Andre (age 12); William (age 10) and Marie (age 8). Son Arthur was said to have been born in 1870, perhaps soon after the family had been enumerated.
Signing of Treaty Number One
1871
In 1871 Wemyss SIMPSON (1824-1894) was selected by the Department of Indian Affairs (DIA) as General Indian Agent (Indian Commissioner) to make Treaties with the Indian Tribes between Thunder Bay and Fort Garry and to represent the Government in the Northwest. On July 18 SIMPSON issued a proclamation inviting the Indians to meet with him at Lower Fort Garry and on July 25 the negotiations began. On Aug 3, Red Eagle (Mis-koo-ki-new or Henry PRINCE was one of the signatories of Treaty Number One. David PRINCE was present at the signing.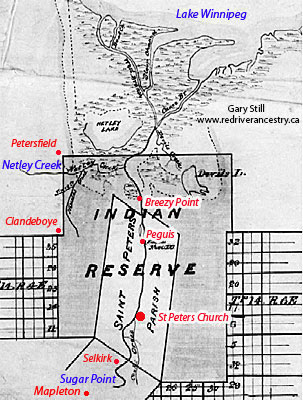 Plan showing St Peters Reserve No.1
In 1872 son George was born.
The Prince Affidavit
1872
On Dec 30, 1872, a document referred to as the "Prince Affidavit" was signed by David PRINCE, James SETTER SR, Henry CHIEF, Thomas FLETT, William BEAR and Thomas SPENCE in which they attested that they were natives of the country and they understand both the English and the Indian languages and that they were present at the signing of the Treaty at Lower Fort Garry last year; that on the day when said Treaty was signed the chiefs did enumerate the articles which they demanded in addition to the Treaty money; that these articles enumerated were agricultural implements for the chiefs and headmen; wagons, horses, harness and suits of clothing; work oxen, bulls, cows, hogs, sheeps [sic], turkeys and fowls; on each reserve, medical aidand a school and school master; If they wished to take their treaty money in goods they would be supplied at Canadian prices....That these things have not been given, and that when they were demanded by the chief, Henry PRINCE, at the payment of this year, he could get no right answer from the Commissioner. On February 8, 1873, HOWE forwarded the letter and affidavit to SIMPSON.
In June 1873, Joseph PROVENCHER (1843-1887) was appointed resident Indian Commissioner in place of SIMPSON. PROVENCHER served under Alexander MORRIS (1826-1889) during the negotiation of Treaty Three, "The North-West Angle Treaty" with the Ojibwe of the Lake of the Woods area. This Treaty was finally signed on Oct 3, 1873, after some difficulties and almost three years of protracted negotiations.
In 1876 Dr David YOUNG (1847-1931) appointed as the first  Indian Agent for Indian reserves at Brokenhead River, St Peters, Fort Alexander and other Reserves on the south part of Lake Winnipeg as may be conveniently reached by him. At the same time, Dr. YOUNG was appointed as the medical officer for the Clandeboye Agency, probably as a result of the demands put forth in the Prince Affidavit described above.
By 1879 two more daughters were added to David's family, Caroline and Margaret.
David as a Missionary – Couchiching Indian Reserve
1880-1881
 It must have been around 1880 that David and his family moved to the Couchiching Indian Reserve (near Fort Frances, Ontario) to work in some capacity as a missionary. This is revealed in the Census of 1881 in the Keewatin District when he and his family were enumerated there as follows: David PRINCE, Church of England Missionary; age 45 (an Indian born c1836 in Manitoba); wife Ann, age 40; children (all indicated born in Manitoba) as follows: Mary (age 23), Arthur (11), George (9), Caroline (2) and Margaret (age 2). Son Joseph, David's last/ youngest child, is said to have been born around the time of the 1881 census as well. Missing in this census are Andre and William who would have been ages 23 and 21 respectively, both previously recorded in the 1870 census; both were old enough to have 'left the mother's nest' and perhaps even to have married by that time. There is no evidence that David PRINCE was ever ordained as a minister and it would seem more likely that he was what simply a Catechist during his term at Couchiching.
In 1881 Alexander MUCKLE (1844-1908), living in Clandeboye at the time, replaced Dr YOUNG as Indian Agent for St Peters and surrounding districts, the position in which he would serve for many years to come.
On Oct 4, 1888 son Arthur married Mary Elizabeth HENDERSON in St Clements Parish, probably the daughter of Anne COOK & Francis HENDERSON (b-1836).
We have no indication as to how long David and his family remained in the Keewatin District; there appears to be no record of him in the Red River Census of 1891.
Around 1896 son George married Widow Margaret (nee WILLIAMS) JOHNSTONE, daughter of Eliza PARISIEN & Thomas WILLIAMS (1825-1888).
On June 7, 1899 Chief Henry "Red Eagle" PRINCE (1819-1899) died. For a relatively short period after 1900 Reverend William Henry PRINCE (1848-1929) became Chief of the St Peters Band and David PRINCE became a Councillor of the Band.
Death of David PRINCE
1902
David PRINCE died on Apr 26, 1902 at the age of 64 (Manitoba Vital Stats).
In Censuses 1906 and 1911 Widow Ann PRINCE and daughter Caroline were recorded in the St Peters Reserve along with other children that are hard to explain.
Widow Annie PRINCE died on Jan 10, 1912 at the age of 70. Daughter Caroline died on Jan 28, that same year (from Manitoba Vital Stats).
If you have more information about this family, please share it on the Forum. Here's the Link:
FORUM DISCUSSIONS about the family of DAVID PRINCE
======================= Family Details =======================
Children:
1. 1858 ANDRE PRINCE
2. 1860 WILLIAM PRINCE
3. 1862 MARIE (MARY) PRINCE
4. 1870 ARTHUR PRINCE (m. Mary Elizabeth HENDERSON)
5. 1872 GEORGE PRINCE (m. Margaret "Maggie" (nee WILLIAMS) JOHNSTONE)
6. c1879 MARGARET PRINCE
7. c1880 CAROLINE PRINCE
8. 1881 JOSEPH PRINCE