PETER SMITH (1830-1922)
MARY McNAB (1840-1929)
(Last Updated: October 30, 2014)
Peter SMITH was born Apr 14, 1830 in the St Peters Indian Settlement, son of Jane McNAB & Jacob SMITH (1800-1870), an Indian. ** MORE ABOUT JACOB SMITH
In 1836 Reverend William COCKRAN (1798-1865) built the first St Peters Church (of log) near the mouth of Cook's Creek and it wasn't officially opened until Jan 4, 1837. Only after that did the term St Peters Reserve and St Peters Parish come into being. ** MORE ABOUT WILLIAM COCKRAN in DCBO
Marriage to Mary McNAB
1855
On Dec 6, 1855 Peter married Mary McNAB at St Johns, daughter of Mary McALLISTER & Timothy McNAB (1816-1846) of uncertain origins. Son Benjamin was born in the spring of 1859.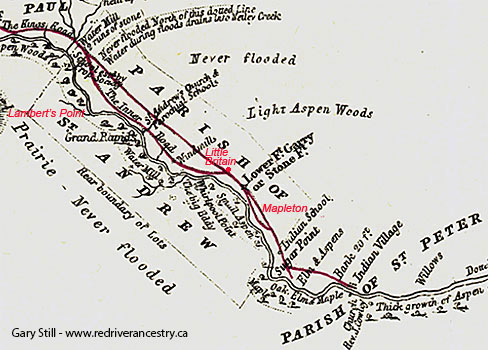 St Andrews Parish from Hind's Map of 1857
A Voyageur with the Hudson's Bay Company
1863-1870
From 1863 to 1870 Peter was a contract employee (Middleman; Voyageur) with the Hudson's Bay Company (HBC) in the Red River District.
Canadian Confederation
A Red River Metis Rebellion
Manitoba becomes a Province
1867-1870
On July 1, 1867 the British colonies in North America were united under the British North American Act to become the Dominion of Canada. Sir John A MACDONALD (1815-1891) was appointed as Canada's first Prime Minister. William McDOUGALL (1822-1905) became the Minister of Public Works, and he began negotiations to acquire Rupert's Land from the HBC, sending out surveyors to prepare the way for an expected influx of settlers.
In 1869 the Red River Rebellion began and it ended in 1870 when Manitoba became a Province.
** MORE ABOUT the RED RIVER REBELLION in WIKIPEDIA
Census of 1870 in St Peters (Lot 56):  Peter SMITH, Indian, age 40; wife Mary, age 30. Children: Benjamin (age 11), Jacob (9), David (6) and John (age 3). Also Jane SMITH (Peter's mother), Indian, age 70.
Treaty Number One
1871
In 1871 Wemyss SIMPSON (1824-1894) was selected by DIA as General Indian Agent, to make Treaties with the Indian Tribes, and to represent the Government in the Northwest. On Aug 3, 1871 Treaty Number One was signed by Chief Henry (Red Eagle) PRINCE (1819-1902) on behalf of the St Peters Indian Band.
** MORE ABOUT CHIEF HENRY PRINCE and TREATY ONE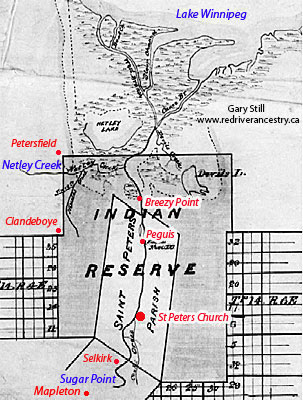 Plan showing St Peters Reserve No.1
On Apr 21, 1876 the Winnipeg Free Press published a document certifying the St Peters Band Chieftainship declaring that Henry PRINCE was elected as Chief. The article included a list of band members that includes Peter SMITH among them.
ICC: By 1876 St Peters Parish was divided in two, the Salteaux and Cree having become openly antagonistic toward one another.  The formal split caused the Reserve to alter in appearance with the southern half (Dynevor) occupied by the Crees basically with the northern half (Peguis) housing the Salteaux. - - half of the Parish's population had become non-treaty Indians - - farming had become a subsidiary occupation for many ot the Indians who drifted back to fishing and hunting - - for longer periods of time - - they were also working at many manual labour jobs and accepting occupations outside of the reserve setting.
Census of 1881: Peter SMITH, age 50; Mary, age 40. Children: Benjamin (age 23), David (17), Harriet (4), Francis (2) and Peter (age 2).
On June 15, 1882 the Town of Selkirk was incorporated. The first Mayor was James COCLEUGH (1841-1918).
In 1883 Peter's last, youngest child, Abraham was born.
In 1886 eldest son Benjamin married Lydia STEVENSON of uncertain origins. If anyone has more information about Lydia, please let us know on the Forum.
In 1890 son David married Mary or Phinia FAVEL of uncertain origins, possibly the daughter of Angelique ADAM and Thomas FAVEL (b-1836).
In 1897 son Jacob married Sarah (nee HOPE) PARISIEN in St Peters, daughter of Sarah SPENCE & Thomas HOPE b-1820).
Census of 1906 in the Selkirk District: Peter SMITH (age 73); wife Mary (age 63) and son Abraham (age 25).
Surrender of the St Peters Reserve
A New Peguis Reserve
1907-1911
It was on Sep 24, 1907 that the Chief and Councilors of the Peguis Band signed the controversial historic agreement surrendering the St Peters Reserve to the Crown. Representatives of the Band selected the site for a new reserve in the Fisher River area, north of Hodgson (MB), the New Peguis Reserve. By 1909most of the native residents of St Peters had moved there
Subsequent events, in particular a 1911 Manitoba Royal Commission investigating the titles to the river lots and the surrendered land, were to vindicate those who had opposed the surrender's validity. In the meantime, however, a significant proportion of the Band had relocated to Fisher River, patented lots had been sold, a sale of the remaining surrendered reserve land had taken place, and proceeds had been distributed to band members. The dominion government was unwilling to turn back the clock and reopen the St Peter's land question. It was perhaps inevitable that the surrender would ultimately be validated by special legislation: the St. Peter's Reserve Act.Under its provisions, purchasers would be required to pay an extra $1 per acre (to be added to the St Peter's Band fund) to obtain a secure title to their land. The legislation had the effect of increasing the balance in the Band's trust account by $40,000, but the St Peter's Reserve was gone forever.
Peter SMITH however remained in the St Peters Reserve, and in the Census records of 1911, 1916 and 1921 he, his wife Mary and son Abraham were recorded together there in the same household. In 1921 Peter was recorded as age 87, Mary as age 77, and son Abraham as age 37.
In 1910 daughter Harriet married William PARISIEN in St Peters, son of Sarah Jane HOPE and Joseph PARISIEN (1840-1886).
On Mar 25, 1922 Peter SMITH died, and on Oct 9, 1929 his wife Mary died in what was now St Andrews Parish.
In 1924 youngest son Abraham married in Selkirk to Margaret SANDERSON of uncertain origins. He may have later married Margaret STRANGER, also of uncertain origins.
Comments and queries at this link: FORUM DISCUSSING the PETER SMITH FAMILY
=========================== Family Details ===========================
Children: 
1. Apr, 1859 BENJAMIN SMITH (m1. Lydia STEVENSON, m2. Lena KRUGER, m3. Eliza COCHRANE)
2. Apr 15, 1861 JACOB SMITH (m. Sara Jane (nee HOPE) PARISIEN)
3. 1864 DAVID SMITH (m. Mary or Phinia FAVEL)
4. 1867 JOHN SMITH
5. Jan 12, 1877 HARRIET SMITH (m. William PARISIEN)
6. Jan 16, 1879 FRANCIS "FRANK" SMITH
7. 1879 PETER SMITH (Died age 17)
8. 1883 ABRAHAM SMITH (m1. Margaret SANDERSON; m2. Margaret STRANGER)