ALEXANDER STILL III (1691-1762)
JEAN SMITH (1700-?)
(Last Updated: October 26, 2015)
Alexander STILLwas born around 1691 in Old Machar (Aberdeenshire), son of Christian WATSONE and Alexander STILL SR (II)who was born about 1659 in Old Machar. ** MORE ABOUT ALEXANDER STILL II
Old Parish Records (OPR): Alexander STILL, baptized Jul 5, 1691 in Old Machar, Aberdeen City. Father: Alexander STILL (no mother stated)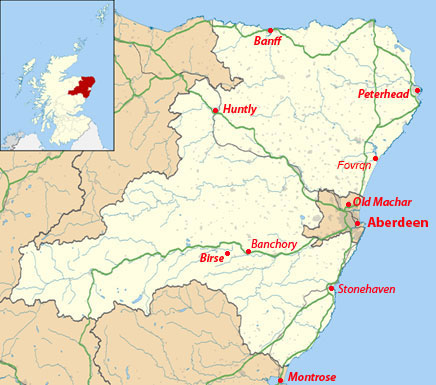 The County of Aberdeenshire
1696 Tenants of Balgounie in Murcar (Old Machar): Alexander STILL, elder (Alexander II), farmer, and Christiane WATSONE, his wife, general poll (re Hay). Also: Alexander STILL, younger (Alexander III), tenant, and his wife.
Marriage to Jean SMITH
1719
According to Welwood, on July 17, 1719 Alexander STILL married Jean SMITH in Old Machar. She was born about November, 1699 in Aberdeen, daughter of Isobell DRUMMOND and Robert SMITH of unknown origins.
** These are the ancestors of both Gary STILL and Lorna HEARN, the last generation that we shared in our lineages.

In 1761 son Robert married Elizabeth ANDERSON in Edinburgh. Her origins are uncertain.

In 1762 son Alexander married Jean ANDERSON in Banchory-Devenick (2 km south of Aberdeen), daughter of Jean DAVIDSON and James ANDERSON (b-1725). ** These are the ancestors of Gary STILL.
On June 5, 1762 Alexander STILL III died.
Perhaps around 1768 son John married a Jane SMITH of so far uncertain origins. ** These are the ancestors of Lorna HEARN.
Comments and queries at this link: FORUM DISCUSSING THE FAMILY OF ALEXANDER STILL III
========================== Family Details ==========================
Children:
1. May 9, 1721 JOHN STILL (m. Jane SMITH)
2. 1723 ALEXANDER STILL IV (m. Jean ANDERSON)
** MORE ABOUT ALEXANDER STILL IV
3. Jan, 1733 ROBERT STILL (m. Elizabeth ANDERSON)