ALEXANDER STILL IV (1723-1769)
JEAN ANDERSON (1742-?)
(Last Updated: October 31, 2015)
Alexander STILL was born about 1723. On March 23 that year he was baptized in Old Machar. He was the son of Jean SMITH and Alexander STILL III (1691-1762). ** MORE ABOUT ALEXANDER STILL III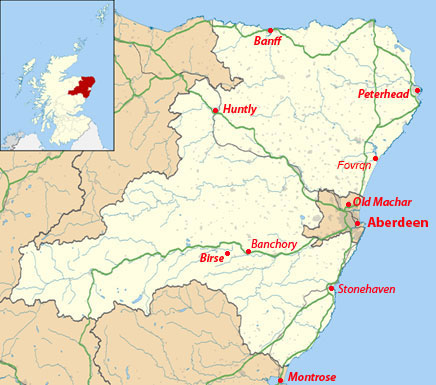 The County of Aberdeenshire
Marriage to Jean ANDERSON
1762
On Oct 2, 1762 Alexander married Jean ANDERSON in Banchory-Devenick.
Wikipedia: Banchory-Devenick is a village approximately two kilometers south of the city of Aberdeen, Scotland in the Lower Deeside area of Aberdeenshire. (The village should not be confused by the historic civil parish of the same name which generally is positioned across the River Dee to the north). The County of Kincardine, also known as Kincardineshire or The Mearns (from A' Mhaoirne meaning 'The Stewartry') was a local government county on the coast of northeast Scotland. It was bounded by Aberdeenshire on the north and west and by Angus on the south.
On Jan 22, 1769 Alexander STILL IV died in Old Machar.
In 1784 eldest daughter Jean married Alexander HUTCHEON in Old Machar. His origins are unknown.
In the Old Parish Records (OPR) there are two records of marriages for Margaret STILL in Old Machar. One was in 1784 to William MORRICE and one in 1785 to Andrew BREBNER.
In 1786 son William married Frances Jane SINCLAIR in the Parish of Newhills (part of Old Machar Parish). ** These are the ancestors of Gary STILL.
In 1792 son Alexander married a Barbara MILNE in Aberdeen.
Comments and queries at this link: FORUM DISCUSSING THE FAMILY OF ALEXANDER STILL IV
========================== Family Details ==========================
Children:
1. Apr 11, 1763 JEAN STILL
2. Sep 24, 1764 MARGARET STILL
3. Mar 5, 1767 ALEXANDER STILL
4. Jan 13, 1769 WILLIAM ALEXANDER STILL (m. Frances Jane SINCLAIR)
** MORE ABOUT WILLIAM ALEXANDER STILL