WILLIAM ALEXANDER STILL (1769-?)
JANE SINCLAIR (1770-?)
** Ancestors of Gary STILL **
(Last Updated: October 31, 2015)
William Alexander STILL was born on Jan 13, 1769 in Old Aberdeen, Aberdeenshire, Scotland, the son of Jean ANDERSON and Alexander STILL IV (b-1723). William would spend his entire life in Newhills Parish, once a part of Old Machar. ** MORE ABOUT ALEXANDER STILL IV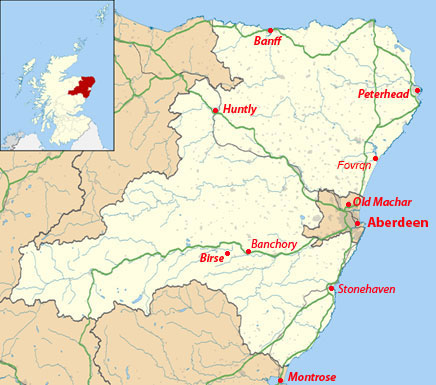 The County of Aberdeenshire
Marriage to Jane SINCLAIR
1786
Around 1786 William married Jane SINCLAIR of uncertain origins
.
To the best of my knowledge, William and his family were little more than subsistence or peasant farmers.The traditional system of agriculture in Lowland Scotland had existed unchanged for hundreds of years. In many ways it was a totally rural economy, the land being worked by the cottars on the centuries-old runrig (ridge and furrow) system of subsistence farming.
Cottar is another term often used for peasant farmers who occupied cottages and cultivated small plots of land, or a tenant renting land from a farmer or landlord. The typical subsistence farm had a range of crops and animals needed by the family to eat during the year. Planting decisions were made with an eye toward what the family would need during the coming year, rather than market prices. Their primary focus was on growing enough food to feed their families.
By 1801 William STILL had a family comprised of four sons and four daughters. William himself would have been about 32 years old; his eldest (Agnes) was about 14 years old; his youngest (Martha) a mere baby.
Gail FREITAS (my first and primary source regarding William's family) provided us with eight children who came to Canada (John in 1836 and seven more in 1840). Those eight children are fairly well documented in Canadian records, but could it be that there were a few more children born who did not emigrate? Consider this – the youngest to emigrate was Martha, born in 1801. William was only 32 years old in 1801, Jane even younger. They were certainly still young enough to produce more children. This is why  I became interested by a recent discovery I made in the Scotland's People website of a Will (Testament) filed by a William STILL in 1833 naming children born later.
The Scottish Clearances
Between 1811 and 1820, brutal clearances were conducted in Aberdeenshire by the 1st Duke of Sutherland. Evictions at the rate of 2,000 families in one day were not uncommon. Many starved and froze to death where their homes had once been.  
The Clearances swept aside a traditional way of life, causing immense upheaval and trauma for rural dwellers, many of whom moved to the new towns and cities or emigrated. Many small settlements were torn down, their occupants moved to new, purposely built villages (ie John's move to Birse). Many thousands of Scots emigrated, taking advantage of new opportunities offered in Canada and the USA where they could own and farm their own land.
In 1812 the first of Lord SELKIRK's settlers arrived in Red River, in what would later to become the Province of Manitoba, Canada. I think these were mostly Highlanders (Orkney families), and they were also victims of the Clearances.
We have absolutely no information regarding Jane and William after 1801.  After 1812 they would have been in their forties, assuming they were both living. Their eldest sons, John and James were in their mid twenties by then, old enough to have perhaps established separate farmsteads of their own. The other, younger, siblings around that time ranged in age from 20 year old Alex down to 11 year old Martha.
We don't know how the family was affected by the Clearances, but we do know that son John (my ancestor) moved about 30 miles out of town where he established a farmstead of his own near Birse (southeast of Aboyne). The rest of the family, however, remained in Newhills Parish where James probably established a place of his own as well.
On Apr 16, 1816 son John married Margaret YOUNG in Birse, granddaughter of Alexander YOUNG (1725-1806), an earlier pioneer in that area.
Meanwhile, the rest of the STILL family were still in Newhills Parish where they managed to 'hold the fort' during the Clearances.
It wasn't until Apr 26, 1829 that son James STILL (39 years old then) married 16 year old Ann DAVIE.
As previously mentioned, we have no information regarding the disposition of Jane and William at this point. In 1830 William would have been over 60 years old. Were they both living? As far as we know, Jane produced no more children after 1901, when she was still relatively young. Is it possible that William re-married, or otherwise had more children?
In 1833, the Old Parish Records of Scotland (OPR) recorded the death of a William STILL in Old Machar. Was this our William? On the Scotland's People website I found a Will (Testament) involving the disposition of a William STILL who died that same year. However, the Testament names several children as heirs with different names than the children we are familiar with (Elizabeth, Isobel Christian and Jessie). No mention is made of his wife, and the children appear to have been born after the ones we are familiar with. The daughter named Elizabeth was the widow of John DUNCAN, and the daughter named Jessie was married to George GORDON. Anyone familiar with these names?
Son John Sails to America
1836
We know that in 1836 son John and his family from Birse sailed to Boston, and on to Mono Township in Ontario. However, it seems that the rest of his siblings remained in Newhills Parish for another four years before they departed as well.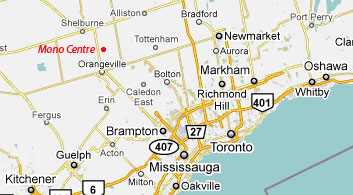 Mono Centre is located on Hwy #10, north of Orangeville, Ontario. 
As far as we know, neither John nor James inherited anything more than material things. Did James perhaps in time manage to gain title to some land, or otherwise gain some degree of prosperity in some other fashion? According to Gail, someone in the family (other than John) was able to pay passage to Canada for the entire family.
By this time, James STILL had five children of his own in Newhills, and who knows how many siblings with children as well. John STILL had eight children in Birse, with another one on the way.
In 1836, most of William's family (except James) sailed to North America (Boston, and on to Mono Township, Ontario).
The rest of the family Sail
1840
According to Gail FREITAS, an old family story claims that one of William's children inherited a large amount of money and was thus able to later pay the passage for everyone to Canada.  It was not John (says Gail), as he was poor and his children were known as "the poor cousins".  This little statement leads to some puzzlement.
Frietas: There is an old family story that claims one of John's brothers or sisters had inherited a large amount of money and paid the passage for everyone. It was not John, as he was poor and his children were known as "the poor cousins".
Another family story – A sister of John's that had travelled from Scotland with them, had fallen out of a hay loft and injured her head. As a result she was in the Toronto Mental Hospital for awhile. She died and was buried in Toronto near Riverdale Park. There were four sisters; Agnes, Elizabeth, Hannah and Martha.
In 1840 son James (after his wife died) also emigrated to Mono Centre.
Comments and queries at this link: FORUM DISCUSSING THE FAMILY OF WILLIAM ALEXANDER STILL
========================= Family Details =========================
Children:
1. Apr 20, 1787 AGNES STILL
2. Sep 14, 1788 JOHN STILL (m. MARGARET YOUNG)
3. May 2, 1790 JAMES STILL (m. Anne DAVIE)
4. Apr 11, 1792 ALEXANDER STILL
5. Feb 28, 1794 ELIZABETH STILL (?m. John DUNCAN)
6. Feb 21, 1796 HANNAH STILL
7. Mar 24, 1798 WILLIAM STILL
8. Nov 23, 1801 MARTHA STILL