GEORGE EVERET STILL (1927-Living)
LILLIAN PATRICIA "PAT" WAKEFIELD (1927-Living)
(Last Updated: October 28, 2017)
George Everet STILL was born at home on June 30, 1927 in Arrow River, Manitoba, the second eldest child of Bessie CONROD & Thomas James STILL (1894-1980). The family always called him Everet or Ev, but elsewhere he seems to have been often referred to as George.
Everet went to Glenlochar School for Grade I, Miniota School for Grade 3.
The Great Depression, the Dirty Thirties
1929-1939
Throughout the years of 1929 to 1939, there was a world wide Depression and Canada was one of the worst affected countries. Financially and economically the country began to collapse regardless of what was done by political power. Everet's father (Jim) could not afford to buy a farm for himself and his family while they were in the Assiniboia Valley. Instead he was a sharecropper (a tenant farmer who was given a share of the crops he raised (by the landowner) in lieu of rent).
By 1933 Everet had four siblings, all born in the Miniota area:  Gordon (1926); Ernie (1928); Billy (1929) and Myrna (1932). Myrna would be the only girl in the family. A fifth sibling, Denis (1933) was the first child born in a hospital.
** MORE ABOUT the STILL FAMILY in the ASSINIBOINE VALLEY
The STILL Family moves to Selkirk – Old England
1936
In 1936, when Everet was nine years old,  the family moved in with their CONROD grandparents in Old England (near Selkirk) until his father was able to clear enough brush to build a house on Sunnyside Road near the Manitoba Rolling Mills (MRM).
Everet attended Mapleton School for Grades IV to VIII. ** MORE ABOUT MAPLETON SCHOOL
In his early teens while still going to school, Everet got his first job as a Teamster 'driving horses' for 'Granny' (Alice) LYONS (1862-1939), the 'Horse Lady' who managed a horse contract with the MRM. As a youngster I (Gary) remember watching the horses and riders passing by on their way to and from the Rolling Mills. The horse contract was later taken over by Walter ROGERS (REJESKI) and Tom JOHNSON. To see what these gigantic powerful work horses looked like, click on this link: ** ALICE & WILLIAM LYONS
THE WAR YEARS
1939-1945
World War II: On Sep 10, 1939, a special session of Parliament approved Prime Minister Mackenzie KING's request that Canada join the war in Europe. The decision, seen by most Canadians as inevitable, came exactly one week after England and France declared war on Nazi Germany. It was the first time that Canadians made their own declaration of war as a sovereign nation.
From 1941 to 1943 (age 16) Everet attended the Selkirk Devonshire Collegiate in Selkirk (Grades 9-10).
In his early teens while still going to school (1943), Everet got his first job as a Teamster 'driving horses' for 'Granny' (Alice) LYONS (1862-1939), the 'Horse Lady' who managed a horse contract with the MRM. As a youngster I (Gary) remember watching the horses and riders passing by on their way to and from the Rolling Mills. The horse contract was later taken over by Walter ROGERS (REJESKI) and Tom JOHNSON. To see what these gigantic powerful work horses looked like, click on this link: ** ALICE & WILLIAM LYONS
From February of 1944 to July of 1945 Everet was a Lab Technician at the Manitoba Rolling Mills (taking and analyzing steel samples).
Germany surrendered unconditionally on May 7, 1945, after a final attack across the Rhine. The War was over. On July 5, 1945 Everet attempted to join the Army. He was told to "go home and grow a little more."
Working in Ontario Mines
1945-1947
From Oct 28, 1945 to July  of 1946 Everet went to Ontario to work as a Mine Laborer at Hasaga, Starratt-Olsen (Madsen) and Bayview Mines at Red Lake (Golden Arm), ON, where he worked alone sampling drifts and raises. The only other men in the mine were the shaft crew who were sinking the main shaft lower. Several times when they blasted he had his carbide hat lamp blown out and had to find his way in the dark to a raise or man way to get to the surface to clear the jet in his lamp.
From January to August of 1947 he worked for International Nickel Company at the Creighton Mine near Sudbury and a Greaser on an electric shovel at Frood open pit near Sudbury.
Brothers Gordon, Ernie and Billy also worked the mines at Long Lake and Sudbury. Uncle Wilson CONROD also worked at Long Lake at one time.
British Columbia Gold Mines
1947-1950
From September of 1947 to August of 1948 Everet was a Motorman and Miner at the Bralorne Gold Mines in Bralorne, BC; from September of 1948 to June of 1950 he was at the Britannia Mining & Smelting Company (motorman, miner and mucking machine operator).
Mine Disaster – Brother Ernie Crippled for Life
1949
On Mar 23, 1949, his brother Ernie was critically injured in a mine disaster (cave-in) at the Starratt-Olsen Mine in Ontario; he was not expected to live. He was flown to Toronto, and for the next three years he would have to endure a series of major surgeries. His legs were permanently paralyzed down to the toes. For a long time he was bound to a wheel-chair, then crutches and then for the rest of his life he would have to have braces on his legs and wear a urinary catheter (a plastic bag strapped to the leg).
Winnipeg
1950-1951
From June of 1950 to February of 1951 Everet was a Candy Maker at Pauline Chambers Co. in Winnipeg, Manitoba; then as a construction worker at Canadian Kellogg Company.
Royal Canadian Air Force (RCAF)
Ontario and Nova Scotia
1951
On Feb 15, 1951, Everet enlisted in the RCAF, taking his basic training at Aylmer, Ontario. From March to July he trained as an Aero-Engine Mechanic at Camp Borden, ON.
From July of 1951 to November of 1953 Everet was assigned to the 405th Squadron at Greenwood, NS. There he was a Maintenance Hangar Manager doing major and minor inspections, run-ups and engine changes on Lancaster Bombers equipped with Packard-Merlin engines.
Marriage to Patricia "Pat" WAKEFIELD
Trenton, Ontario
1952-1955
In May of 1952 Everet was transferred to the Trenton Air Base in Ontario where he was the Maintenance Hangar Manager (working on Harvards, Expeditors, Mitchells, DC-33 and Mustangs).
On May 10, 1952, Everet married Lillian Patricia "Pat" WAKEFIELD, daughter of Lillian May HILTON & Thomas Varti WAKEFIELD.
On April 1, 1954, Everet was promoted to Corporal. He lived at 112 Lorne Ave. in Trenton and on June 14, 1954 daughter Diana was born in Trenton.
RCAF Base Gimli, Manitoba
1955-1960
In January of 1955 Everet was transferred to the RCAF Station at Gimli, Manitoba.
On Jan 4, 1957, daughter Carol was born at the Johnson Memorial Hospital in Gimli.
On May 14, 1959, their youngest child Tom was born at he Selkirk General Hospital in Selkirk.
On Oct 20, 1960 Everet purchased a Discharge from the RCAF.
Bralorne, BC – a Miner again
1960-1964
On Nov 4, 1960 Everet returned to mining, this time at Bralorne Pioneer Gold Mines, Bralorne, BC, where he worked for the next four years. In March of 1964 he had to quit when he became afflicted with a Stapholocus infection from drinking mine water.
Move to Calgary
1964-1965
In March of 1964 Everet and his family moved to Calgary. He was unemployed until May that year when he found a month's work at Trans-Canada Rent-A-Trailer; then three months at the Massey-Furgusson doing modifications on swathers in the Calgary area and north to the Peace River district. When that job was completed, he worked on seismographical vehicles for Everet-Bell of Calgary where "the owner drank his business into the ground and four months later couldn't pay my wages." For the next four months Everet worked at Kenway Saddle & Leather at minimum wage; jobs were hard to find during this period. At that time he was living at 1635-40th Street in Calgary.
Move to British Columbia
1966-1972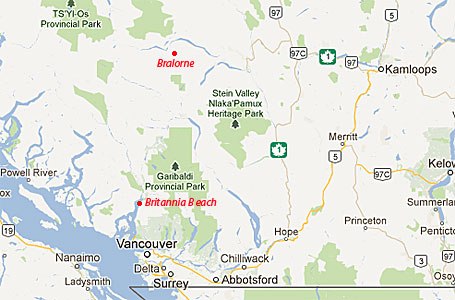 On June 22, 1966 the family moved to China Creek, BC, when Everet got a job as a Tank Cleaner with Consolidated Mining & Smelting at Trail and later Rossland where he had to quit after developing a wedged disc from heavy lifting.
Selkirk-Winnipeg
1972-1973
June of 1972 found Everet back in Manitoba where he lived at 204 Taylor Avenue in Selkirk. He commuted to in Winnipeg where he gained employment as an Aircraft Mechanic again at Standard Aero-Engine Ltd. He was laid-off when his Government contract expired on Feb 12, 1973.
Gimli
1973-1975
On Feb 26, 1973 Everet was again an Aircraft Mechanic at Saunders Aircraft in Gimli, MB. There he worked in the component shop stripping down, cleaning, identifying, inspecting and rebuilding flight controls and brackets and assembling landing gear for use in the construction of the Twin-engine ST27 Turbo-prop aircraft they were building. He lost that job when the company shut down in the spring of 1975.
On June 28, 1975, daughter Diana married Robert BALDWINat the St Clements Church in Mapleton (MB), the son of Margaret CRONK & Jeffery Albert BALDWIN.
From July to September of 1975 Everet worked at the Manitoba Rolling Mills. That September he was a student, taking Grade 11A upgrading at Red River College in preparation for trade training until Jan 30, 1976.
1976-1977
In 1976 Everet was still living at 204 Taylor Avenue in Selkirk. From Feb 12 to Mar 26, 1976 he was a shipper at Century Aircraft in Winnipeg. From Mar 29 to September he was a Cellarman at Jordan & St Michelle Winery in Selkirk.
In September he was a student again at Red River College until June of 1977 when he obtained his 4th Class Power Engineer Certificate and Grade 12 Math Certificate. Wife Pat worked to provide income while he was at college.
1977-1979
From June of 1977 to July of 1979 he was a Shift Engineer at Electro-Knit Fabrics in Selkirk.
Power Engineer at Stony Mountain Penitentiary
1979-1992
On Oct 15, 1979 Everet began his job as a Power Engineer at the Stony Mountain Penitentiary, Stony Mountain, Manitoba where he continued working for the next 13 years, commuting from his home on Taylor Ave. in Selkirk. During that time he was a Shift Engineer until the Government cut that position. He obtained his 3rd Class Power Engineer Certificate in 1982. He worked on the Powerhouse Maintenance Crew maintaining heating, ventilating, refrigeration, air conditioning, electrical and plumbing equipment throughout the Stony Mountain and Rockwood Institutes.
Brother Gordon STILL also worked as a Painting Instructor at Stony Mountain Penitentiary during this period.
On Nov 16, 1980, Everet's father (Jim STILL) died at the age of 86.
On Apr 30, 1983 son Tom married in Winnipeg to Lori TROWELL, daughter of Beatrice ZURBA & William TROWELL.
Lot 14 Mapleton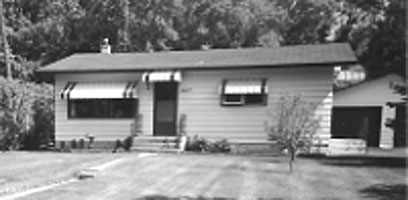 In June of 1985 Everet moved from his home on Taylor Avenue to the home on Lot 14 in Mapleton which he purchased from his mother (Bessie). Jim & Bessie had been living there since 1966. This is the property originally owned by William FIDLER (1858-1959) ** MORE ABOUT WILLIAM FIDLER
Widowed mother Bessie had lived on this property until old age crept in. She then moved in to a room specially built for her at her son Gordon's home (Everet's brother), and later it became necessary to place her in the Betel Home in Selkirk.
Around 1988 daughter Carol married Gordon John JOHNSON, son of Doreen Bjorg INGJALDSON & Einar Bjorguin JOHNSON. After they were married they moved to Gordon's farm at Churchbridge, Saskatchewan. ** I'm waiting for more info re dates, etc.
Retirement
1992
On July 3, 1992 Everet retired and continued to live in Mapleton for abouit the next eight years.
Everet and his brothers Denis and John became avid curlers, playing in many annual Curling Bonspiels (Selkirk & District Curling Club).
On Feb 2, 1994, Everet's mother (Bessie) died in the Betel Home in Selkirk at the age of 90.
1997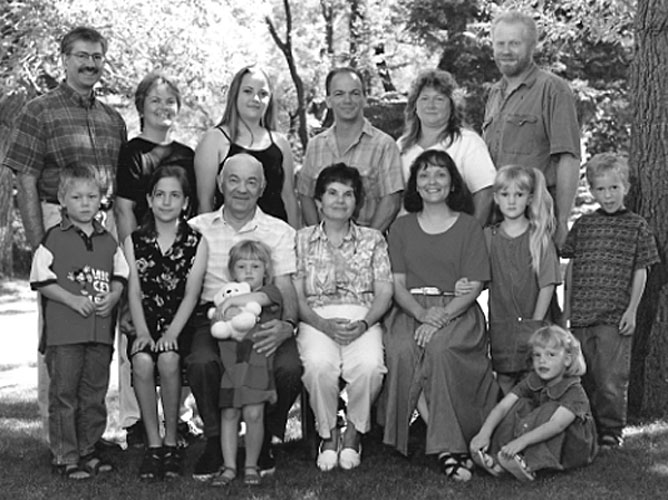 Back L-R: Bob Baldwin, Diana, Kristi (Blackley), Tom, Lori, Gordon Johnson
Front L-R: Brett STILL, Kelly Baldwin, Everet (on lap Rianne Still), Pat, Carol Johnson,
Lisa Johnson, David Johnson, Sarah Johnson (on ground)
November, 1997
2012
In August of 2012, I (Gary STILL) and Yvonne STILL (his sister-in-law) came to Manitoba and visited Pat and Everet at their Lyon's Manor residence on Christie Avenue in Selkirk (a retirement home for seniors located next to the old Selkirk Arena). I hadn't seen them for quite a number of years.
Considering their ages (they were both now 85 years old), Pat was in remarkable condition, but Everet was showing the effects of two strokes and a heart attack requiring extensive surgery to save his life. He was very thin and fragile now and he needed a walker to get around.
I was amazed his display of wood-carvings. I had forgotten that he was an expert wood-carver. Pat's excellent embroidery work was also in evidence. He, like myself and Myrna, had an excellent compilation of family genealogy that I was eager to delve into and we took great delight in sharing information and reminiscences.
As further details (and pictures) are found this page will be updated. To share stories and information about Pat & Everet's family. Please do so at the following link:  DISCUSSION FORUM re PAT & EVERET STILL
============================= Family Details =============================
Children:
1. Apr 19, 1953 'BABY' STILL (Died at birth)
2. June 14, 1954 DIANA LYNN STILL (m. Robert Gordon BALDWIN)
3. Jan 4, 1957 CAROL ANN STILL (m. Gordon John JOHNSON)
4. May 14, 1959 THOMAS EVERET "TOM" STILL (m. Lori Lynn TROWELL)