JOHN BURTON STILL (1938-1984)
MARILYN BEATRICE "BEA" BEGG (1940-2014)
(Last Updated: March 22, 2015)
John Burton STILL was born on June 12, 1938 in Selkirk, Manitoba, son of Bessie CONROD & Thomas James STILL (1894-1980).  This was near the end of the Great Depression, the 'Dirty Thirties'. ** MORE ABOUT JIM STILL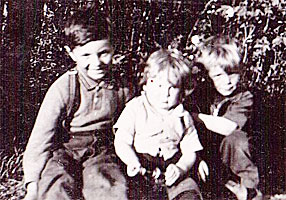 L-R: John, Kenny & Gary
Johnny and I (his brother Gary) grew up in Mapleton (Old England), south of Selkirk. He was just a year older then me, so as youngsters our routine was much the same. We both attended the Mapleton School. You can see him in the Class of 1944 picture (front row, third from the right) at the following link: He was six years old in Grade I then. ** MORE ABOUT MAPLETON SCHOOL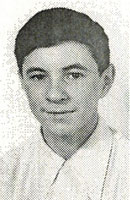 John's School Picture
We were both Paper Boys, he delivered the Winnipeg Free Press, me the Winnipeg Tribune. The old St Clements Church Hall was the center for community events; we both attended Sunday school there, and on Friday nights we were Boy Scouts.
In John's pre-teen years there were still no phones or television sets. Instead, evenings were spent with ears close to the radio listening to episodes of Orson Wells, Murder at Midnight, Suspense Theatre, Boston Blackie, Fibber McGee and Molly, I Was a Communist for the FBI, etc. There were however movies to go to. On Saturday afternoons we would walk to Selkirk and go to the Eveline Theatre or the Garry Theatre; movies like Snow White and the Seven Dwarfs, Bambi, Superman, Batman, The Phantom, Abbot & Costello, The Bowery Boys, The Little Rascals, etc were some memorable favorite movies then.
In his pre-teen years, Johnny's best friend was Peter GOWEN. They were parted around 1950 when Peter was sent away to Alberta to live with an uncle. ** MORE ABOUT THE GOWEN FAMILY
John was also good friends with Donald McIVOR.
The Teenage Years
The 1950's
The main members of our gang were John & Gary STILL, Dick & Doug McKENZIE, Ellen & Oakley GILLESPIE, Bea BEGG & Bea HOOD. Our get-togethers usually involve long walks up and down River Road between the St Clements Church and Lower Fort Garry.
A few highlights: Pushing over out-houses at Halloween - raiding gardens (corn roasts) - skating on the river - the old swimming hole below the PERRY house - snow sliding on the hill below the McLEOD house - winter "Tally-Ho's" (horse and sleigh hayrides). Then there was the Mapleton Square Dancing Club chaperoned by Vern RAILTON, where we all learned to dance ** MORE ABOUT VERN RAILTON
John inherited the family's 22 caliber rifle. He loved to go hunting west of the railroad tracks, an area that we always called "Out-back" (rabbits, partridges, gophers or almost any critter that got near enough). That old 22 had a crooked barrel and it took a lot of skill to hit a target. John was an excellent marksman. I remember one time we were in the middle of the river when we spotted a crane or egret sitting at the top of a tall elm tree, swaying in the wind. The boat we were in was bobbing with the waves when john aimed his trusty rifle and fired. His bullet hit the target; the crane toppled over and fell to the ground. It took us a long time to find the bird, but when we did I was amazed! As you might imagine, a crane's long neck isn't much more than an inch in width – the bullet had passed through its neck, dead center!
On February 3, 1954, the first telephone was installed at the STILL home. Television sets soon became common-place around that time as well.
John's First Car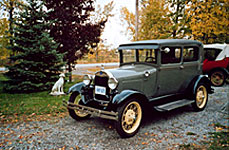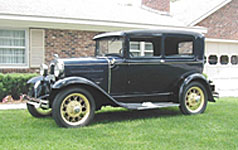 1928 Model A Ford
John got his first job as a laborer, working for Mr. BLACKWOOD at the Grain Elevator across from Lower Fort Garry. There, he earned enough money to buy his first car, a 1928 Model A Ford.
One time John let Ellen GILESPIE (his girl-friend at the time) make her first try at driving. We were on the Calder Road, a narrow mud-road with steep-deep ditches on both sides. Ellen failed her first test. As the car swerved from left to right, she tried frantically to gain control, to no avail. That old car rolled over into the ditch, bottom side up. There were several of us in it at the time. We all managed to crawl out through the open windows, luckily none of us seriously injured and the car only got a few dents and the canvas roof was torn apart. We managed to push the car back on its wheels, get back in and drive away.
Sadie Hawkin's Day 1958
I seem to recall that John & Bea BEGG got engaged on 'Sadie Hawkin's Day' in November of 1958. The Sadie Hawkins dance is named after the Li'l Abner comic strip character Sadie Hawkins, created b cartoonist Al Capp. In the strip, Sadie Hawkins Day fell on a given day in November (Capp never specified an exact date). The unmarried women of Dogpatch got to chase the bachelors and "marry up" with the ones they caught. Today's younger generation probably wouldn't even know there was such a day.
Marriage to Beatrice "Bea" BEGG
1959
On Oct 3, 1959 John married his childhood sweetheart, Marilyn Beatrice "Bea" BEGG, daughter of Sarah "Sadie" FAVEL & Reuben BEGG (1902-1978). ** MORE ABOUT REUBEN BEGG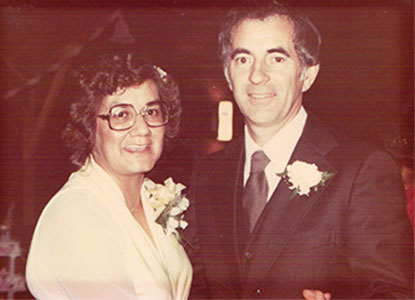 Bea & John Still
Daughter Patti was born in 1960; Son David in 1963.
John worked as a groundskeeper for Parks Canada at Lower Fort Garry. A view of Lower Fort Garry is featured in the header of this page.
John also worked as a Warehouseman in Winnipeg (a warehouse owned by Harford PERRY?).
He was a member of the vestry of St Clements Anglican Church and was also an associate member of the Selkirk Branch of the Royal Canadian Legion.
John's Death
1984
In his last years, John suffered from a thyroid condition and possibly lukemia (I need more details).
On May 26, 1984, John STILL died at his home in Mapleton. He was only 45 years old. Bea was a widow at 44.
Bea Remarries to Don McINTYRE
Bea remarried to Donald McINTYRE (1923-1999).
On Nov 10, 1999 Donald McINTYRE died at the St Boniface Hospital at the age of 76.
Patti & Dean Bird with John & Bea's grandchildren
On Oct 11, 2014 Beatrice (nee BEGG) STILL-McINTYRE died at the Selkirk General Hospital, aged 74.
David Still
This page is under construction; lots of details missing. I hope to gather more information and pictures in the coming months and will post them later; stay tuned..Perhaps you can help by post comments & queries on the Forum. Here's the link: DISCUSSION FORUM – JOHN STILL & FAMILY
========================== Family Details ==========================
Children:
1. 1960 PATRICIA LYNN STILL (m1. William Robert "Bill" WILKINSON; m2. Dean BIRD)
2. Sep 16, 1963 DAVID STILL (Shelley HOOD)