DONALD SUTHERLAND (1778-1872)
SALLY WAPISK - WHITE BEAR (1790-?)
(Last Updated: August 09, 2016)
Donald SUTHERLAND was born around 1778 in Clyne, Sutherland in northern Scotland (see map below).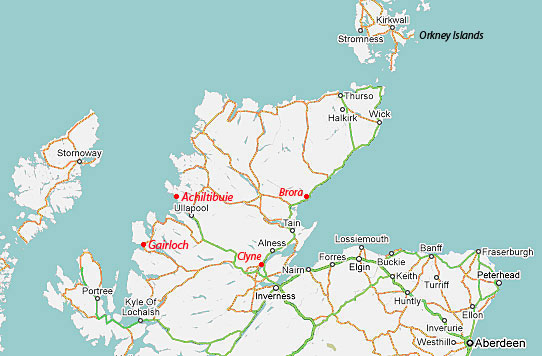 Northern Scotland
Donald and the Hudson's Bay Company
1795
On May 14, 1795, at the age of about 16, Donald entered the service of the Hudson's Bay Company (HBC) as a Tailor. He was posted at Albany in the Albany River District for two years, returning home to Clyne on Sep 22, 1797. An outline of his career can be seen using this link: HBC ARCHIVES BIO of DONALD SUTHERLAND
In 1798 (now about 19 years old) he returned again, this time to York Factory. From there he worked inland as both a Tailor and a bowsman (canoe man; Voyageur) for three years, returning home to Scotland again on Sep18, 1801.
Back again in 1802, yet again as a Tailor but this time also a Trader in the York Factory District until 1811.
The Scottish Clearances
Meanwhile, around 1809 the Scottish Clearances began back in Donald's home Parish of Clyne. The Clearances form a dark chapter in the history of the parish, and of the wider Highlands, when the tenants of the townships were forcibly removed and the land was converted to great sheep farms or walks, which were deemed to be more profitable for the landowners, in this case the wealthy House of Sutherland. Most of the former inhabitants of the townships were re-settled in new coastal villages on small lots of land, which were not large enough to sustain the families. This was so that they would be encouraged to take up fishing as a main occupation and, in particular in Brora, or another job in one of the many industrial adventures set up by the SUTHERLAND family at that time. Others emigrated, never to return. Donald of course did eventually return.
Lake Winnipeg District
Arrival of the First Selkirk Settlers in Red River
1811-12
From 1811 right through to 1822 Donald was a Trader in the Winnipeg (Lake) District which included outposts as far away as Big Point and Red Deer River (see map below).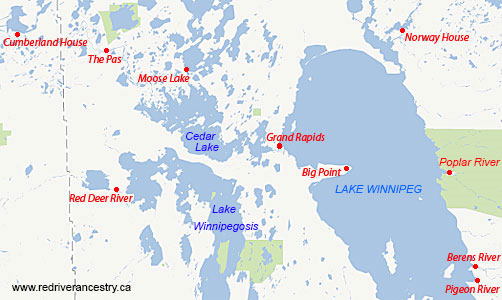 Lake Winnipeg District
In 1812 the first of Lord SELKIRK's Settlers arrived in Red River, in what would later to become the Province of Manitoba, Canada. I think these were mostly Highlanders (Orkney families), and they were also victims of the Clearances.
In 1813 Alexander KENNEDY (1781-1832), who was married to Aggathas BEAR, was promoted to Master Trader at Cumberland House (the home territory of Chief WHITE BEAR who I believe was his father-in-law). KENNEDY spent the next six years in fierce competition with North West Company (NWC). His journals show that he was involved in the affairs of the Red Deer River Post where Donald SUTHERLAND spent the outfit year 1814-15. Sally WAPISK aka BEAR, his wife-to-be, was probably KENNEDY's sister-in-law (or close relative).  ** MORE ABOUT ALEXANDER KENNEDY
Donald & Sally WAPISK – WHITE BEAR
Red Deer River Post
1815
The Sutherland Settlers Arrive
During the outfit year 1814-15 Donald was assigned as a Master Trader at the Red Deer River Outpost (see map above). It was probably during his stay at this post that Donald became acquainted with Sally WAPISK (WHITE BEAR), believed to be a daughter of Chief WHITE BEAR. ** MORE ABOUT WHITE BEAR
For his Fourth Group of settlers, Thomas Douglas, Lord SELKIRK (1771-1821) now secured the best band of Emigrants available. They were from the rural parish on the East Coast of Sutherlandshire (Donald's homeland) in Scotland, the Sutherland Settlers. They would be led on their voyage by Robert SEMPLE (1777-1816), the newly appointed Governor of the HBC Territories (Assiniboia). In the fall of 1815 SEMPLE and his group arrived at the Forks.
During 1815-16 Donald was a Master Trader at Manitoba Post (Big Point Post); 1816-17 at Pigeon River.
Berens River
1817-1821
From 1817-1821 Donald was the District Master at Berens River. It was here that his last child, Isabella, was born on Jan 24, 1820.
Arrival of Reverend John WEST
HBC – North West Company Merger
1821
On Aug 13, 1820, Reverend John WEST (1778-1845) arrived at York Factory destined for Red River, the first Chaplain appointed by the HBC to Rupertsland. WEST recorded in his Journal "During my stay at this post, I visited several Indian families, and no sooner saw them crowded together in their miserable-looking tents, than I felt a lively interest (as I anticipated) in their behalf." On his way south, WEST stopped at Norway House for about a month, then proceeded to Red River, arriving at Fort Douglas by mid October.
Lost Women by Patricia A McCormack: It was not only the wives and children of "gentlemen" who went to Scotland after 1821, when the merger of the HBC and the North West Company (NWC) ushered in a change in official policy. Families of some Company servants returned to the Orkney Islands and to the Isle of Lewis. In addition, children were sometimes sent to Orkney for schooling (although this does not seem to have occurred in Lewis, where literacy was evidently not as prized as it was in Orkney). In some cases, men who began as Company servants rose to high-level positions and returned home as "gentlemen."
Chief Trader at Norway House
In 1821 Donald was promoted to a Chief Trader at Norway House. This appears to be his last posing before his retirement.
On Aug 12, 1821 four of his children were baptized by Reverend John WEST; Jane, Sinclair, William and Isabella.
On Aug 18, 1821, it is interesting to note that Donald and Nicholas GARRY were witnesses to the marriage of Mary MACKAGONNE & Peter FIDLER (1769-1822) by Rev WEST.
Donald Retires to Brora, Scotland
1822-1824
On Sep 7, 1822 Donald sailed home aboard the Prince of Wales with a son and a daughter, both under 10 years old. On Dec 19, 1822 he was offered an annuity of £100 should he wish to retire.
On June 19, 1823 "Mr. Donald SUTHERLAND, Gentleman" returned from the Orkneys on the Prince of Wales to take up residence at Norway House. It would seem that the main purpose of Donald's return to Norway House was in order to retrieve his last two children who had remained there.
On Sep 10, 1824 Donald (having chose to retire) sailed home on the Prince of Wales for the last time with two more children (who were then at Norway House). According to Chris Stokes "Sally did not accompany them as she wished to remain with the Cree. "McCormack noted "there is no mention of his wife, so perhaps she had died." My information indicates that it would be many more years before Sally died.
Chris Stokes: In 1825 Donalde built a house beside the Brora river, at the harbor. Len Sutherland: In 1828 Donald built his home known as the PierHouse in Brora.

In 1838 daughter Isabella married John McDONALD WEIR in Brora and in 1839 they immigrated to Australia where they settled in Toowoomba, Queensland. ** MORE ABOUT JOHN McDONALD WEIR

Chris Stokes: In 1849 Donald Sutherland, miller, succeeded William MACKAY in the mill and croft at Clyne Milton – "He paid Mackay a lump sum of £177 for the house and croft, kiln and mill machinery, some household furniture, crop and some cattle – the mill was built by the proprietor about 73 years ago – it was all of stone and clay except the water wheel gable end which is built with lime – an addition was built to the mill for a kiln by Mackay about 20 years ago – the mill and kiln are at present in good working order – the dwelling house and offices were all built by Mackay about 20 years since – of stone and clay and thatched with straw – the dwelling house in still in good condition but the offices are bad". (Clyne 1849 County Sutherland)

1851 Census, Brora. Clynemilton, HH-69: Donald SUTHERLAND, widower, a Miller, age 70; Widow Jane GRANT (his daughter, age 35; b-c1816) with her two children, Sinclair GRANT (age 12) and Donald GRANT (age 10); niece Janet SUTHERLAND (age 21) and servant David SUTHERLAND (age 28). Next-door in HH-70 is son William SUTHERLAND, age 31 (b-c1821), his wife Catherine (age 35) and two year old son Donald.

1861 Census, Brora. Clynemilton, HH-60: Donald SUTHERLAND, widower, age 81, a Miller. With him is Widow Jane GRANT (age 44, his daughter) and her children Donald (age 21) and Jemima (age 19).
1871 Scotland Census: Clyne Milton, Sutherland County: Donald SUTHERLAND, Miller, age 98 (born c1773 in Clyne). Children: William 54 and
On Dec 3, 1872 Donald SUTHERLAND died in Brora, Scotland.
Please post comments and queries about this family at the following link:
FORUM DISCUSSING the DONALD SUTHERLAND FAMILY
=========================== Family Details ===========================
Children:
1. c1815 SINCLAIR SUTHERLAND
2. c1816 JANE SUTHERLAND (m. James GRANT)
3. Aug 26, 1819 WILLIAM SUTHERLAND (m. Catherine ANDERSON))
4. Jan 24, 1820 ISABELLA SUTHERLAND (m. John Macdonald WEIR)
** MORE ABOUT JOHN McDONALD WEIR