JOHN SHAW-SHAW-A-BE-NASE ("FALCON") TANNER (1780-1840)
MIS-KWA-BUN-O-KWA (c1795-)
THERESE LAVALLEE (c1780-)
WHITE WOMAN in DETROIT
(Last Updated: April 27, 2014)
John SHAW-SHAW-WA-NE-BA-SE ('Falcon") TANNER was born about 1780 along the Kentucky River, son of Reverend John TANNER and his wife of Virginia.
A famous hunter, guide and narrator, the early life of John TANNER and his exploits are well described in numerous historic documents, so in this narrative we will provide only a brief timeline of events in his life, the main focus here being to establish a basis for discussing his family relationships and his descendants.
** MORE ABOUT JOHN TANNER in WIKIPEDIA
** MORE ABOUT JOHN TANNER in DCBO
** MORE ABOUT JOHN TANNER in MHS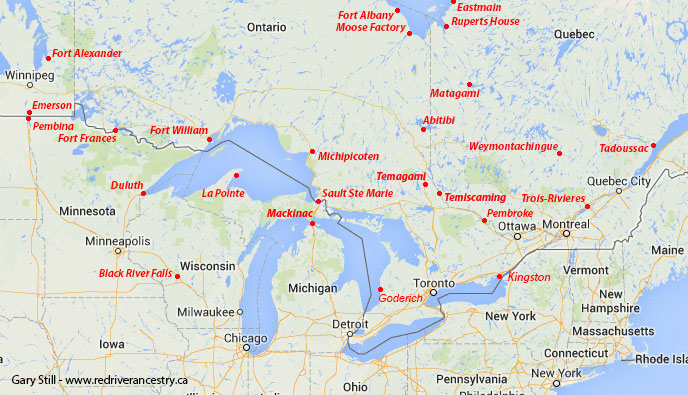 In 1789 the TANNER family moved to the Ohio River in Kentucky, and in 1790 at the age of 10 John was captured by a Shawnee warrior who gave him his name SHAW-SHAW-WA-NE-BA-SE, meaning "falcon". Soon after this he was sold to an old Ottawa woman named NET-NOKWA who was married to an Ojibwa Indian, and they moved to Saginaw Bay (Michigan).
Red River
1793-1800
Around 1793, when he was 13 years old TANNER was taken to Red River country (Manitoba), where home of his adoptive father was along the Little Saskatchewan River near its confluence with the Assiniboine and present day Brandon. He became skilled in trapping and hunting and for a long time reconciled himself to an Indian life. However, 1800 they had returned to the Rainy River region and Lake Superior.
Marriage to MIS-KWA-BUN-O-KWA ("Dawn Sky or "Red Sky of Morning")
1800-1807
In 1800, in the non-committal Indian manner (by "Custom of the Country"), TANNER married MIS-KWA-BUN-O-KWA ("Dawn Sky or "Red Sky of Morning"), daughter of a Saulteaux Indian chief from the Sault Ste Marie and Lake Superior region who had been killed during a night-raid by a band of Sioux Indians. It is said that TANNER had five children by this first wife.
TANNER & CHIEF PEGUIS
1803
Thompson: In 1803 when Chief PEGUIS (1774-1864) saw John TANNER, the "white Indian" was 22 years old. He was one of a party of braves gathered at Fort Pembina to avenge a massacre there. A minor Assiniboine Chief, the father-in-law of Alexander HENRY the YOUNGER (1765-1814), who was in charge of the North West Company's fort, had been shot as he sat in a tree scanning the prairie for signs of buffalo. Before the party of raiding Sioux could be driven off, a number of men, women and children had been slaughtered. When Alex HENRY returned from an inspection trip and found the people mourning, he supplied the avenging Assiniboine and the Saulteaux with guns and ammunition, to pursue and fight the Sioux.PEGUIS and his warriors joined the battle to annihilate the invaders, and the Chief noticed that John TANNER fought beside his adopted brother with outstanding bravery. En-route to Ft Pembina to aid the Assiniboines, the Saulteaux left the old men, women and children in a grove of trees known as Seven Oaks, not far from the Forks, to await the return of the warriors. After the battle at Fort Pembina when the Sioux were badly beaten, Chief PEGUIS and his braves rejoined their wives and children, and rested there for a time before returning to Netley Creek.
** MORE ABOUT CHIEF PEGUIS
** MORE ABOUT ALEXANDER HENRY the YOUNGER in DCBO

Marriage to Therese LAVALLEE
1810-11
Arount 1810-11 John TANNER married Therese LAVALLEE, daughter of Marguerite Madeleine ALLARD and Antoine LAVALLEE (1756-1806) from Yamaska, Quebec. Around 1812 son James was born in Sault Ste Marie.
The first Selkirk Settlers arrive at Red River
A Metis Rebellion – Cuthbert GRANT on a Rampage
1812-1815
In the summer of 1812, when the first of Lord SELKIRK's settlers arrived at Red River under the sponsorship of the Hudson's Bay Company (HBC) along with Miles MACDONELL (1767-1828) as their new Governor of Assiniboia. Many more setters would arrive over the next few years and conflict between the HBC and the North West Company (NWC; the 'Nor'Westers') for control of the fur trade in the region began to escalate. The Metis also resented the encroachment of white settlers into their domain, and they conspired with the Nor'Westers to drive them out once and for all. The lack of buffalo meat and provisions became a critical factor in the survival of the new colony and their opponents used this a tactic to 'starve them out' by hoarding their supply away from the settlement. It is noted that John TANNER was one of the people who did come to their aid by hunting buffalo to provide them with winter food.
** MORE ABOUT LORD SELKIRK in DCBO
** MORE ABOUT MILES MACDONELL in DCBO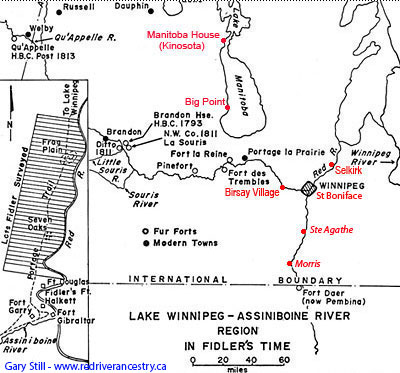 The locations of Fort Douglas and Fort Gibraltar are shown in the inset
On Jan 8, 1814, anticipating the arrival of yet another large group of settlers and seeking to solve the colony's food problems once and for all, Miles MACDONELL issued his historic Pemmican Proclamation. The proclamation prohibited the export of provisions of any kind from within the limits of Assiniboia without a special license from the Governor (himself).
In July of 1814 the NWC held its annual meeting at Fort William where an indignant William McGILLIVRAY (1798-1804) declared regarding MACDONELL's actions "It is the first time the Nor'Westers have permitted themselves to be insulted".  From that day there would be civil war in the North-West.
** MORE ABOUT WILLIAM McGILLIVRAY in DCBO
To meet force with force the NWC later appointed a soldiery of men often referred to as "Captains of the Métis" that included Cuthbert GRANT (1796-1854) who would become a major player in the events that followed. On Mar 13, 1815 GRANT declared that he was game for harassing the settlers, "and never to see any of them again in the colonizing way in Red River ..." ** MORE ABOUT CUTHBERT GRANT
John TANNER refused to take a side in the conflict, and it seems that around this time he made his way back to the Lake of the Woods region.
The Seven Oaks Massacre
Lord SELKIRK Arrives at Fort William
Fort Douglass Recaptured
The Selkirk Treaty with Chief PEGUIS
1816-1817
On May 8, 1816, true to his word, GRANT set out from Fort Qu'Appelle with a troop of 60 Métis horsemen, on an expedition clearly intended to prevent the resurgence of the rival power on the Red River.
Coincidentally, that same spring Lord SELKIRK arrived in Montreal where he hired a group of 95 mostly-Swiss mercenaries (of the DE MEURON Regiment), who had just been discharged after the War of 1812.
On June 19 The Battle of Seven Oaks occurred with Governor Robert SEMPLE (1777-1816) and twenty of his men killed on Frog Plain. The Metis then took Fort Douglas. ** MORE ABOUT ROBERT SEMPLE in DCBO
On Aug 12, 1816, Lord SELKIRK and his soldiers arrived at Fort William where he arrested all of the NWC Partners who were present, including William McGILLIVRAY. He then proceeded towards Red River to quell the uprising.
During the winter of 1816-17, a military expedition was sent out under the command of Captain D'ORSONNENS, to take Fort Douglas, while Lord SELKIRK remained at Fort William. At Rainy Lake D'ORSONNENS met TANNER and induced him to guide the party to the Red River.
In 1817, in order to secure greater stability for his colony, SELKIRK entered into a Treaty with Chief PEGUIS and several other local chiefs by which some 300, 000 square km of land along the Red and Assiniboine Rivers were granted to George III for use of the colony. ** MORE ABOUT CHIEF PEGUIS

MHS:  During the winter of 1816-17, a military expedition was sent out under the command of Captain D'ORSONNENS, to take Fort Douglas, while Lord SELKIRK remained at Fort William. It was a dreary journey to come on snowshoes in winter from Lake Superior to the Red River. The De Meurons, however, about a hundred strong, were equal to the task. At Rainy Lake Captain D'ORSONNENS met TANNER and induced him to guide the party to the Red River. It was important to avoid the Nor'Wester stations, and TANNER, who knew the whole district from Lake of the Woods to the Red River as well as an Indian, was induced to lead the way over the "muskeg carrying place," by which years before he had come along with NET-NO-KWA's band. It took forty days to penetrate the wilderness from Rainy River to the Red River on parallel 49° N. Here at Pembina some years before the Nor'westers had built a fort, and this was now taken without a struggle. In four days more the expedition had come down the Red River and were within ten miles of the present site of Winnipeg.
Here the party was met by old PEGUIS, the Sauteaux Chief from St. Peter, with twelve of his young men. The party was accompanied by one of the well-known French half-breeds of Sault Ste. Marie, some of whom came to the Red River and were well known among us. This was Louison NOLIN. TANNER and NOLIN were kindred spirits. They desired to have the glory of capturing Fort Douglas.
With a chosen number of De Meurons they left the party behind, pushing ahead on snow-shoes, and with scaling ladders which they had made, in the dead of night clambered over the stockade of Fort Douglas, and as silently as the Greeks from the horse at Troy, seized the fort and captured the unsuspecting Nor'Westers. The Nor'Westers were thus beaten at their own game, and the fort was held for Lord SELKIRK.
TANNER returns to Kentucky
1817-1822
In 1817, after the capture of Fort Douglas, SELKIRK then became interested in TANNER's history which was based upon vague memories of his childhood. SELKIRK gave him a small pension, and sent out a letter in an effort to establish communication with his family in Kentucky and on the Mississippi. Without waiting for an answer, TANNER left Lake of the Woods and travelled via Detroit where his brother had gone to meet him, and rejoined his relatives (his mother and sisters).
In 1818 TANNER returned to Lake of the Woods for his family. He persuaded his second wife (Therese LAVALLEE) and their three children to travel with him the following spring, but she stayed at Michilimackinac (Mackinac Island, Mich.) and one of the children died on the way back to Kentucky. ** This leaves three children with Therese who were living in 1818.
 It was 1819 by the time TANNER had finished this journey. He had long since been spoiled for the routine life of a farming community. During this period he re-acquired a good knowledge of English.
Union of the North West Company with the Hudson's Bay Company
1821
In 1821 the union of the North West Company (NWC) and the Hudson's Bay Company (HBC) occurred, ending the years of bitter rivalry for dominance of the fur trade in Western Canada. After the merger, almost 1,300 employees lost their jobs since the single HBC organization that emerged had no need for most of the voyageurs and fur traders.
TANNER returns to the Northwest
Rainy Lake
1823
In 1823 TANNER returned to the northwest to claim his children by his previous marriage (to MIS-KWA-BUN-O-KWA), catching up with her at Rainy Lake. She refused to surrender them, and persuaded an Indian to try to kill him by magic (shooting a bullet pierced by a deer sinew dyed green).
TANNER survived under the care of Dr. John McLOUGHLIN (1784-1857), but she vanished with the children.
** MORE ABOUT JOHN McLOUGHLIN in WIKIPEDIA
** MORE ABOUT JOHN McLOUGHLIN in CANADIAN ENCYCLOPEDIA

TANNER worked for a time as a trader for the American Fur Company on Rainy Lake. He was employed as an interpreter at Mackinac Later, he returned to the Red River settlement and reunited with his wife and children. They were heading for Mackinac when he was shot and seriously injured. His wife and daughters left him while he was carried to Rainy Lake by two men. After a lengthy recovery, he went to Mackinac.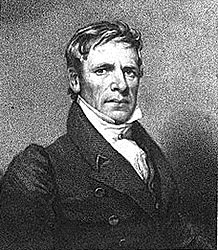 Portrait in A Narrative of the captivity and adventures of John TANNER,
(By Edwin James, London, 1830)
TANNER'S Final Years with Henry Rowe SCHOOLCRAFT
Sault Ste Marie
1828-1846
In October of 1828 at Sault Ste Marie, Henry Rowe SCHOOLCRAFT (1793-1864) hired John TANNER (1780-1840) as an interpreter. TANNER was about 48 years old at the time. SCHOOLCRAFT was the American Indian Agent in Michigan Territory. ** MORE ABOUT HENRY ROWE SCHOOLCRAFT
Around 1835 son James married Margaret Poo-Pee GUNN in the Red River country (Brandon House).
Around 1836 son Joseph married Marie Jane LEDOUX in Turtle Mountain (Manitoba), the daughter of an Indian woman named WEHWASHK.
TANNER's Sad End
1840
About the year 1840 TANNER was displeased with the attentions to his daughters by James SCHOOLCRAFT (Henry's brother) at Sault Ste. Marie. TANNER threatened SCHOOLCRAFT and at length shot him. Fleeing for his life, TANNER was never seen again. Later his skeleton was discovered a few miles from the Sault and it was determined that he had died from his gunshot wounds.
John had numerous children by his two Indian wives, all born before about 1812. Unfortunately, details about when and where they were born, and who their mothers were are found to be erratic and confusing. For follow-up purposes the two listed below are perhaps the most noteworthy. If anyone has more information we would love to hear from you on the Forum.
Comments and queries at this link: ** FORUM DISCUSSING the JOHN TANNER STORY
========================== Family Details ==========================
Children of Note:
1. c1808-1812 REVEREND JAMES TANNER (m. Margaret Poo-Pee (Maggie) GUNN)
2. c1808-1812 JOSEPH DeCORBY PICHEITO "LITTLE PHEASANT" TANNER (m. Marie Jane LEDOUX)