GUNDER UDGAARDEN (1827-1902+)
HARRIET TURNER (1837-?)

(Last Updated: September 16, 2016)
Gunder Haagensen UDGAARDEN was born (out of wedlock) on Mar 29, 1828, and baptized on Apr 13 that same year in Vinger of Hedmark County in Norway, the son of Olia/Sigri JACOBSDATTER and Haagen TORSTENSEN UDGAARDEN.
Name variations: UDGAARDEN, UDGARDEN, GARDNER, GARDINER
Gunder's mother died one month after he was born (Apr 26).
Inspiration to add this family to Red River Ancestry came from great-great grandson Daniel HUCKSON who made a donation.
The first source of information regarding this family was Meow716 (Username), a great granddaughter whose comments can be found at this link: ** FORUM DISCUSSING THE FAMILY OF JOSEPH TURNER (1783-1865)
Employed by the Hudson's Bay Company
1858
Hudson's Bay Company (HBC) Archives Bio for Gundar UDGAARDEN: In 1858 Gundar entered the service of the HBC. He was posted to Moose Factory in the Moose River District where he would serve his entire HBC career as a Labourer, Mess Cook and Mess Steward for the next 44 years.
Marriage to Harriet TURNER
1864
On Apr 29, 1864 Gundar married Harriet TURNER, youngest daughter of Emma and Joseph TURNER (1783-1865).
** MORE ABOUT JOSEPH TURNER
Canadian Confederation
1867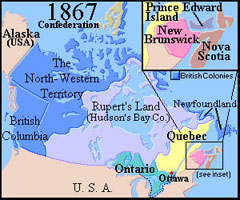 On July 1, 1867 the British colonies in North America were united under the British North American Act to become the Dominion of Canada.  Sir John A MACDONALD (1815-1891) was appointed as Canada's first Prime Minister. William McDOUGALL (1822-1905) became the Minister of Public Works, and he began negotiations to acquire Rupert's Land from the HBC.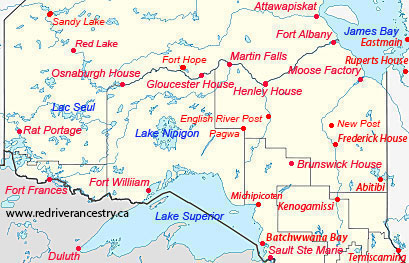 Census of 1881 at Moose Factory: Gunder UDGARDEN, HBC Cook, age 51; wife Harriet, age 45 (born 1836 in NWT). Children: Sarah (age 15), Josephine (14), Harold (12), Gustavus (9), Jane (8), Anne (7), Mary (5) and James (age 3).
Around 1884 daughter Josephine married Oscar CARLSON (1852-1926) from Sweden.
By 1887 eldest daughter Sarah was married to William SHAW of uncertain origins. ** These were the great grandparents of Daniel HUCKSON.
In 1890 son Gustave married Emily MOAR in the Cochrane district, daughter of Christiana ALISAPPI and Alexander MOAR (1821-1881).
Also about 1890 son Harold married Mary ESKSE, an Inuit woman.
Around 1900 daughter Annie married John LOUTTIT, son of Hanna CHILTON and David LOUTTIT (1851-1902).
Census of 1901 at Moose Factory: Gundar UDGAARDEN, widowed, age 73. Children (Cree): Janne (age 29), James (21) and Emma (age 19). Also Michel LIRNON, age 49.
On Jun 1, 1902 Gunder retired from the HBC.
In 1907 daughter Mary married Peter CLOSS in Sault Ste Marie, son of Julia POND and Pierre CLOSS (b-1837). ** Meow's grandparents.
Youngest daughter Emma married George Albert FISHER, son of Catherine SCHILL and George FISHER (b-1851).
Comments and queries at this link: FORUM DISCUSSING THE GUNDER UDGAARDEN FAMILY
========================== Family Details ==========================
Children:
1. 1865 SARAH UNDGAARDEN (m. William SHAW)
2. 1867 JOSEPHINE BARBARA UNDGAARDEN (m. Oscar CARLSON)
3. Jan 1867 HAROLD UNDGAARDEN (m. Mary ESKSE)
4. 1870 AUGUSTNE GUSTAVE UNDGAARDEN (m. Emile MOAR)
5. 1872 JANE FREDRICA UNDGAARDEN aka GARDINER (m. FREDERICK)
6. 1874 ANNE UNDGAARDEN (m. John LOUTTIT)
7. 1876 MARY UNDGAARDEN aka GARDINER (m. Peter CLOSS)
8. 1880 JAMES UNDGAARDEN
9. 1882 ELIZABETH EMMA UNDGAARDEN aka GARDNER (m. George Albert FISHER)