LOUIS PLOUFFE dit VILLEBRUN (1780-1845)
MARIE ANNE ZHEZHEWGEWEG (1785-1850)
(Last Updated: January 12, 2016)
Louis PLOUFFE dit VILLEBRUN, a French Canadian, was born about 1780 in Lower Canada. Some sources indicate he was a son of Marie Louise PARAMENTIER and Simon PROVENCHER dit VILLEBRUN (1740-1823).
Louis and Marie Anne ZHEZHEWGEWEG
1798
Perhaps about 1798 Louis began a connubial relationship with Marie Anne ZHEZHEWGEWEG, an Ojibway woman of the Collets Indian Nation (Snare Indians).
The First Selkirk Settlers Arrive at the Forks of the Red River
1812
On August 30, 1812, after a heartbreaking journey of 730 miles in 45 days, Miles MacDONELL (1767-1828), the new Governor of Assiniboia, arrived at the junction of the Red and Assiniboine rivers (the Forks) with the first of Lord SELKIRK's Settlers. ** MORE ABOUT MILES MACDONELL in DCBO
Perhaps about 1813 daughter Marguerite married Thomas Pisk KIPLING, son of an Indian woman and John KIPLING (1724-1794). ** MORE ABOUT JOHN KIPLING

Daughter Marguerite's marriage to Thomas KIPLING suggests that the Louis VILLEBRUN family was somewhere in the Red River Settlement around the time the first Selkirk Settlers were arriving.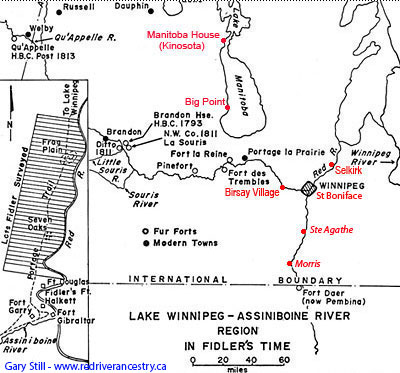 Metis Rebellion - Cuthbert GRANT on a Rampage
1814
On Jan 8, 1814, anticipating the arrival of yet another large group of settlers and seeking to solve the colony's food problems once and for all, Miles MACDONELL issued his historic Pemmican Proclamation that sparked the Metis Rebellion of 1815 led by Cuthbert GRANT (1796-1854). ** MORE ABOUT CUTHBERT GRANT the RED RIVER METIS REBELLION
In 1815 Louis VILLEBRUN's family, in addition to daughter Marguerite (KIPLING), would have included at least four of her siblings as follows: Louis VILLEBRUN Jr. (age 10), Brigitte (5), Antoine (8) and Therese VILLIBRUN (age 4).
St Boniface, the First Permanent Mission in the West
1818
On November 1, 1818, Father Joseph-Norbert PROVENCHER (1787-1853) built a small log chapel which he dedicated to Saint Boniface, the English missionary monk and apostle, who spread the Catholic faith among the Germanic tribes in the 8th century.  Saint Boniface, the first permanent mission west of the Great Lakes, became the heart of Roman Catholic missionary activity extending to the Pacific and the Arctic coasts, as well as serving the growing population of the Red River Settlement. ** MORE ABOUT FATHER PROVENCHER in DCBO
Louis VILLEBRUN was living in St Boniface at least by 1824 when several of his children were married there. It seems that Louis Sr. himself was in fact church-wed there at that time, as well as daughter Brigitte who married Joseph DELORME, son of Marie Elizabeth PAGE and Jean Baptiste DELORME (1763-1797).
In 1825 eldest con Louis Jr. married Louise COLLIN in St Boniface, daughter of Josephte (Saulteaux) and Joseph COLLIN (1792-1818).
From the Census of 1827 in Red River Settlement: Louis PLOUF, age 52, RC, married, with wife, two daughters and a son under the age of 16 and one daughter over the age of 15. For livestock he had a mare, a cow and a swine. ** The young son would have been Antoine (?),, two daughters under 16 would have been Brigitte and Therese. The older daughter would have been Marguerite.
** Interestingly, also recorded in this 1827 census was a Widow PLOUF, age 65 (b-c1762- Louis' mother?) with two sons over 16 and one son under 16 (presumably our Louis' siblings?).
In 1832 son Antoine married Archange MARCELLAIS in St Boniface, daughter of Angelique ASSINIBOINE and Jean Baptiste MARCELLAIS (b-1767).
In 1835 daughter Therese married Joseph LAVERDURE, son of Angelique MONTOUR and Alexis LAVERDURE (1765-1850).
It is said that Louis VILLEBRUN died about 1845, his wife Marie Anne about 1850, both in Manitoba.
Comments and queries at this link: FORUM DISCUSSING THE FAMILY OF LOUIS VILLEBRUN SR
======================= Family Details =======================
Children:
1. c1800 MARGUERITE VILLEBRUN (m1. Thomas dit Pisk KIPLING, m2. Francois DESMARAIS SR)
2. 1801 LOUIS VILLEBRUN JR (m. Louise COLLIN)
** MORE ABOUT LOUIS VILLEBRUN JR
3. 1805 BRIDGITTE VILLEBRUN (m. Joseph DELORME)
4. 1807 ANTOINE VILLEBRUN (m. Archange MARCELLAIS)
5. Apr, 1811 THERESE VILLEBRUN (m. Joseph LAVERDURE)