LOUIS VILLEBRUN (1801-1873)
LOUISE COLLIN (1807-1889)
(Last Updated: January 12, 2016)
Surname variations in this lineage: VILBRUN, VILLEBRUN, VILLEBRUNE, VILBRUNT, VILBRA
Louis VILLEBRUN was born about 1801, son of Marie Anne (Indian) and Louis PLOUFF dit VILLEBRUN SR (1780-1845), a French Canadian from Lower Canada. ** MORE ABOUT LOUIS VILLEBRUN SR
Marriage to Louise COLLIN
1825
On Nov 20, 1825 Louis VILLEBRUN was baptized in St Boniface (he was 24 yrs old).  The next day, Nov 21, he married there to Louise COLLIN, daughter of Josephte (Saulteaux) and Joseph COLLIN (1792-1818).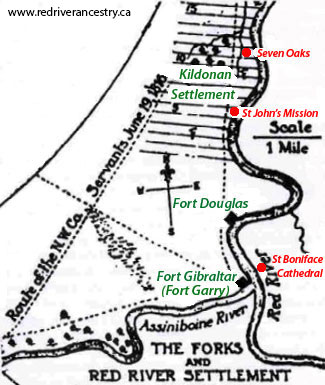 Around 1844 eldest daughter Louise married Joseph LAMBERT in Red River, son of Marie (Salteaux Indian) and Antoine LAMBERT (b-1785), a French Canadian from Quebec.

Around 1849 daughter Marie was married to Joseph VALLEE, son of Esther DUGAS and Louis VALLEE (1796-1851).
Around 1851 daughter Julie married Jean Baptiste BRACONNIER, son of Louise BEAUCHEMIN and Jean Baptiste BRACONNIER (1791-1876).
By 1855 eldest son Louis Jr. was married to Isabelle BERARD in St Norbert (MB), daughter of Catherine HUGHES and Louis BERARD (1794-1874).
In 1864 son Joseph Alexander married Marie ROBILLARD in St Boniface, daughter of Catherine CHARRON dit DUCHARME and Jean Baptiste ROBILLARD (1823-1890).
In 1866 son Guillaume married Flora HOPE at Lac la Biche, daughter of Judith DESJARLAIS and Reverend James HOPE (b-1818).

Also in 1866 son Francis married Marie ST CYR at Fort Chipewyan, daughter of Julie MERCREDI and Jean Baptiste ST CYR of uncertain origins.
Canadian Confederation
A Red River Rebellion
Manitoba becomes a Province
1867-1870
On July 1, 1867 the British colonies in North America were united under the British North American Act to become the Dominion of Canada.  Sir John A MACDONALD (1815-1891) was appointed as Canada's first Prime Minister. William McDOUGALL (1822-1905) became the Minister of Public Works, and he began negotiations to acquire Rupert's Land from the HBC; surveyors were sent to Red River to prepare the way for an expected influx of settlers.
On Oct 11, 1869, Louis RIEL (1844-1885) placed his foot on the surveyors' chain to tell them their work was finished! This marked the beginning of the historic Red River Métis Rebellion.
Around 1868 son Daniel was married Catherine CHASTELLAIN in Carlton, SK.  In 1870 Catherine died and Daniel later re-married to Marie Louise CHASTELLAIN at Carlton. Catherine and Marie Louise were sisters, daughters of Marie GRANT alias LA-MANCHE-COURTE & David CHASTELLAIN (b-c1824). 
On July 15, 1870 the Rebellion ended when RIEL's Provisional Government accepted the terms of the Manitoba Act and Manitoba became the fifth province of Canada.
Census of 1870 in St Boniface: Louis VILLEBRUN, age 65; wife Louise, age 50. Children: Guillaume (age 30), .Leon (24) and Maxime (age 22).
In 1871  son Maxime married Arabella SPENCEin St Boniface, alleged daughter of Sarah SANDERSON & Samuel SPENCE.
On Feb 3, 1873 Louis VILLEBRUN died in St Boniface.
Census 1881: Widow Louise (age 65) with son Leon in St Boniface.
On July 22, 1889 Louise (nee COLIN) VILLBURN died in Assiniboia, age 92 (more likely age 82). This from Manitoba Vital Stats.
Comments and queries at this link: FORUM DISCUSSING THE LOUIS VILLEBRUN FAMILY
======================= Family Details =======================
Children:
1. 1827 LOUISE VILLEBRUNE (m. Joseph LAMBERT)
2. Jun 11, 1829 LOUIS VILLEBRUN (m. Isabelle BERARD)
3. Aug, 1831 JULIE VILLEBRUN (m. Jean Baptiste BRACONNIER)
4. May 22, 1832 MARIE VILLEBRUN (m. Joseph VALLEE)
5. 1835 GUILLAUME VILLEBRUN (m. Flora HOPE)
6. 1838 JOSEPH ALEXANDER VILLEBRUN (m. Marie ROBILLARD)
** MORE ABOUT JOSEPH ALEXANDER VILLEBRUN
7. 1845 DANIEL VILLEBRUN (m1. Catherine CHASTELLAIN, m2. Marie Louise CHASTELLAIN)
8. 1846 LEON VILLEBRUN (Died age 33)
9. 1846 FRANCIS VILLEBRUN (m. Marie ST CYR)
10. 1848 MAXIME VILLEBRUN (m. Arabella SPENCE)
11. 1850 PHILOMENE VILLEBRUNE
12. Jun 10, 1859 MARIE VILLEBRUN