JOSEPH VILLEBRUN (1838-1910)
MARIE ROBILLARD (1848-1921)
(Last Updated: January 11, 2016)
Surname variations in the lineage: VILBRUN, VILLEBRUN, VILLEBRUNE, VILBRUNT, VILBRA
Joseph VILLEBRUN was born about 1838 in St Boniface, Red River (later Manitoba), son of Louise COLLIN and Louis VILLEBRUN (b-1801). ** MORE ABOUT LOUIS VILLEBRUN
** Much appreciation goes to Great Grandson Leonard MELTON who provided inspiration to do this VILLEBRUN Lineage with a donation, and is cooperating in its development.
Marriage to Marie ROBILLARD
1864
On May 10, 1864 Joseph married Marie ROBILLARD in St Boniface, daughter of Catherine CHARRON dit DUCHARME and Jean Baptiste ROBILLARD (1823-1890). In 1864 their first child, Louise, was born in St Boniface.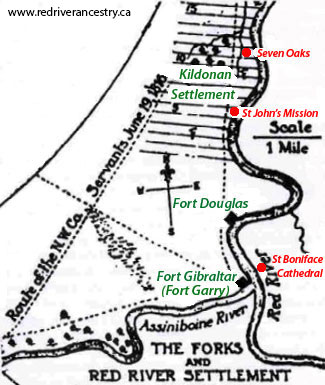 Canadian Confederation
A Red River Rebellion
Manitoba becomes a Province
1867-1870
On July 1, 1867 the British colonies in North America were united under the British North American Act to become the Dominion of Canada.  Sir John A MACDONALD (1815-1891) was appointed as Canada's first Prime Minister. William McDOUGALL (1822-1905) became the Minister of Public Works, and he began negotiations to acquire Rupert's Land from the HBC; surveyors were sent to Red River to prepare the way for an expected influx of settlers.
In 1867 daughter Philomene was born in St Boniface.
On Oct 11, 1869, Louis RIEL (1844-1885) placed his foot on the surveyors' chain to tell them their work was finished! This marked the beginning of the historic Red River Métis Rebellion.
On July 15, 1870 the Rebellion ended when RIEL's Provisional Government accepted the terms of the Manitoba Act and Manitoba became the fifth province of Canada.
In 1871 son (Joseph Jr.) was born at Oak Point on the eastern shore of Lake Manitoba. In 1873 daughter Desanges, was born in St Boniface. By 1875 son Joseph Jr. and daughters Louise and Desamges had died in infancy in St Boniface.
The Family moves to Saskatchewan
1879
By 1879 Joseph had moved to Saskatchewan (Cypress Hills). Son William was born there that year, followed by Adeline in 1880. The Cypress Hills are located in the provincial border area of southeastern Alberta and southwestern Saskatchewan (west of Wood Mountain as shown on the map below).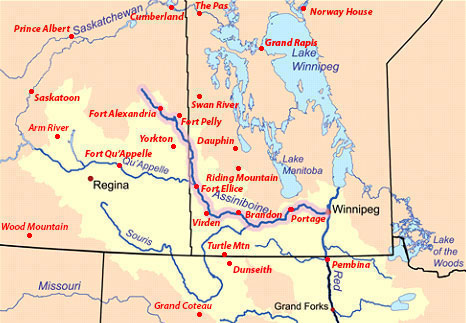 Lestock, and Kellross, SK, are located north of Fort Qu'Appelle and west of Yorkton
The Northwest Rebellion
1885
Wikipedia: In 1884, the Métis asked Louis RIEL (1844-1885) to return from the United States, where he had fled after the Red River Rebellion, to appeal to the government on their behalf. What followed was the Northwest Rebellion of 1885.
** MORE ABOUT THE NORTHWEST REBELLION in WIKIPEDIA
Around 1886 daughter Philomene married Samuel BELLEROSE (1864-1953) of uncertain origins.
Census of 1891 in the Regina-Qu'Appelle area: Joseph VILBRUN, age 48; wife Mary, age 43. Children: William (age 12), Adeline (10), Mary Olive (5) and Joseph Alexander (age 1).

Census of 1901 in Qu'Appelle: Joseph VELBRA, age 56; wife Mary, age 49. Children: Willie (age 21), Adela (19), Marian (15) and Joseph (age 11).

Census of 1906 in Qu'Appelle area: Joseph VILEBRUN, age 62; wife Mary, age 53. Children: Adeline (age 23), Marie O (20) and Joseph (age 16).
Joseph VILLEBRUN Dies
1910
On Nov 19, 1910 Joseph VILLEBRUN died in Lestock, SK.

Census of 1911 in Qu'Appelle area:Widow Marie VELBRAIN, age 64. Children: Adelaide (age 32), Olive (24), Joseph (21) and Rosa (age 7).
In 1912 daughter Marie Olive married Alfred BROWN in Lestock, son of Mary Jane SHANAGAN and Peter BROWN (b-1841).
World War I
Marriage to Mary Jane COOK
1914-1918
On Aug 4, 1914 Great Britain (Canada on Aug 5) declared war on Germany and Austria-Hungary to uphold treaties with France and Belgium which were under German attack. This marked the beginning of World War I.
Census of 1916 in Qu'Appelle area (Kellross): Joseph VILLEBRUN, age 33. Mother: Rosalie (?), age 70 (b-1846). Siblings: William (age 32) and Adeline (25). Annie (age 24) and children: Joseph E (age 6) and Rosie (age 4). ** Some details of this record are difficult to explain. Help needed.
In 1917 son Joseph Alexander married Mary Jane COOK in Lestock (SK), daughter of Marie MOSIONIER (MANZINI) and Peter COOK (1869-1939).
On June 4, 1918 son Joseph enlisted at Regina.
November 11,1918, Armistice Day (Remembrance Day) marked the end of the First World War.
Sometime before 1921 Marie (nee ROBILLARD) VILLEBRUN died in Saskatchewan.
Comments and queries at this link: FORUM DISCUSSING THE JOSEPH VILLEBRUN FAMILY
========================== Family Details ==========================
Children:
1. 1864 LOUISE VILLEBRUN (Died age 6)
2. Oct 12, 1867 PHILOMENE VILLEBRUN (m. Samuel BELLEROSE)
3. Apr 29, 1871 JOSEPH VELLEBRUNE (Died age 2)
4. May 3, 1873 MARIE DESANGES VILLEBRUNE (Died in infancy)
5. 1879 WILLIAM VILLEBRUN
6. Sep 7, 1880 MARIE ADELINE VILLEBRUN
7. Feb 11, 1886 MARIE OLIVE VILLEBRUN
8. May 13, 1890 JOSEPH ALEXANDER VILLEBRUN/ VILBRUNT (m. Mary Jane COOK)
** MORE ABOUT JOSEPH ALEXANDER VILBRUNT