JAMES YOUNG (1862-1936)
MARGARET ANN GUNN (1864-1945)
(Last Updated: March 12, 2016)
James YOUNG was born on July 10, 1862, son of Isabella STEVENS and James YOUNG SR (1822-1870) from England.
** MORE ABOUT JAMES YOUNG SR
Around 1870 James' father (James YOUNG SR) died. In the census that year James Jr. (age 10) was recorded with his widowed mother (Isabella) in the Little Britain (See Map below).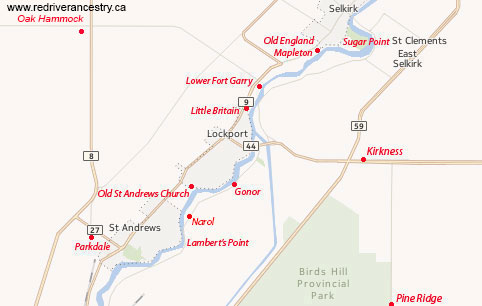 Around 1873 James' mother (Isabella) remarried to Malcolm McLEOD, a child of Charlotte PRUDEN and John McLEOD (1788-1849) from Scotland.
Census of 1881 in St Clements Parish: James (age 20) was living with his brother, Henry George YOUNG.
James marries Margaret Ann GUNN
1883
On Dec 1, 1883 James married Margaret Ann GUNN in St Andrews, the daughter of Mary (nee DONALD) McCORRISTER and James GUNN (1824-1905). ** MORE ABOUT JAMES GUNN
Census of 1891 in St Andrews Parish: James (age 29) and Margaret (age 26) and their three children were recorded with Margaret's parents Mary and James GUNN. Their children were recorded as Mary (age 6), Samuel (5) and Bella (age 3).
Census of 1901: In this census James (age 38) and Margaret (age 36) have their own farm next to Margaret's now widowed father, James GUNN (age 77). Their children: Samuel (age 15), Isabella (13), James (6), Myra (5) and Margaret (age 3).
In 1904 eldest daughter Mary married Henry FLETT in St Andrews, son of Mary (nee McKAY) CLARKE and Thomas FLETT (1818-1887).
The census of 1911 recorded children at home as Isabella (age 23), James (17), Myra (15), Margaret (13), Martin (7) and Florence (age 3). Where was son Samuel? Cannot find him anywhere in this census.
Around 1912 daughter Isabella married Thomas KELLY in Souris, North Dakota. This is across the border south of Deloraine, MB.
World War I
1914-1918
On Aug 4, 1914 Great Britain (Canada on Aug 5) declared war on Germany and Austria-Hungary to uphold treaties with France and Belgium which were under German attack. This marked the beginning of World War I.
On Jan 4, 1916 son James married Blanche BROOKE in Winnipeg. Six days later (Jan 10) James enlisted at Winnipeg.
Census of 1916 (Lot 116; Little Britain): James YOUNG age 53; wife Margaret, age 51. Children: Soldier son James Jr. (age 22), Myra (age 20), Margaret (18), Martin (12) and Irene (age 8).
On July 16, 1918 son Samuel enlisted at Winnipeg.
November 11, 1918, Armistice Day (Remembrance Day) marked the end of the First World War.
In 1919 daughter Myra married Hector GUILBAULT in Winnipeg, son of Victoire MOREAU and Louis Henry GUILBAULT (1859-1899).
Eldest son Samuel married Eleanor GIBSON of uncertain origins.
Census of 1921 in Little Britain: James YOUNG age 58; wife Margaret, age 56. Children: Margaret (age 23) and Martin (age 17).
On Oct 5, 1936 James YOUNG died at the age of 75. He was buried in the Little Britain Church Cemetery.
On May 15, 1945 Margaret Ann (nee GUNN) YOUNG died in the Selkirk General Hospital at the age of 81. She was buried with her husband in the Little Britain Church Cemetery.
Comments and queries at this link: FORUM DISCUSSING the JAMES YOUNG FAMILY
========================== Family Details ==========================
Children:
1. May 3, 1884 MARY JEMIMA YOUNG (m. Henry FLETT)
2. Dec 21, 1885 SAMUEL YOUNG
3. 1888 ISABELLA "BELLA" YOUNG (m. Thomas KELLY)
4. Mar 13, 1892 THOMAS YOUNG
5. Apr 23, 1894 JAMES YOUNG (m. Blanche BROOKE)
6. Mar 7, 1896 MYRA JANE YOUNG (m. Hector GUILBAULT)
7. Apr 1, 1898 MARGARET ANN YOUNG
8. Feb, 1904 MARTIN YOUNG
9. Feb, 1908 FLORENCE IRENE YOUNG