RICHARD BILLINGTON (1883-1958)
FLORA SMITH (1886-1961)
(Last Updated: March 20, 2021)
Richard BILLINGTON was born Aug 9, 1883 in St Andrews Parish (Lockport), son of Mary Ann (nee YOUNG) TAYLOR & William BILLINGTON (1850-1918) from England. ** MORE ABOUT WILLIAM BILLINGTON
In 1906 the log structure that was the original St Thomas Anglican Church at Lockport (Stevens Avenue) was replaced in by a larger one (that still exists in 2012), and was opened that year by Archbishop Samuel Pritchard MATHESON (1852-1942).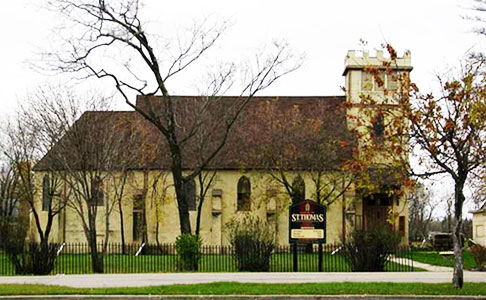 St Thomas Anglican Church at Lockport
Marriage to Flora SMITH
1906
On July 11, 1906 Richard married Flora SMITH, daughter of Madeline Louise LIZOTTE & Thomas SMITH (1843-1926). After they married Richard & Flora moved in with his SMITH in-laws on Lot 103 (on the west side of the Red River just north of where construction of the Lockport Bridge was under construction).
In 1910 construction of the Lockport Bridge and Locks were completed. Its purpose was to raise water levels downstream and eliminate the series of rapids that began just north of Middlechurch and ended at the St. Andrew's rapids, thus making the river navigable. Construction began in 1900.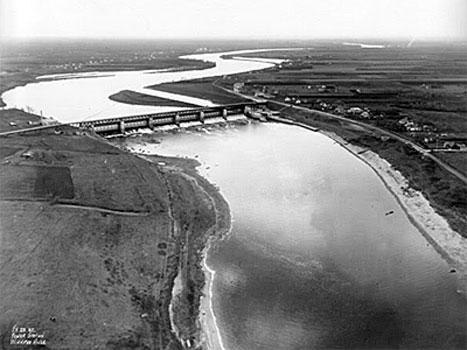 St Andrews Lock and Dam in 1923
Notice in the photo that the bridge approach on the West (right side) turns down onto
 River Road and does not proceed straight as it does now.
In the 1916 census Richard and his family were still on Lot 103 and they had five children: Ernest (age 9); Madeline Louise (age 5); Isabelle Mary (age 3) and Muriel Violet (8 months).
In 1918 Richard's father, William BILLINGTON died.
In 1926 Flora's father, Thomas SMITH died. That same year son Ernest married Ethel SAUNDERS in St Andrews, daughter of their neighbours, Caroline PRUDEN & John Henry SAUNDERS (1866-1924).
In 1929 daughter Madeline "Lena" married Howard PARKS, and around 1830 daughter Violet married James PARKS, both sons of Isabelle BILLINGTON & John Edward PARK (1888-1923). ** MORE ABOUT JOHN EDWARD PARK
In 1931 Richard's mother, Mary Ann BILLINGTON died; and that same year daughter Isabella married Norman PRUDEN in Selkirk, son of Elizabeth Jane ATKINSON & William Albert PRUDEN (b-1868).
In 1935 Flora's mother, Madeleine SMITH died.
On July 3, 1958 Richard BILLINGTON died and in 1961 Flora BILLINGTON died.
Please post comments & queries at this link: FORUM DISCUSSING the RICHARD BILLINGTON FAMILY
============================ Family Details ============================
Children:
1. Mar 6, 1907 ERNEST BILLINGTON (m1. Ethel SAUNDERS, m2. Emma PEEBLES)
2. Apr 17, 1909 JOHN THOMAS BILLINGTON (Died in infancy)
3. Oct, 1910 MADELINE LOUISE "LENA" BILLINGTON (m. Howard PARKS)
4. Dec 21, 1912 ISABELLE MARY ANN BILLINGTON ((m1. Norman PRUDEN, m2. William SMITH)
5. 1915 MURIEL VIOLET BILLINGTON (m. James Inkster PARK)