WILLIAM BILLINGTON (1850-1918)
MARY ANN (nee YOUNG) TAYLOR (1853-1931)
(Last Updated: March 14, 2014)
William BILLINGTON was born Feb 23, 1850 in England. 
Mary Anne YOUNG was born Jan 9, 1853, daughter of Isabella STEVENS & James YOUNG (1822-1870). Isabella was a Half-breed; James YOUNG was born in England
Canadian Confederation
Manitoba becomes a Province
1867-1870
On July 1, 1867 the British colonies in North America were united under the British North American Act to become the Dominion of Canada. Sir John A MACDONALD (1815-1891) was appointed as Canada's first Prime Minister. On July 15, 1870 Manitoba became the fifth province of Canada, the Canadian Government having acquired the territory previously governed by the HBC.

Around 1870 Mary Ann YOUNG married Thomas TAYLOR, son of Jane PRINCE & George TAYLOR (1800-1844), a Land Surveyor. ** MORE ABOUT GEORGE TAYLOR
It was around 1870 that William BILLINGTON arrived in Canada settling in the Lockport area.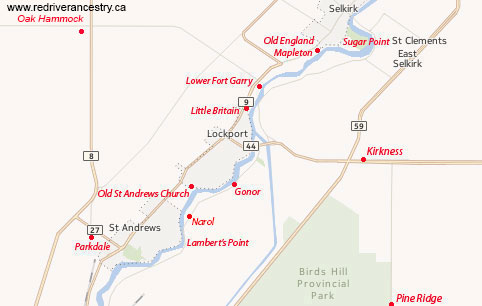 In 1875 Thomas TAYLOR died at Lockport (only 31years old) leaving Mary Ann a 23 year old widow with two children; Victoria TAYLOR (age 5) and baby Alexander TAYLOR. 
William marries Mary Ann (nee YOUNG) TAYLOR
1877
Around 1877 William BILLINGTON married the young Widow Mary Ann (nee YOUNG) TAYLOR.  In March of 1878 their first child, William BILLINGTON JR. was born.
A Double-Wedding
1892
On Dec 1, 1892 there was a double wedding in St Andrews. Step-daughter Victoria TAYLOR married John Henry THOMAS, son of Victoria TAYLOR & Alexander THOMAS (1830-1869). The same date step-son Alexander Thomas TAYLOR married Harriet Jane SMITH, daughter of Catherine LOUTIT & Jacob SMITH (1852-1883).

In 1895 daughter Jessie married Robert James CORRIGAL, son of Alice MATHESON & JOHN CORRIGAL (1840-1893).
The 1901 census recorded William's children at home as William (age 23), Richard (17), Emma (15), Sedley (12), Isabella (9) and Henry George (age 3).
In 1904 daughter Emma married Alexander SMITH, and in 1906 son Richard married Flora SMITH, both children of Madeleine Louise LIZOTTE and Thomas SMITH (1844-1926). ** MORE ABOUT THOMAS JAMES SMITH
In 1909 daughter Isabella married John Edward PARK b-1888, son of Margaret HARCUS & WILLIAM PARK (1858-1914).
In 1909 son William James BILLINGTON married Catharine PORTH (born in Germany) in Winnipeg.
In 1910 construction of the Lockport Bridge and Locks were completed. Its purpose was to raise water levels downstream and eliminate the series of rapids that began just north of Middlechurch and ended at the St. Andrew's rapids, thus making the river navigable. Construction began in 1900.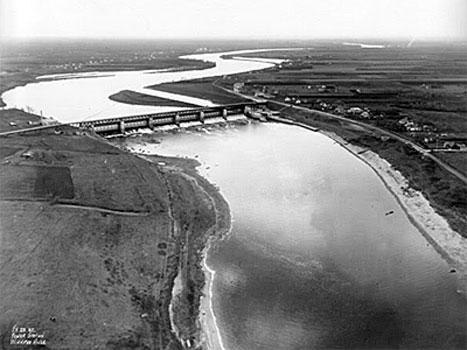 St Andrews Lock and Dam in 1923
Notice in the photo that the bridge approach on the West (right side) turns down onto
 River Road and does not proceed straight as it does now.
In 1913, the Lockport Bridge was paved to allow for automobile and foot traffic, and a fishway was constructed at the East end of the bridge. A bascule lift or drawbridge was later added to allow tall ships to pass through the locks, but in the 1990s when the bridge underwent major reconstruction, the bascule lift was replaced with the fixed section you see at the West end of the bridge.
In 1913 son Sedley married Flora BIRSTON, daughter of Catherine HARCUS & David BIRSTON (1850-1933).
In 1917 son Henry George married Cora IRWIN, daughter of Catherine HARVEY & Joseph IRWIN (b-1857).
Please post comments & queries at this link:  FORUM DISCUSSING the WILLIAM BILLINGTON FAMILY
========================= Family Details =========================
Children of Mary Ann YOUNG & Thomas TAYLOR:
1. Nov 13, Jan 15, 1870 VICTORIA JANE TAYLOR (m. John Henry THOMAS)
2. June 17, 1875 ALEXANDER THOMAS TAYLOR (m. Harriet Jane SMITH)
Children of Mary Ann & William BILLINGTON:
1. Mar 16, 1878 WILLIAM JAMES BILLINGTON (m. Catherine PORTH)
2. c1880 JESSIE BELLA BILLINGTON (m. Robert James CORRIGAL)
3. Aug 9, 1883 RICHARD BILLINGTON (m. Flora SMITH)
** MORE ABOUT RICHARD BILLINGTON
4.  Jan 8, 1886 EMMA ELIZABETH BILLINGTON (m. Alexander SMITH)
5. Feb 3, 1889 SEDLEY BILLINGTON (m. Flora Margaret BIRSTON)
6. Sep 3, 1891 ISABELLA BILLINGTON (m1. John Edward PARK, m2. George KNIGHT)
** MORE ABOUT JOHN EDWARD PARK
7. Apr 2, 1897 HENRY GEORGE BILLINGTON (m. Cora Ella May IRWIN)