JOHN EDWARD PARK (1888-1923)
ISABELLA BILLINGTON (1890-1957)
(Last Updated: December 24, 2012)
John Edward PARK was born March 9, 1888 in St Andrews Parish (along Parks Creek in Parkdale, MB), son of Margaret HARCUS & William PARK (1858-1914). That is where he grew up. ** MORE ABOUT WILLIAM PARK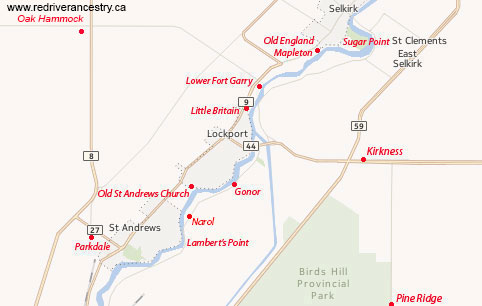 John marries Isabella BILLINGTON
1909
On Feb 17, 1909 John Edward married Isabella BILLINGTON, daughter of Mary Ann (nee YOUNG) TAYLOR & William BILLINGTON (1850-1918) from England. On Dec 5 that year son Willliam Howard was born.
** MORE ABOUT WILLIAM BILLINGTON
In 1910 construction of the Lockport Bridge and Locks were completed. Its purpose was to raise water levels downstream and eliminate the series of rapids that began just north of Middlechurch and ended at the St. Andrew's rapids, thus making the river navigable. Construction began in 1900.
Census 1911:  John PARK (age 25), wife Isabella (age 19) and son William H, (age 1), with father-in-law William BILLINGTON in Lockport. On Dec 10 that year son James was born.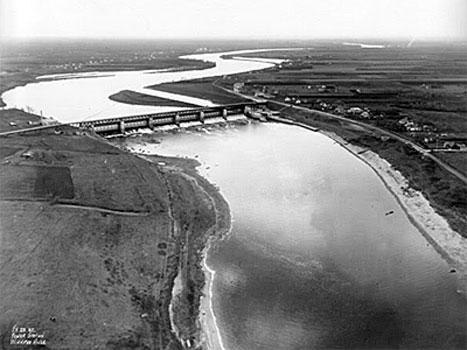 St Andrews Lock and Dam in 1923
Notice in the photo that the bridge approach on the West (right side) turns down onto
 River Road and does not proceed straight as it does now.
In 1913, the Lockport Bridge was paved to allow for automobile and foot traffic, and a fishway was constructed at the East end of the bridge. A bascule lift or drawbridge was later added to allow tall ships to pass through the locks, but in the 1990s when the bridge underwent major reconstruction, the bascule lift was replaced with the fixed section you see at the West end of the bridge.
In 1914 John's father (William PARK) died.
World War I
1914-1919
On Aug 4, 1914 Great Britain (Canada on Aug 5) declared war on Germany and Austria-Hungary to uphold treaties with France and Belgium which were under German attack. This marked the beginning of World War I. November 11, 1919; Armistice Day (Remembrance Day) marked the end of the First World War.
On Dec 21, 1923 John Edward PARK died in Winnipeg. He was only 35 years old.
Isabelle remarries to George KNIGHT
1930
On Apr 26, 1930, Widow Isobel, age 39, re-married at St Thomas Anglican Church in Lockport on Apr 26, 1930, to George KNIGHT (witnessed by Tom & Harriet TAYLOR of Lockport).George was the son of Isabella Frances BALLENDINE & George KNIGHT (b-1860).
In 1929 son William married Madeline BILLINGTON and around 1930 son James married Violet BILLINGTON, both daughters of Flora SMITH & Richard BILLINGTON (1883-1958). ** MORE ABOUT RICHARD BILLINGTON
Daughter Lillian PARK married Ernest Garfield PEEBLES, son of Maria PRUDEN & James Collingwood McDonald PEEBLES (b-1887).
In 1944 daughter Ethel married Garnet Cecil Raymond FREEMAN, son of Ellen Charlotte SMITH & George Percy Allan FREEMAN (1886-1945).
Daughter Margaret married Gudmundur "Mindy" GOODMAN, son of Margaret and Kristinn GUDMUNDSON aka GOODMAN (born 1897 in Iceland).
On June 25, 1957 Isabella PARK died.

On Dec 9, 1966 George KNIGHT died in the Selkirk General Hospital. Both Isabella & George were buried in the St Andrews Anglican Churchyard.
Please post comments & queries at this link: FORUM DISCUSSING the JOHN EDWARD PARK FAMILY
========================= Family Details =========================
Children of Isabella & John PARK:
1. Dec 5, 1909 WILLIAM HOWARD PARK (m. Madeline Louise "Lena" BILLINGTON)
2. Dec 10, 1911 JAMES INKSTER PARK (m. Violet BILLINGTON)
3. est c1912 LILLIAN PARK (m. Ernest Garfield PEEBLES)
4. Jun 6, 1915 EDNA ROSE PARK (m1. Martin MOORE, m2. Raymond MAXON)
5. Sep 20, 1920 ETHEL ISOBEL PARK (m. Garnet Cecil Raymond FREEMAN)
6. c1925 MARGARET PARK (Gudmunder "Mindy" GOODMAN)
Children of Isabella & George KNIGHT:
1. Apr 11, 1930 AUDREY MAY KNIGHT (m. Bruce Allen MATHERS)
2. July 30, 1933 EVELYN MARY KNIGHT (m. Michael BAZAN)