ALEXANDER (ALEXIS) CAMPBELL (1836-)
ANGELIQUE THORNE (1841-1905)
(Last Updated: April 15, 2014)
Alexander (Alexis) CAMPBELL was born in December of 1836 somewhere around Lake Manitoba, son of Louise RICHARD and Alexander CAMPBELL (1815-1877). This CAMPBELL lineage descends from Magdalena VAN SICE and Alexander CAMPBELL (1734-1800) from Scotland. ** MORE ABOUT ALEXANDER CAMPBELL (1734-1800)
Marriage to Angelique THORNE
1855
Around 1855 Alexis married Angelique THORNE, daughter of Mary LEMIRE and George THORNE (born around 1816 in Sorel, Quebec). Their children would all be born in what was then known as the Winnipegosis District, in the region around the Lake Manitoba Narrows (north end of Lake Manitoba) -  Manitoba House (Kinosota) and Ste Rose du Lac  as shown on the map below.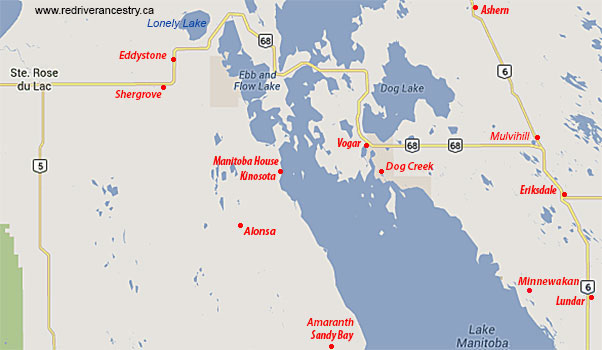 Canadian Confederation
Red River Rebellion
Manitoba becomes a Province
1867-1870
On July 1, 1867 the British colonies in North America were united under the British North American Act to become the Dominion of Canada. Sir John A MACDONALD (1815-1891) was appointed as Canada's first Prime Minister; a month later he won the first federal election.William McDOUGALL (1822-1905) became the Minister of Public Works, and he began negotiations to acquire Rupert's Land from the HBC, sending out surveyors to prepare the way for an expected influx of settlers.
On Oct 11, 1869, Louis RIEL (1844-1885) placed his foot on the surveyors' chain to tell them their work was finished. This marked the beginning of a Red River Metis Rebellion.
On July 15,1870 Manitobabecame the fifth province of Canada, the Canadian Government having acquired the territory previously governed by the HBC. The Rebellion was essentially over.
In 1878 alleged son John married Margaret McLEOD at St Laurent, daughter of Marie and Unknown McLEOD (Indian). More information needed to verify this.
In 1878 son Joseph married Marie PAUL at Manitoba House, daughter of Susanne GERVAIS and St. Mathe PAUL.(b-1826).
In 1878 daughter Margaret married John MOAR, son of Louise CAMPBELL and Hebron MOAR (1831-1913).
From the Census of 1881 in the Winnipegosis District: Alexander CAMPBELL, age 60; wife Angelique, age 40. Children at home:  Charles (age 18), Maria (16), Mary Ann (14), Angelique (12), Agnes (10), Philomena (8), Catherine (6), Pierre (4) and Angus (age 2).
In 1883 daughter Maria (Mary) Ann married Henry Thomas DESMARAIS (1861-1942).
Around 1883 son Charles was united with Marie Rose TCHIHAN of unknown origins.
In 1885 daughter Mary Ann married John James SINCLAIR in Manitoba Posrt, son of Catherine TROTTIER and John James SINCLAIR SR (1828-1867).
In 1886 daughter Angelique (Angeline) may have married Francis James DESMARAIS in Westbourne. This marriage needs further research to verify.
In 1890 daughter Nancy married her brother-in-law, George MOAR in Westbourne, son of Louise CAMPBELL and Hebron MOAR (1831-1913).
In 1894 son Pierre (Peter) married Annabella DUCHARME in Westbourne, daughter of Eliza ANDERSON and Francois DUCHARME (1852-1905).
In 1896 daughter Catherine married John James THOMPSON in Westbourne, son of Sophia BEAUCHAMP and Henry THOMPSON (b-1846).
In 1897 daughter Mary Philomena married George James GLENN in Westbourne.
The 1901 census of the Macdonald District (Ste Rose du Lac area):  Alex CAMPBELL (age about 75); wife Angelique (age about 70). Children: Angus (age 21) and Ellen (age 18). They have a grandson with them; William CAMPBELL (age 20). ** Not sure who were the parents of grandson William.
Around 1905 (before 1906) Angelique (nee THORNE) CAMPBELL died, probably at Kinosota.
In the 1906 census Alexis CAMPBELL was recorded as a 67 year old widower in the Kinosota household of Robert ASHAM (b-1862) who was married to Mary Ann MOAR, sister-in-law of his daughter Margaret.
The 1911 census in the Dauphin District recorded Alexis CAMPBELL (age 74) with his son-in-law, John MOAR (widower of his daughter Margaret) in the Gypsumville area. This seems to be the last record of the Alexis' whereabouts. It is so far unknown when or where Alexis died.
Comments and queries at this link: FORUM DISCUSSING this ALEXANDER CAMPBELL FAMILY
========================== Family Details ==========================
Children:
?1. Nov, 1855 JOHN CAMPBELL (Margaret "Maggie" McLEOD)
2. c1860 MARGARET CAMPBELL (m. John MOAR)
3. Feb, 1860 JOSEPH ALEXANDER CAMPBELL (m. Marie PAUL)
4. 1863 CHARLES CAMPBELL (m. Marie Rose TCHIHAN)
5. 1865 MARIA CAMPBELL (m. Henry Thomas DESMARAIS)
** MORE ABOUT HENRY THOMAS DESMARAIS
6. 1867 MARY ANN CAMPBELL (m. John James SINCLAIR)
7. 1869 ANGELIQUE (ANGELINE) CAMPBELL (m. Francis James DESMARAIS)
8. Oct, 1870 NANCY CAMPBELL (m. George MOAR)
9. 1871 AGNES CAMPBELL
10. 1872 PIERRE CAMPBELL (m. Annabella DUCHARME)
11. May 1, 1874 MARY PHILOMENE CAMPBELL (m. George James GLENN)
12. Feb, 1876 CATHERINE CAMPBELL (m. John James THOMPSON)
13. Sep 7, 1879 ANGUS CAMPBELL
14. Jun 7, 1883 ELLEN CAMPBELL