PIERRE FALCON (1793-1876)
"BARD of the PRAIRIES"
MARIE SUZETTE GRANT (1794-1877)
(Last Updated: May 04, 2020)
Pierre "Che-Na-Me" FALCON was born June 4, 1793 at Fort La Coude (Elbow) Fort in the Swan River District, son of a Cree woman and Pierre Jean Baptiste FALCON (1778-1807).
** MORE ABOUT PIERRE FALCON in DCBO
** MORE ABOUT PIERRE FALCON in WIKIPEDIA
Employed by the North West Company
1808
Around 1808 Pierre began to work for the North West Company (NWC) in Red River country.
Arrival of the First SELKIRK Settlers in Red River
Marriage to Marie Suzette GRANT
1812
In 1812 there was a growing conflict between the two major companies, the Hudson's Bay Company (HBC) and the NWC with the arrival of the first of Lord SELKIRK's settlers at Red River, led by Miles MACDONELL (1767-1828), the first Governor of Assiniboia. The Nor'Westers saw the colonists as a threat to the fur trade and supply of pemmican.
** MORE ABOUT LORD SELKIRK in DCBO
** MORE ABOUT MILES MACDONELL in DCBO
In 1812 Pierre married Marie-Suzette GRANT, daughter of Margaret UTINAWASIS and Cuthbert GRANT SR (1751-1799). Pierre was now brother-in-law of Cuthbert GRANT JR (1796-1834) who would play a major role in the historic Red River Metis Rebellion.
** MORE ABOUT CUTHBERT GRANT SR
** MORE ABOUT CUTHBERT GRANT JR and the RED RIVER REBELLION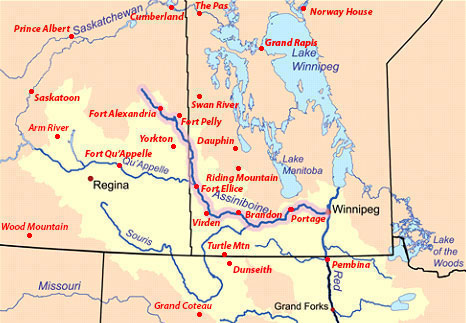 The Battle at Seven Oaks
1816
Wikipedia: In 1816 Pierre FALCON, then 23, celebrated the victory of the Métis at the Battle of Seven Oaks in his song La Chanson de la Grenouillère. The song and the music became so popular among the Métis that it was still sung 150 years later and was published in 1866 in Le Foyer Canadien and again in 1914 in Les Cloches de Saint-Boniface.
North West Company absorbed by the Hudson's Bay Company
Pierre FALCON settles in Grant Town
1821
In 1821 the union of the North West Company (NWC) and the Hudson's Bay Company (HBC) occurred, ending the years of bitter rivalry for dominance of the fur trade in Western Canada.) George SIMPSON (1786-1860) became the Governor of Rupert's Land. After the union, Pierre FALCON became an HBC employee.
** MORE ABOUT GOVERNOR GEORGE SIMPSON
In 1824 Governor SIMPSON was concerned about the conflict between the Sioux and the Metis living at Pembina and, knowing that Pembina would be south of the 49th parallel, he asked GRANT for his help to establish a new community 29 km west of Fort Garry. This was the district of White Horse Plains. They formed the community of Grant Town with 80 Metis families who were displaced from Pembina (including Pierre FALCON). The people of Grantown supplied fur traders with pemmican, and being some of the best fighters, they acted as a buffer between the Sioux and the Red River Settlement. The location of Grant Town was located to the west of Portage as shown on the above map. It was later named St Francois Xavier. Pierre FALCON retired there in 1825.
In the Red River Census of 1827 in the Village of Grantown, Pierre FALCON was recorded as 36 years old with a wife and six young children (three sons and three daughters). He had a house and stable; a mare, two cows, a calf and a pig. He had a cart and a canoe and had six acres of land under cultivation. By my calculation the three sons would have been Francois (about 12 years old), Pierre (age 7) and Jean Baptiste (about a year old). The daughters would have been Madeleine (about 12), Isabelle (age 8) and Marie (age 2).
Two more daughters were born; Julie in 1830 and Catherine in 1832.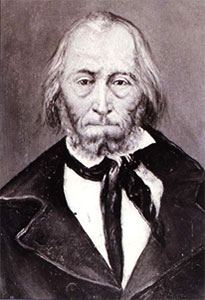 Pierre Falcon
(Manitoba Archives)
Around 1832 eldest daughter Madeleine married Francois Xavier JEANNOT or JEANOTTE (1812-1907) of uncertain origins.

In 1838 son Francois married Euphrosine POITRAS, daughter of Marie GEORGE and Henri POITRAS(1806-1831).
In 1841 daughter Marie married Antoine LEDOUX, son of Madeleine (Saulteaux) and Jean Baptiste LEDOUX (1773-1850). ** MORE ABOUT JEAN BAPTISTE LEDOUX
Around 1845 son Pierre married Marie Louise LEVEILLE, daughter of Julie MACKENZIE and Pierre LEVEILLE (1783-1876).

Around 1848 son Baptiste married Marie NOLIN, daughter of Anne Helene CAMERON and Augustin NOLIN (1781-1848).
Battle of the Grand Coteau
1851
Morton: On 12 July 1851, a small band of Métis buffalo hunters from Saint Francois-Xavier on the Assiniboine River in the Red River Settlement encountered and on 13 and 14 July fought and defeated some hundreds of Sioux warriors on the first slope of the Grand Coteau of the Missouri southeast of Minot in what is now North Dakota. This was the most formidable, as it was the last of the encounters between the buffalo hunters of Red River and the Sioux of the American plains
On 15 June, the White Horse Plain party had left Saint Francois-Xavier, accompanied by its missionary, Rev. Louis Francois Richer LAFLECHE, grand vicar of Bishop Provencher and himself later to be famous as Bishop of Three Rivers. The party was small, numbering only two hundred carts and sixty-seven hunters, with an unknown number of women. It was led, not by the chief of the White Horse Plain settlement, Cuthbert GRANT, but by a nephew of his, Jean Baptiste FALCON, a son of the bard of the Métis. ** MORE ABOUT THE BATTLE OF THE GRAND COTEAU in MHS

Census of 1870 in St Francois Xavier: Pierre FALCON (age 77); wife Marie (age 76). Children: Julie (age 40) and Catherine (age 38).
On Oct 26, 1876 Pierre FALCON diedin St Francois Xavier on the White Horse Plains. Marie died Dec 22, 1877.
Comments and queries at this link: FORUM DISCUSSING the family of PIERRE FALCON
====================== Family Details ======================
Children:
1. Jul 7, 1815 FRANCOIS FALCON (m. Euphrosine POITRAS)
2. 1815 MADELEINE FALCON (m. Francois Xavier JEANNOT)
3. Jun 6, 1819 ISABELLE FALCON
4. 1820 PIERRE FALCON (m. Marie Louise LEVEILLE)
5. Jan 6, 1825 MARIE FALCON (m. Antoine LEDOUX)
6. 1826 JEAN BAPTISTE FALCON (m. Marie NOLIN)
7. 1830 JULIE FALCON
8. 1832 CATHERINE FALCON