JEAN BAPTISTE aks PIERRE LEDOUX (1773-1850)
MADELEINE (Saulteaux Indian) (1785-1841)
(Last Updated: May 07, 2014)
On Feb 22, 1773 Jean Baptiste aka Pierre LEDOUX was born in Richelieu, Quebec.
It was in 1790 that Chief PEGUIS (1774-1864) led his band of about 200 Ojibwa from Sault Ste Marie area to Red River (Netley Creek/ Petersfield). This band became the Salteaux of the Prairies. ** MORE ABOUT CHIEF PEGUIS
The Constitutional Act of 1791 was an Act of the British Parliament creating Upper Canada and Lower Canada. Although it was a first step towards Canadian Confederation, its rigid colonial structures also set the stage for rebellion in the two Canadas.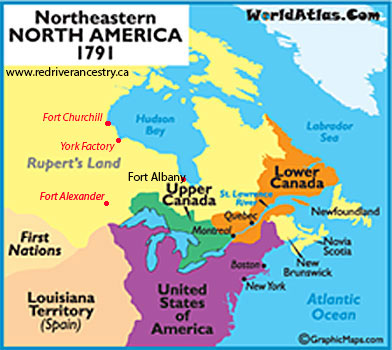 Upper and Lower Canada were created in 1791
Baptiste and his Saulteaux Indian Wife named Madeleine
1793
It seems that young Baptiste and his Saulteaux wife named Madeleine may have arrived Red River country around the same time as PEGUIS and his followers. According to some sources, their first child, Baptiste Jr. was born there on Feb 22. 1794.
Around 1808 son Pierre was born in St Francois Xavier along the Assiniboine River. Son Eusebe was born in the same area around 1811.
The First Selkirk Settlers Arrive at Red River
Metis Rebellion - Cuthbert GRANT on a Rampage
1812-1817
In 1812, there was a growing conflict between the two major companies, the HBC and the NWC with the arrival of the first of Lord SELKIRK's settlers at Red River, led by Miles MACDONELL (1767-1828), the first Governor of Assiniboia. The Nor'Westers saw the colonists as a threat to the fur trade and supply of pemmican.
** MORE ABOUT LORD SELKIRK in DCBO
** MORE ABOUT MILES MACDONELL in DCBO

On Jan 8, 1814, anticipating the arrival of yet another large group of settlers and seeking to solve the colony's food problems once and for all, Miles MACDONELL issued his historic Pemmican Proclamation prohibiting the export of provisions of any kind from within the limits of Assiniboia without a special license from the Governor (himself).
In July of 1814 the NWC held its annual meeting at Fort William where an indignant William McGILLIVRAY declared regarding MacDONELL's actions "It is the first time the Nor'Westers have permitted themselves to be insulted".  From that day there would be civil war in the North-West.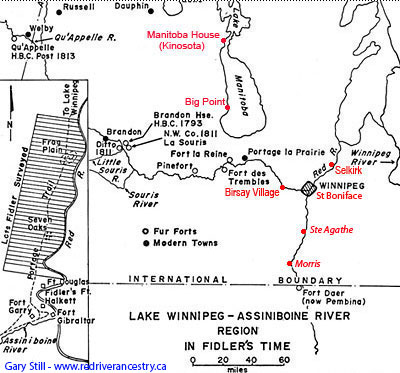 On June 19, 1816 the Battle (Massacre) at Seven Oaks occurred with Governor Robert SEMPLE (1777-1816) and twenty of his men killed on Frog Plain by Metis soldiers under the leadership of Cuthbert GRANT (1796-1854). The Metis then took Fort Douglas.  ** MORE ABOUT CUTHBERT GRANT
On Aug 12, 1816, Lord SELKIRK and his De Meuron soldiers arrived at Fort William where they arrested all of the NWC Partners who were present, including William McGILLIVRAY (1798-1804).
During the winter of 1816-17, SELKIRK then proceeded towards Red River to quell the uprising. At Rainy Lake they induced John Falcon TANNER (1780-1840) to guide the soldiers to Red River where they recaptured Fort Douglas and ended the Rebellion.
** MORE ABOUT WILLIAM McGILLIVRAY in DCBO
** MORE ABOUT JOHN TANNER
There is little evidence to indicate that Baptiste LEDOUX had any involvement in the conflicts that occurred between 1812 and 1817. We do know that there would later be intermarriages between the TANNER and LEDOUX families.
Around 1820 son Pierre is alleged to have fathered a child (Marie LEDOUX) by an Indian named WEHWASHK.
North West Company absorbed by the Hudson's Bay Company
1821
In 1821 the union of the North West Company (NWC) and the Hudson's Bay Company (HBC) occurred, ending the years of bitter rivalry for dominance of the fur trade in Western Canada. ) George SIMPSON (1786-1860) became the Governor of Rupert's Land. ** MORE ABOUT GOVERNOR GEORGE SIMPSON
Around 1827 eldest son Jean Baptiste married Francoise LACOUTURE, daughter of Josephte (Indian) and Joseph LACOUTURE (b-c1777).
Around 1829 son Pierre married Suzanne SHORT, the daughter of Elizabeth (Saulteaux Indian) and James SHORT (1767-1840)an HBC voyageur from the Orkneys of Scotland.
In 1832 son Eusebe married Suzanne BONNEAU, daughter of Louise and Jean Baptiste BONNEAU (1752-1842).
In 1841 youngest son Antoine married Marie FALCON, daughter of Marie Suzette GRANT and Pierre FALCON (1793-1876). ** MORE ABOUT PIERRE FALCON
In 1841 Madeleine LEDOUX died.
In 1850 Jean Baptiste LEDOUX died in St Francois Xavier.
Comments and queries at this link: FORUM DISCUSSING the JEAN BAPTISTE LEDOUX FAMILY
========================== Family Details ==========================
Children:
1. 1806 JEAN BAPTSTE LEDOUX (m. Francoise LACOUTURE)
2. 1808 PIERRE LEDOUX (m1. Suzanne SHORT; m2. Marie DESJARLAIS)
3. 1811 EUSEBE LEDOUX (m1. Suzanne BONNEAU; m2. Louise DESJARLAIS)
5. 1820 ANTOINE LEDOUX (m. Marie FALCON)