JOSEPH (JOZEF) GOUGLAS / GUGLAS (1880-)
BERNICE (BRONISLAWA) LIPINSKI / LEPINSKA (-)
(Last Updated: September 17, 2016)
These are the maternal grandparents of Linda JOSEFCHUK on the Forum who will be cooperating in the development of this narrative.
Joseph (Jozef) GOUGLAS / GUGLAS was born about 1880 in Poland (probably Lutsk), son of Katarzyna KOLOBZIEJCZUK (1857-1943) and Kazunerz GUGLAS of uncertain origins. (This from Family Trees on MyHeritage)
Marriage to Bernice LIPINSKI
1910
In 1914 son Vincent was born in Lutsk, Poland.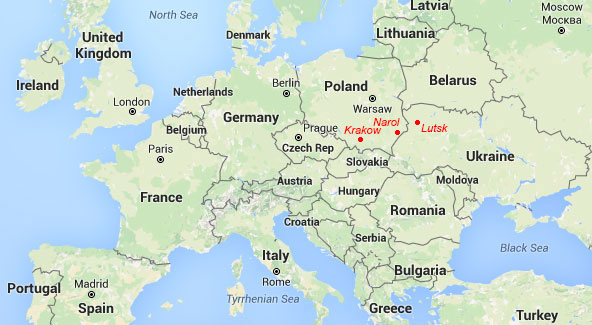 From Wikipedia: During the Polish-Bolshevik War, on May 16, 1919 Lutsk was taken over by the forces of Poland's Blue Army after a heavy battle with the Red Army. The city was devastated and largely depopulated. It witnessed the Soviet counter-offensive of 1920 and was taken in 12 July 1920. It was recaptured by Poland's 45th Rifles regiment and field artillery on September 15, 1920.[2] According to American sociologist Alexander Gella "the Polish victory [over the Red Army] had gained twenty years of independence not only for Poland, but at least for an entire central part of Europe.[3] Łuck was designated by the newly-reborn nation of Poland as the capital of the Wołyń Voivodeship.
Immigration to Canada
1927
In 1927 Joseph departed from Bordeaux, France, aboard the ship La Bouronnais. On Apr 24 that year the ship arrived in Halifax, Nova Scotia.
Lynn: My grandmother (Bernice) was pregnant with my mother (Rose) on the ship ... She was almost turned away at Immigration because she was sick, couldn't speak English... but, a nun who spoke Polish told the immigration officials that my grandmother was pregnant... that's why she was sick).

After their arrival in Canada (1927) Joseph and his family travelled west to Manitoba where they settled in or near Mulvihill (see map below) where daughter Rose was born.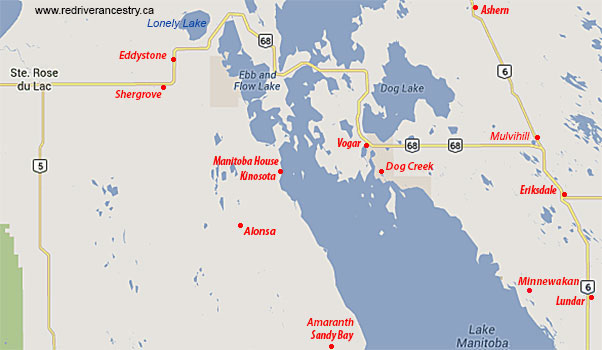 We don't know when or where eldest daughter Pelagia married Walter KONIECZNY.
In 1942 son Walter married Anne SOKOLOSKI in Winnipeg, daughter of Fanny and Stanley SOKOLOSKI.
In 1944 son Vincent married Agnes WINIARZ in Winnipeg, daughter of Katie and John WINIARZ. In 1984 they moved to Calgary, Alberta.
In 1947 youngest daughter Rose married Walter JOSEFCHUK in Winnipeg, son of Justyna JOUZENKA and Adam JOSEFCHUK / JOSEFCZUK (1886-1971). ** MORE ABOUT ADAM JOSEFCHUK
Lynn: Rose's brother 'Tony' married his sweetheart Regina 'Reggie'. They met by their parents' farms (which became part of the Red River Floodway).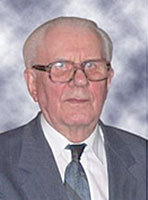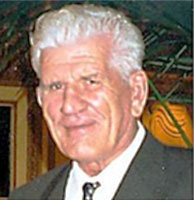 Left: Vincent Gouglas
Right: Walter Gouglas
(From obituaries)
Comments and queries at this link: FORUM DISCUSSING THE JOSEPH GOUGLAS FAMILY
========================== Family Details ==========================
Children:
1. 1910 PELAGIA (PELA) GOUGLAS (m. Walter KONIECZNY)
2. Apr 15, 1912 MICHALINA GUGLAS
3. Apr 23, 1914 VINCENT (WINCENTY) GOUGLAS (m. Agnes Jessie WINIARZ)
4. 1919 WALTER (WLADYSLAW) GOUGLAS (m. Anne SOKOLOSKI)
5. 1921 ANTONI (TONY) GOUGLAS (m. Regina)
6. 1923 WACLAW (WILLIAM) GOUGLAS (m. Rose)
7. 1927 ROSE GOUGLAS (m. Walter JOSEFCHUK)
** MORE ABOUT WALTER JOSEFCHUK
8. 1930 JEAN GOUGLAS (m. Allan SAWRIE)
9. JOHN GOUGLAS (m. Eve)