ADAM JOSEFCHUK / JOSEFCZUK (1886-1971)
JUSTYNA (LENA) JUZENKI / JOUZENKA (1887-1962)
(Last Updated: December 14, 2020)
Inspiration to develop this Family Page comes from Linda, a granddaughter of Adam JOSEFCHUK. Linda has made a donation and will be cooperating with me (Gary Still) in its development by way of the associated Forum Topic indicated below. Watch for our comments there as the story unfolds.
Adam JOSEFCHUK / JOSEFCZUK (of Polish descent) was born on May 15, 1885 in Galicia.
Around 1887 Justyna JUZENKI or JOUZENKA was born, also in Galicia.
In 1906 both Adam and Justyna immigrated to Canada (Winnipeg, Manitoba), and by 1910 they were husband and wife. On Nov 28, 1910 son Michael was born in Winnipeg. Their first home was at 862 College Avenue in Winnipeg.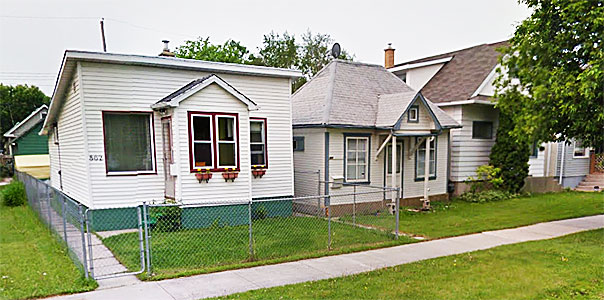 The house on the left is 862 College Avenue (Google Maps Street View June 2015)
World War I
1914-1918
On Aug 4, 1914 Great Britain (Canada on Aug 5) declared war on Germany and Austria-Hungary to uphold treaties with France and Belgium which were under German attack. This marked the beginning of World War I.
Census of 1916 in North Winnipeg (862 College Ave): Adam JOSEFCHUK, age 28; wife Justyna, age 27. Children: Mike (age 8), Peter (7), Natalia (age 4) and Sonia (age 3). His occupation is indicated as a Laborer (City).
November 11, 1918, Armistice Day (Remembrance Day) marked the end of the First World War.
Census of 1921 at 862 College Avenue, Winnipeg: Adam JOZEFEZYK, age 32; wife Lena, age 30. Children: Mike (age 12), Peter (11), Nellie (9), Sophia (7), Carl (5) and Olga (age 1). His occupation is indicated as a Laborer (City streets).
Narol, Manitoba
1924
By 1924 Adam had moved his family to Narol (MB) in St Clements Parish, because on Sep 28 that year, twins Walter and Joseph were born there on River Lot 228). * Walter became Linda's father.
River lots were long narrow (about 400 feet wide) strips of land that extended about two miles east and west of the Red River to provide river frontages for early settlers.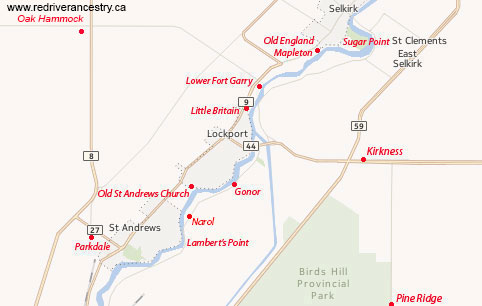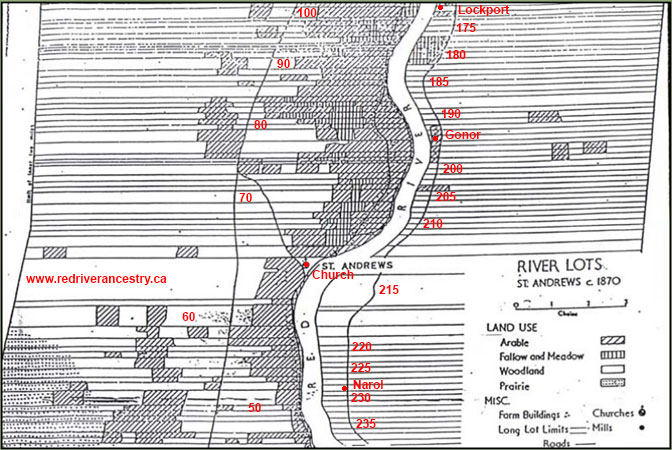 Map of 1870 showing River Lot Numbers
Residents of Narol built their first church, Corpus Christi Church (Body of Christ) in 1907 at 5819 Henderson Hwy. By 1940 the structure had deteriorated, and construction on a new building began that year. A second church, St Nicholas Orthodox Church of Narol, was established in 1911. Narol Post Office opened in 1912 and closed in 1970.
In 1934 eldest son Michael married Julia Constance NIWA in Chicago, daughter of Antonio SZUSKO and Jacob NIWA (1878-1951) from Poland.
In 1935 eldest daughter Josephine married Andrew WASYLYK in Winnipeg, son of Clara and Michael WASYLYK (1876-1968),
World War II
1939-1945
On Sept 4, 1939 Canada and Britain declared war on Germany.
In 1941 son Carl married Jennie CAP, daughter of Sophia (1895-1947) and Michael CAP.
On May 7, 1945 Germany surrendered and the War in Europe ended; the next day, May 8, is declared VE Day.
Daughter Olga married Joseph KOSTUCK (1919-1967), son of Nelly (Mary) PROKOP and Thomas KOZACZEK.
In 1947 youngest son Walter married Rose GOUGLAS in Winnipeg, daughter of Bernice LIPINSKI and Joseph GOUGLAS (b-1880). ** MORE ABOUT JOSEPH GOUGLAS
Also in 1947 son Joseph married Lorna GENOWAY in Winnipeg.
In 1949 Adam (a Bricklayer) and Lena were recorded at 916 Magnus Avenue in Winnipeg. Daughter Olga and her husband, Joe KOSTUCK were with them (From Voter's List). Joseph KOSTUCK (1919-1967) was the son of Nelly (Mary) PROKOP and Thomas KOZACZEK.
In 1952 son Peter married a lady named Josephine in Winnipeg (In 1961 their divorce was made Absolute).
In 1962 Adam (retired) and Justyna were recorded at 458 Stella Avenue in North Winnipeg.
On Nov 7, 1962 Justyna (nee JOUZENKA) JOSEFCHUK died at the Grace Hospital in Winnipeg at the age of 75.
In 1968 Adam (retired) was recorded at 424 Dufferin Avenue in Winnipeg.
On March 7, 1971 Adam JOSEFCHUK died at the Winnipeg General Hospital at the age of 85. He was buried next to Justyna in the Elmwood Cemetery.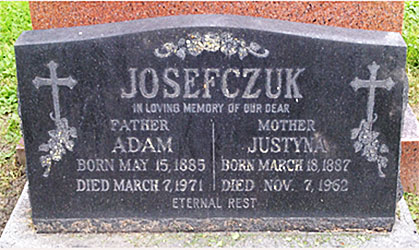 Photo by Christina (Find A Grave)
Comments and queries at this link: FORUM DISCUSSING THE ADAM JOSEFCHUK FAMILY
========================== Family Details ==========================
Children:
1. JOSEPHINE JOSEFCHUK (m. Andrew WASYLYK)
2. Nov 28, 1910 MICHAEL (WLADISLOW) JOSEFCHUK (m. Julia Constance NIWA)
3. 1911 PETER JOSEFCHUK (m. Josephine)
4. 1912 NATALIA (NELLIE) JOSEFCHUK  (Died age 15)
5. 1914 SONIA or SOPHIA JOSEFCHUK
6. Sep 9, 1916 CARL JOSEFCHUK (m. Jennie Evelyn CAP)
7. 1920 OLGA JOSEFCHUK (m. Joseph KOSTUCK)
8. Sep 28, 1924 JOSEPH JOSEFCHUK  (m. Lorna GENOWAY)
9. Sep 28, 1924 WALTER JOSEFCHUK (m. Rose GOUGLAS)
** MORE ABOUT WALTER JOSEFCHUK