WILLIAM LUCAS HARDISTY (1822-1881)
MARY ANN ALLEN (1846-1930)
(Last Updated: November 01, 2016)
William Lucas HARDISTY was born 1822 in Waswanipi House (Quebec), the eldest son of Margaret SUTHERLAND and Richard HARDISTY (1790-1865). ** MORE ABOUT RICHARD HARDISTY
** MORE ABOUT WILLIAM LUCAS HARDISTY in DCBO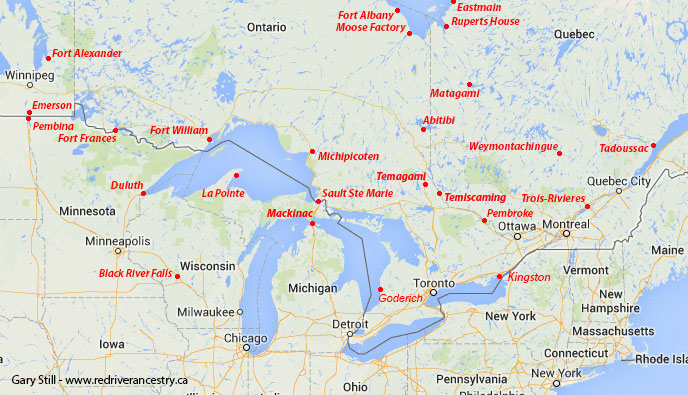 Red River Academy
1836-1842
The Red River Boarding School was built in 1832, and in the fall of 1833 Mrs Mary LOWMAN and John MACALLUM (1806-1849) arrived to fill the first teaching positions.
From 1836 to 1842 William Lucas HARDISTY attended the Red River Academy (Boarding School).
** MORE ABOUT REVEREND JOHN MACALLUM in DCBO
Mackenzie River District
1842
In 1842 William began to work for the Hudson's Bay Company (HBC). His apprenticeship began at Fort Halkett in the Mackenzie River District. Fort Halkett is located at the confluence of the Smith and Liard Rivers. For the next 36 years William worked at various locations in the Mackenzie River District including Fort Halkett, Frances Lake, Fort Selkirk, Fort Norman, Fort Yukon, Fort Resolution, Fort Liard and Fort Simpson.
** MORE ABOUT WILLIAM LUCAS HARDISTY in HBC ARCHIVES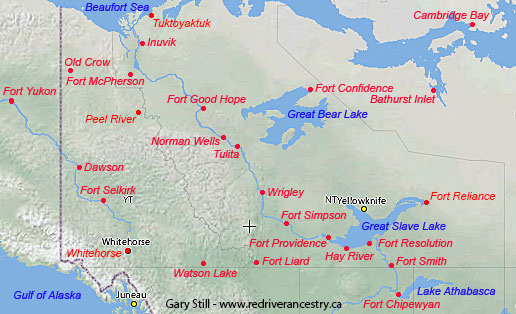 Marriage to Mary Ann ALLEN
1856
Around 1856 William Lucas married Mary Ann ALLEN at Fort Yukon, daughter of Charlotte SCARBOROUGH and Robert ALLEN (1800-1845), an HBC seaman from England.
In 1859 daughter Isabella "Bella" was born at Fort Resolution.
In 1862 William was sent to Fort Simpson to take charge of the Mackenzie River district, a position which he held for fifteen years. While there he was commissioned as a Chief Factor.
Canadian Confederation
1867
On July 1, 1867 the British colonies in North America were united under the British North American Act to become the Dominion of Canada. Sir John A MACDONALD (1815-1891) became Canada's first Prime Minister;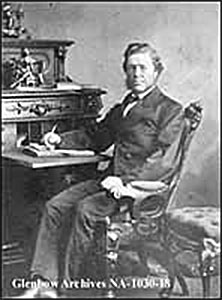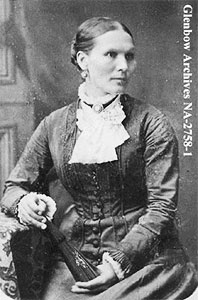 William Lucas Hardisty – Mary Ann Allen
(Glenbow Archives)
Perhaps around 1869 daughter Isabella was sent to Miss Matilda DAVIS School at St Andrews on the Red River to be educated. Her teacher would be Eliza CRIPPS-KENNEDY, the wife of Captain William KENNEDY (1814-1890). Isabella also attended the Wesleyan Ladies' School in Hamilton (ON) and from there she visited her uncle and aunt, Lord & Lady Strathcona (Donald SMITH) in Montreal, where she was introduced to society. 
** MORE ABOUT EILZA CRIPPS-KENNEDY in DCBO
** MORE ABOUT CAPTAIN WILLIAM KENNEDY
In 1878 William left the Mackenzie District and moved to Winnipeg.
William retires and dies in Lachine, Quebec
1879-1881
On May 31, 1879 William retired, and soon after he moved to Lachine, Quebec. In 1865 William's grandfather (Richard HARDISTY) had died in Lachine, and in 1876 his grandmother (Margaret) also died there.
On Jan 16, 1881 William HARDISTY died in Lachine, PQ. His widow, Mary Ann (age 39), was recorded there in the 1881 census along with their children: Bella (age 20), Richard (18), Frank (14), Thomas (13), Donald (10), William (9) and Mary (age 3).
Widow Mary Ann re-marries to Edwin Stewart THOMAS
Stonewall, Manitoba
1883
After her husband died, Widow Mary Ann returned to Manitoba, and in 1883 she re-married to Edwin Stewart THOMAS in Stonewall (MB), son of Harriet STEWART & Thomas THOMAS (1820-1859). ** MORE ABOUT THOMAS THOMAS
In 1884 daughter Ellen Florence THOMAS was born. This was also the year that Mary Ann's eldest daughter "Belle" HARDISTY married Senator James LOUGHEED.in Calgary, son of Mary Ann ALEXANDER and John LOUGHEED (1816-1904).
** MORE ABOUT SENATOR JAMES LOUGHEED in DCBO
Northwest Rebellion
Son Richard dies in the Battle at Batoche
1885
In 1885 the Northwest Rebellion began. ** MORE ABOUT THE NORTHWEST REBELLION in WIKIPEDIA
Early that spring son Richard was recruited in Winnipeg by Major Frederick MIDDLETON (1825-1898) who was on his way to Saskatchewan to quell the uprising. MIDDLETON and his soldiers then set off for Qu'Appelle to improvise Canada's first military campaign. ** MORE ABOUT MAJOR GENERAL MIDDLETON in DCBO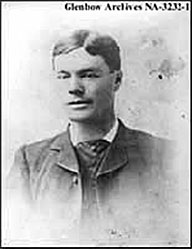 Richard "Dick" Hardisty Dec 6, 1883
(Glenbow Archives)
On May 12, 1885 Richard HARDISTY, Private in the 90th Battalion of the Royal Winnipeg Rifles, was killed in action (shot through the lungs). He would have been about 23 years old.
The inscription on a gravestone in the Brookside Cemetery in Winnipeg reads: Private Frank A. HARDISTY, North West Field Force (Died 1949). This would have been Richard's younger brother, about 19 years old who apparently survived.
In 1888 son Edwin THOMAS was born.
Census 1891 in Stonewall:Edward S THOMAS, a Butcher, age 40; wife Mary, age 41. Children: Ellen THOMAS (age 7) and Allen (Edwin) THOMAS (age 3). Step-children: Frank HARDISTY (age 24), Donald (20), William (18) and LouisaHARDISTY (age 14).
In 1896 son William HARDISTY married Winifred HACKLAND in Winnipeg and daughter Mary married Alfred HACKLAND in St Laurent, both children of Ann SHARP and Captain Gilbert Spence HACKLAND (1828-1901).
Lundar, Manitoba
At some time before 1901 Edwin moved to the Lundar area to the east of Lake Manitoba.
In 1898 son Edwin THOMAS JR. died at the age of nine.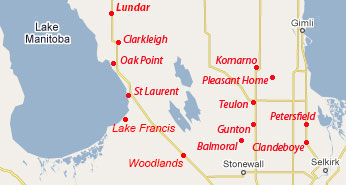 Census 1901 in the St Laurent District: Edwin S THOMAS (age 50), his wife Mary Ann (age 43) and daughter Ellen Florence THOMAS, age 17. Nearby is daughter Mary Louise and son-in-law Alfred HACKLAND.
Census 1906 near Lundar: Edwin THOMAS (age 56); wife Mary (age 59). With them are daughter Ellen Florence (age 21) and grandson Leonard HARDESTY (age 4). ** This is Alan Leonard, son of Winifred HACKLAND and William Lucas HARDISTY Jr. (Mary Ann's son). Leonard's mother, Winifred had died in 1905.
It was in 1906 that son Donald married a lady named Maud E. of unknown origins.
In 1908 son Thomas married Julie Marie LOGAN in St Laurent, daughter of Juliet Jane THOMAS & William LOGAN (1841-1922). Juliet THOMAS was a granddaughter of Harriet STEWART and Thomas THOMAS (1820-1859).
** MORE ABOUT THOMAS THOMAS
At some time after 1908 son Frank married a lady named Catherine E. of uncertain parentage who was born about 1878 in the USA and arrived in Canada in 1908. After their marriage they settled in Oak Point Parish.
Daughter Ellen Florence THOMAS did not appear with her parents in the next census which leads to an interesting puzzle. Was this the Ellen (later referred to as Fanny) THOMAS who married Arthur COCHRANE in 1910 (re Vital Stats)? In the 1911 census they were recorded in the Fisher River Reserve. Arthur COCHRANE (b-1879) was a son of Mary MONKMAN and Henry COCHRANE (b-1851) from St Peters.
Census 1911 near Lundar: Edwin THOMAS (age 60); wife Mary (age 63) and grandson William Laurence (Leonard), age 9).
World War I
1914-1919
On Aug 4, 1914 Great Britain (Canada on Aug 5) declared war on Germany and Austria-Hungary to uphold treaties with France and Belgium which were under German attack. This marked the beginning of World War I.
In 1916 son William Lucas HARDISTY enlisted for service in Winnipeg. In his attestation he is indicated as a widowed Engineer from Oak Point (See map above). He stated his next of kin as his daughter Clarice HARDISTY of Winnipeg who was then living in Winnipeg with her Aunt and Uncle, Annie (nee HACKLAND & William Angus SUTHERLAND (1853-1909). Of course William Lucas was the father of Leonard who was being raised by his mother and step-father.
Census 1916 near Lundar:  Edwin THOMAS (age 65); wife Mary Ann (age 68) and grandson William L. (age 7?).
In 1917 grandson Allan Leonard (Lawrence) HARDISTY died at the age of 14.
 November 11,1919, Armistice Day (Remembrance Day) marked the end of the First World War.
On Aug 26, 1920 son Donald married a second time to Widow Jessie KARTWOLD in Winnipeg. Jessie, of unknown origins, had been married to Ernest KARTWOLD who was born 1891 in Norway, a soldier in World War I who died on Feb 18, 1920.
Census 1921 in St Laurent:  Edwin THOMAS (age 75); wife Mary (age 76) and Grandson Lawrence THOMAS, age 12.
On Jan 16, 1930 Mary Ann (nee ALLEN) HARDISTY-THOMAS died in the RM of Armstrong, age 89 (from Vital Stats).
On Oc5 7, 1932 Edwin Stewart THOMAS died.
Comments and queries at this link:
FORUM DISCUSSING MARY ANN ALLEN – WILLIAM LUCAS HARDISTY FAMILIES
========================== Family Details ==========================
Children of Mary Ann and William HARDISTY:
1. Apr 8, 1860 ISABELLA CLARK "BELLE" HARDISTY (m. Senator James LOUGHEED)
2. Jun 6, 1862 RICHARD THOMAS "DICK" HARDISTY (Died at Batoche in 1885, age 23)
3. Apr 8, 1866 FRANK ALLEN HARDISTY (m1. Catherine E; m2. Jessie KARTWOLD)
4. Sep, 1867 THOMAS ALEXANDER HARDISTY (m. Juliet Marie "Jennie" LOGAN)
5. Nov 26, 1870 DONALD ALEXANDER HARDISTY (?m. Maud E, ?m. Jessie KARTWOLD)
6. Oct 7, 1872 WILLIAM LUCAS HARDISTY JR (m. Winnifred HACKLAND)
7.  May 8, 1877 MARY LOUISE HARDISTY (m. Alfred Ernest HACKLAND)
Children of Mary Ann and Edwin THOMAS:
1. Apr 1, 1884 ELLEN FLORENCE THOMAS (m. Arthur COCHRANE?)
2. Dec 2, 1888 EDWIN JAMES THOMAS (Died age 9)