THOMAS THOMAS (1820-1859)
HARRIET STEWART (1821-1910)
(Last Updated: June 26, 2014)
Thomas THOMAS was born around 1820 in Red River; baptised Nov 10, 1822 at St Johns (Wpg), son of Sarah (Cree) and Governor Thomas THOMAS (1766-1828). ** MORE ABOUT GOVERNOR THOMAS THOMAS
On March 30, 1821 at St John's Anglican Church, Thomas THOMAS SR (Governor) was church-wed to Sarah, the mother of his children. The marriage was performed by Reverend John WEST (1778-1845) and witnessed by John BUNN and George GLADMAN. ** MORE ABOUT REVEREND JOHN WEST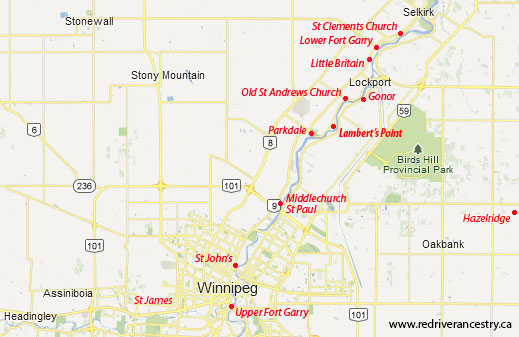 In 1828 Thomas' father, Thomas THOMAS SR, died. His Will provided an annuity of £25 for his wife Sarah. To each of his two sons (Thomas Jr. & William) he left £3,850, and to each of his six daughters £1,000 in three per cent Bank of England consols. In 1829 William THOMAS, married Eleanor BUNN, daughter of Phoebe SINCLAIR and Thomas BUNN (1765-1853). ** MORE ABOUT THOMAS BUNN
Marriage to Harriet STEWART
1842
On Nov 21, 1842, Thomas (then a Merchant) married Harriet Vincent STEWART at St Johns, daughter of Harriet VINCENT and David Ramsay STEWART (born 1786 in Aberdeen, Scotland) who retired in 1823 as the Superintendent of Saw Mills for the HBC at Moose Factory.
In 1845 daughter Juliet was born in St Paul Parish.
On March 12, 1859 Thomas THOMAS died, leaving Widow Harriet with at least five young children: Juliet (age 14), Harriet (12), Edwin (9), David (6) and John (age 2).
In 1864 eldest daughter Juliet married William LOGAN in St Paul, the son of Mary Ann DEASE and Thomas LOGAN (1812-1882).
In the 1870 Red River Census Widow Harriet was recorded in St Paul Parish with her three youngest sons still at home: Edwin (age 21), David (18) and John (age 13).
Western Land Grants: Dated Aug 21, 1877; Half-breed Grant to Harriet THOMAS for SW and W half of SE-9-12-5-Epm (St Paul Parish). That property is located about four miles north of Oakbank (MB).
In 1878 daughter Harriet married James GRAHAME in St Paul, son of Otilia NIGHSWANDER and William Richard GRAHAME (1807-1867) from Glasgow, Scotland.
Stonewall, Manitoba
Census 1881: Widow Harriet THOMAS (age 60) with sons: John, Edwin & David in Rockwood RM (Stonewall).
In 1883 son Edwin married Mary Ellen (nee ALLEN) HARDISTY in Stonewall, daughter of Charlotte SCARBOUROUGH and Robert ALLEN. Mary Ellen was the widow of William Lucas HARDISTY (1822-1881). She was the mother of Lady Belle LOUGHEED and the great grandmother of former Alberta Premier Peter LOUGHEED (1928-2012).
** MORE ABOUT WILLIAM LUCAS HARDISTY
In 1886 youngest son John married Elizabeth Jane WATTS in Stonewall, and in 1889 son David married his sister-in-law, Ann Sarah WATTS.  These were daughters of Mary SUTHERLAND and Frederick WATTS (born 1827 in England).
Census 1891: Widow Harriet THOMAS recorded with her son John in Rockwood RM (near Pigeon Bluff).
Census 1901: Widow Harriet THOMAS (age 81) recorded with the family of Angus PRITCHARD (b-1852) near Oak Point.
Census 1906: Widow Harriet (age 87) is with the family of her daughter, Harriet GRAHAME, also widowed, in Wavey Bank (west of Stonewall).
On April 18, 1910 Harriet (nee STEWART) THOMAS died in Stonewall at the age of 92.
Comments and queries at this link:
FORUM DISCUSSING FAMILY of HARRIET STEWART and THOMAS THOMAS
============================ Family Details ============================
Children: 
1. May 1, 1845 JULIET JANE THOMAS (m. William LOGAN)
2.  Aug 8, 1847 HARRIET SOPHIA THOMAS (m. James GRAHAME)
3. Aug 5, 1849 THOMAS CHARLES THOMAS (Died in infancy)
4. Oct 7, 1850 EDWIN STEWART THOMAS (m. Mary Ellen (nee ALLEN) HARDISTY)
5. Jan 24, 1853 DAVID HENRY THOMAS (m. Ann Sarah "Annie" WATTS)
6. May 17, 1857 JOHN THOMAS (m. Elizabeth Jane WATTS)