WILLIAM McCORRISTER (1870-1944)
CATHERINE WATT (1871-1944)
(Last Updated: May 01, 2015)
William McCORRISTER was born about 1870 in St Andrews Parish of Red River (Little Britain), son of Elizabeth CORRIGAL and James McCORRISTER (1850-1917). ** MORE ABOUT JAMES McCORRISTER
Marriage to Catherine WATT
1886
On Sep 30, 1886, William married Catherine WATT of uncertain origins.
Census of 1906 in the St Peters Indian Reserve: William McCORRISTER (age 44); wife Catherine (age 35). Children: Esther (age 19), Bella (16), Martin (14), William (12), Oswald (10), Margaret (8), McMoriane (6), Edna (4) and baby Mary.
The Historic and Controversial Surrender of the St Peters Reserve
1907
ICC: On September 20, 1907, after extensive previous negotiation, Government officials met with the Chief and councillors of the Peguis Band. Opposition to the surrender was voiced by ex-Chief William ASHAM.(b-1853).
** MORE ABOUT CHIEF WILLIAM ASHAM and the SURRENDER OF THE ST PETERS INDIAN RESERVE
Around 1909 daughter Bella Agnes married Archibald BALLENDINE, son of Frances WILSON and John BALLENDINE.
By 1911 most of the St Peters Indian Band had moved to a new reserve at Fisher River. The St Peters Indian Reserve was gone forever; the area was thereafter referred to as St Peters Parish.
Census of 1911 in St Peters: William McCORRISTER (age 49) and his Cree wife Catherine (age 40).
World War I
1914-1918
On Aug 4, 1914 Great Britain (Canada on Aug 5) declared war on Germany and Austria-Hungary to uphold treaties with France and Belgium which were under German attack. This marked the beginning of World War I.
Three of William's sons enlisted as soldiers in the Great War: William Robert and Oswald in 1915 at Selkirk, and David in 1916 at Winnipeg.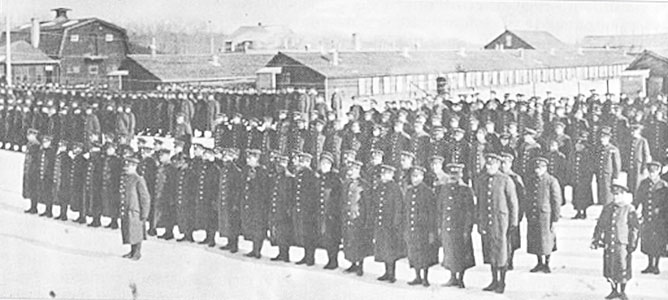 Soldiers at Red Feather Farm barracks during WW I
East side of Eveline Street in Selkirk
Census of 1916 in St Peters Parish: William McCORRISTER, age 55; wife Catherine, age 45. Children: Esther (age 28), Bella Agnes (26), Mortimer (24), William Robert (21), Oswald (19), Margaret (17); McMoriane (14), Edna (12), Mary (10), Alexander (8), Ernest (5), Wilfred (3) and baby Ruth (9 months).
November 11,1918, Armistice Day (Remembrance Day) marked the end of the First World War.
In 1920 son Mortimer married Bella LECLAIR in St Peters, daughter of Frances Jessie PEEBLES & George LECLAIR (1870-1938). Also in 1920 daughter Esther married Charles STEWART, son of Nancy COCHRANE and Simon STEWART (b-1864).
William moves his family to the New Peguis Reserve at Fisher River
1920
By 1920 William and his family had moved to the New Peguis Reserve (Fisher River; north of Hodgson). Son Wilfred died there that year at the age of 16.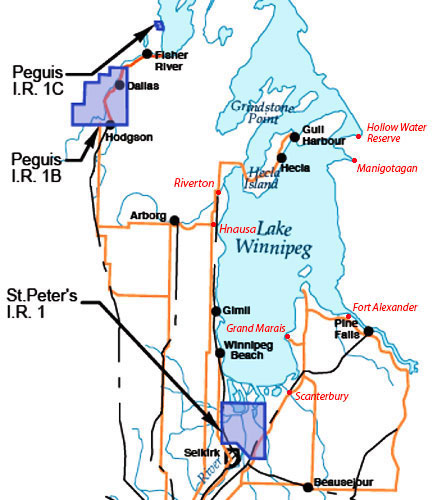 In the 1921 census William was recorded in the Peguis Reserve as a 59 year old carpenter; wife Catherine was 47 years old. Children at home: Mac (age 19), Edna (17), Mary (15), George Alexander (13), Ernest (11) and Wilfred (age 8).
In 1921 daughter Elizabeth may have married Alexander Grant RATT in St Andrew, son of John RATT (1860-1910).
** MORE ABOUT JOHN RATT
In 1927 daughter Edna married John Edward DANIELS in Peguis, son of Elizabeth Jane HUDSON and John Thomas DANIELS (b-1872).
In 1928 son Macmoriane (Mac) married Gertrude FIDLER in the Peguis Reserve, daughter of Sarah Mina STEVENSON and Thomas FIDLER (1867-1933). ** MORE ABOUT THOMAS FIDLER
In 1932 son George McCORRISTER married Mary SPENCE in Hodgson. Uncertain regarding origins of Mary SPENCE.
In 1933 Son Ernest married Bertha SINCLAIR in Peguis, daughter of Emma Jane and James SINCLAIR b-1888.
On Feb 26, 1944 Catherine (nee WATT) CAMERON died in the Peguis Reserve at the age of 72.
On June 30, 1944 William McCORRISTER died in Portage la Prairie.
Comments and queries at this link: FORUM DISCUSSING THE WILLIAM McCORRISTER FAMILY
======================== Family Details ========================
Children:
1. Feb 2, 1888 ESTHER McCORRISTER (m. Charles STEWART)
2. 1890 BELLA AGNES McCORRISTER  (m. Archibald BALLENDINE)
3. Dec 26, 1891 MORTIMER McCORRISTER (m. Bella LECLAIR)
4. Oct 22, 1893 WILLIAM ROBERT McCORRISTER
5. Jul 15, 1897 OSWALD McCORRISTER
6. Dec 22, 1898 MARGARET ELIZABETH "MAGGIE" McCORRISTER
7. Feb 2, 1902 McMORIANE "MAC" McCORRISTER (m. Gertrude FIDLER)
8. 1904 EDNA McCORRISTER (m. John Edward DANIELS)
9. May 24, 1906 MARY McCORRISTER
10. Jan 26, 1908 ALEXANDER GEORGE McCORRISTER
11. 1911 ERNEST CLIFFORD McCORRISTER (m. Bertha SINCLAIR)
12. 1913 WILFRED McCORRISTER Died age 16)
13. 1916 RUTH McCORRISTER