JOHN RATT (1860-1910)
NANCY WILLIAMS (1860-)
LUCY HENDERSON (1876-
(Last Updated: May 06, 2015)
Surname variations: RATT, RAT, LERAT
John RATT was probably born around 1860 in the St Peters Indian Reserve or around the south end of Lake Winnipeg. Very little is known about John's true origins. He was probably a descendant of MAKADESHIB (BLACK DUCK) aka LERAT (born c1790), an Ojibway Indian who lived in Red River. It seems to be generally stated and accepted that Chief PEGUIS (1774-1864) led a band of Ojibway Indians west from Lake Superior around 1790. ** MORE ABOUT CHIEF PEGUIS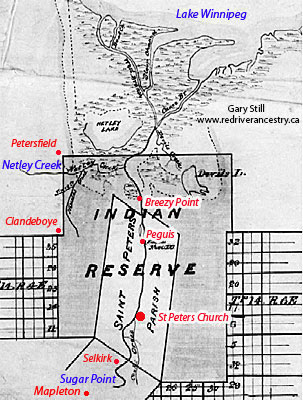 Boundaries of the St Peters Indian Reserve after the signing of Treaty One in 1871
Wives Nancy WILLIAMS and Lucy HENDERSON
John RATT had children with at least two different wives, Nancy WILLIAMS and Lucy HENDERSON; in what order is uncertain. It was not uncommon for natives of that period to have several wives at the same time.
Nancy WILLIAMS was probably born around 1860. She may have been a daughter of Eliza PARISIEN and Thomas WILLIAMS (1825-1888) who lived in the St Peters Reserve.

Lucy HENDERSON was born about 1873, a daughter of Madeline CANARD and Samuel HENDERSON (1829-1903) who was a St Peters Band Councilor.
It was around 1880 that John's first child, daughter Eliza was born (based on her obituary which indicates she was 95 years old when she died in 1925). ** Note: Birthdates for many of his children from various sources (primarily census records) are inconsistent and erratic, or appear to be only arbitrary estimates.
Marriage to Lucy HENDERSON
1890
On May 19, 1890 John married the aforementioned Lucy HENDERSON in St Peters. This marriage is recorded as such in the records of Manitoba Vital Stats.
Around 1900 eldest daughter Eliza married Robert STONE of uncertain origins. In 1929 Robert STONE died in Selkirk.
Census of 1906 in the St Peters Indian Reserve: John RAT b-c1866 (age 40); wife Lucy b-c1876 (age 30). Children: Louisa (age 10), Mabel (8), John (6), Archie (4), Colin (2) and baby Harriet.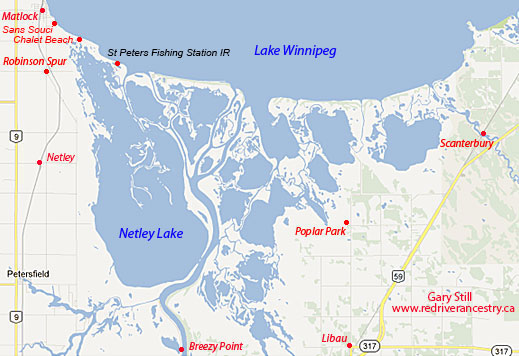 Surrender of the St Peters Reserve
1907-1911
St Peter's Indian Reserve was surrendered in 1907, and most of the native residents moved to present day Peguis Reserve (Fisher River/ Hodgson) by 1909. However, John RATT remained in the St Peters area for the rest of his life.
By 1911 the St Peters Indian Reserve was gone forever. Thereafter we must refer to the area as St Peters Parish. Nevertheless, a St Peters Reserve land claim dispute would continue into the next century. One of the staunchest opponents to the Surrender was Chief William ASHAM.
** MORE ABOUT CHIEF WILLIAM ASHAM and the ST PETERS RESERVE SURRENDER
Probably around 1910-11 John RATT died in St Peters.
Census of 1911 in the St Peters Indian Reserve: Cree family of Widow Mrs. Nancy RAT, Housekeeper. Children at home: Campbell (age 22), Alexander (18) and Elliot (age 10).
In 1911 son Campbell married Bella FLETT, daughter of Nancy HOPE and Robert James FLETT (1859-1897).
Widow Nancy (nee WILLIAMS) marries John Henry PRINCE
Her daughter Nancy RATT marries J.H. PRINCE's son William Henry PRINCE
1912
It seems that in 1912 NANCY WILLIAMS re-married to John Henry PRINCE (b-1848), and around the same tine daughter Nancy RATT, married John Henry's son, William Henry PRINCE (b-1886).
In 1915 son Alexander married Beatrice Florence FLETT. Beatrice may have been a daughter of Sarah CAMERON & Henry FLETT (b-1876).
In the 1916 Census Widow Nancy PRINCE (age 60) was recorded in the Poplar Park area near her sons Campbell RATT (age 23) and Alexander RATT (age 20) and their families.
In 1917 eldest son John James married Margaret Ann SMITH of uncertain origins. This is the JJ RATT who died in 1949 as the result of a fractured skull that he sustained when he was ejected from the Lisgar Hotel after a night of heavy drinking. Sometime after JJ RATT died, my father (James STILL) bought his old log house that was located just south of the Rolling Mills to use as a barn. I fondly remember playing in that barn as a youngster.
In 1921 son Alexander married a second time to Elizabeth McCORRISTER in St Andrews, probably the daughter of Catherine WATT and William McCORRISTER (1870-1944). ** MORE ABOUT WILLIAM McCORRISTER
In 1924 son Elliott married Mary Louisa CAPLETTE in Selkirk, probably the daughter of Malvina and Paul CAPLETTE who was born 1866 in Quebec and lived in the Fort Alexander area.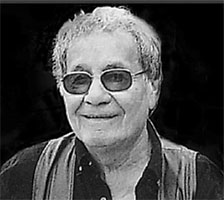 Grandson Alexander Lloyd Ratt (1933-2007), son of Elliott Ratt
Comments and queries at this link: FORUM DISCUSSING the JOHN RATT FAMILY
========================== Family Details ==========================
Children:
1. 1880 ELIZA RATT (m. Robert STONE)
2. 1886 JOHN JAMES RATT (m. Margaret SMITH)
3. 1889 CAMPBELL RATT (m. Bella FLETT)
4. Dec 22, 1892 ALEXANDER GRANT RATT (m1. Beatrice FLETT, m2. Elizabeth McCORRISTER)
5. Mar 15, 1896 ELLIOTT RATT (m. Mary Louisa CAPLETTE)
6. 1899 NANCY RATT (m. William Henry PRINCE)