CAMPBELL HOWARD RATT (1889-1976)
BELLA FLETT (1895-1941)
(Last Updated: May 06, 2015)
Campbell Howard RATT was born about 1889 in the St Peters Indian Reserve, son of Nancy WILLIAMS and John RATT (1860-1910). ** MORE ABOUT JOHN RATT
Bella FLETT was born on Nov 27, 1895 in St Peters, daughter of Nancy HOPE and Robert James FLETT (1859-1897). In 1897 Bella's father died.
In 1901 the historic little Mustard Seed Chapel was built on Section 35, Township 16, Range 4; East of the Prime Meridian (Chalet Beach). Because it was so tiny, perhaps it was only intended as a temporary building. Reverend Benjamin McKENZIE (1837-1928) was its first rector. ** Note: This little church was later moved south to Robinson Spur.
** MORE ABOUT REVEREND BENJAMIN McKENZIE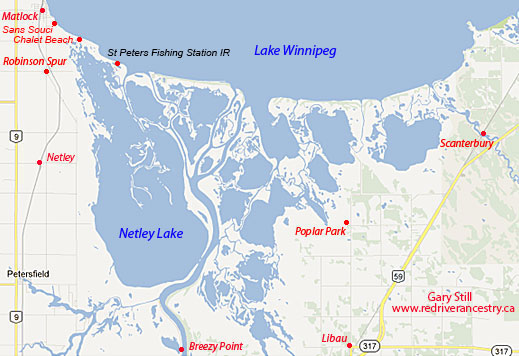 Campbell Ratt became Chief of the St Peters Fishing Station (Indian Reserve)
Surrender of the St Peters Reserve
1907-1911
St Peter's Indian Reserve was surrendered in 1907, and most of the native residents moved to present day Peguis Reserve (Fisher River/ Hodgson) by 1909.
Around 1910 Bella's mother, Widow Nancy (nee HOPE) FLETT remarried to William Donald HARPER, son of Elizabeth CUMMINGS & Thomas HARPER (1807-1877), both Half-breeds.
By 1911 the St Peters Indian Reserve was gone forever. Thereafter we must refer to the area as St Peters Parish. Nevertheless, the St Peters Reserve land claim dispute would continue into the next century. One of the staunchest opponents to the Surrender was Chief William ASHAM.
** MORE ABOUT CHIEF WILLIAM ASHAM and the ST PETERS RESERVE SURRENDER
Census of 1911 in St Peters Parish: Campbell RAT (age 22) with his mother (Widowed Mrs. Nancy RAT). In the same census in St Peters we find Bella FLETT (age 18) with her mother (Nancy) and Step-father, W.D. HARPER.
Campbell marries Bella FLETT
1911
On Dec 21, 1911 Campbell RATT married the aforementioned Bella FLETT, in St Clements Parish (St Peters Parish).
It seems that in 1912 Campbell's mother (NANCY WILLIAMS) re-married to John Henry PRINCE (b-1848), and around the same time his sister, Nancy RATT, married John Henry's son, William Henry PRINCE (b-1886).
World War I
1914-1918
On Aug 14, 1914 Great Britain declared war on Germany and Austria-Hungary to uphold treaties with France and Belgium which were under German attack.
Census of 1916 in St Clements Parish (15-6-Epm- Poplar Park): Campbell RAT, age 23; wife Bella (age 21) and son Alexander (age 3).
November 11,1918, Armistice Day (Remembrance Day) marked the end of the First World War.
Mary Chastellaine:  On a reserve near the Red River several families lived.  Most remembered is Chief Campbell RATT who was a great singer and organist.  He rode his bicycle to Selkirk and back and could be heard singing "Blue Velvet Band".  His wife, Bella and her sister, Nancy HARPER, used to walk 5 miles to Matlock to peddle fish.  They smoked cigarettes made from dried red willow bark called "Kin-akin-ic" (Indian term), mixed with pipe tobacco - what an aroma!  They were a happy couple and Nancy lived to the ripe old age of eighty. **Note: Campbell was "Chief" of the Peguis First Nation Indian Reserve known as St Peters Fishing Station 1A.
The History of Dunnottar Winnipeg Beach Community Web: Campbell RAT:  He came to Matlock and settled down near the mouth of the river with his family of Indian Origin. He made his living fishing in Lake Winnipeg and working and building among cottage owners. His wife predeceased him several years ago and left his children orphans. Mrs. Donald HARPER, a daughter, was educated in a residential school as were his three sons. It would be interesting to know which residential school these youngsters went to.
World War II
1939-1945
On Sept 4, 1939 Canada and Britain declared war on Germany, and almost immediately new recruits began pouring into Winnipeg to sign up with the Winnipeg Grenadiers and the Royal Rifles of Canada.
In 1941 Bella (nee FLETT) RATT died.
Son Howard joined the Canadian Armed Forces during the Second World War but he did not see action overseas.
On May 7, 1945 Germany surrendered and the War in Europe ended; the next day, May 8, is declared VE Day.
In 1950 only daughter Ruth married Donald Wilbert HARPER, son of Jane Mary SMITH and Gilbert HAEPER (1895-1973).

In 1954 son Howard married a lady named Thelma. They were divorced in 1972.
Son William married Mary CHASTELLAINE, daughter of Mary Ann SINCLAIR and John Orton CHASTELLAINE (1907-1972).
A 1971 article in the Selkirk Enterprise mentions Campbell RATT – "still detained in the Selkirk General Hospitsl". Another article in 1974: St. Peters Dynevor News by Amy Clemons ... Campbell RATT is now a permanent resident in the Selkirk Nursing Home.
On March 11, 1976 Campbell RATT died in the Selkirk General Hospital. He and his wife Bella were buried in the Old St Peters Church Cemetery.
Comments and queries at this link: FORUM DISCUSSING the FAMILY OF CAMPBELL RATT
========================== Family Details ==========================
Children:
1. 1913 ALEXANDER RATT
2. Oct 13, 1921 HOWARD CAMPBELL RATT (m. Thelma)
3. ROBERT "BOB" RATT
4. 1926 WILLIAM JAMES RATT (m. Mary CHASTELLAINE)
5. 1930 RUTH RATT (m. Donald Wilbert HARPER)