KENNETH GRAHAM "KENNY" STILL (1943-1982)
PHYLLIS DIANNE GOWEN (1944-Living)
(Last Updated: February 07, 2013)
Kenneth Graham "Kenny" STILL was born on Dec 7, 1943 in Selkirk, the last/ youngest child (of 9) of Bessie CONROD & Thomas James (Jim) STILL (1894-1980). ** MORE ABOUT THOMAS JAMES STILL
About two weeks before Kenny was born, his father (Jim) had re-enlisted with the Veteran Guards at Fort Osborne Barracks in Winnipeg where he was undergoing training. He came home just long enough to see his new baby boy before departing to serve as a guard in German prisoner of war internment camps in Ontario and Alberta. I (Gary) was only about four years old when Kenny was born, but I can still remember when he was brought home, one of the very first patches of memory still etched into this old brain.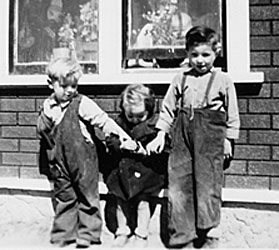 This photo was taken around 1945-46 at the old Still home on Sunnyside Road
Gary at left, Johnny at right. I'm not sure, but I think that might be Kenny in the middle
Most of the kids in Mapleton were from a 'poor' family in those days, the years when the whole country was only beginning to recover from the Great Depression, the "Dirty Thirties". Because everyone else was 'poor' too, it never really occurred to us as children that we were impoverished. Note the hand-me-down clothes we wore in those days.
It was not surprising that Kenny would one day become a mechanic. As a youngster he played constantly on an old well-drilling rig that had been abandoned in our yard by Ambroise PRUDEN who drilled our well.

Curiosity often got the best of him. One time he almost burned our chicken house to the ground when he lit matches on some chicken feathers, just to see if they would burn.
The mechanics of our old washing machine intrigued him too. One time when the machine was running, and his mother was in another room, he was poking about, curious as to how the thing operated. He managed to activate the roller and was pushing clothes into it. Somehow he got his fingers got caught in it. It pulled his whole arm into the thing, right up to the elbow. Needless to say, this terrorized him and his mother, who thought every bone in his arm must have been crushed. She had to quickly turn it off and had to dismantle the roller assembly before his arm could be extricated in order to rush him to the hospital.
A Childhood Trauma - A Wound that Never Healed
On March 23, 1949, a mine disaster (cave-in) occurred at the Starratt-Olsen Mine in Ontario that almost took the life of Kenny's brother, Ernest STILL. ** MORE ABOUT ERNIE STILL
Kenny was six years old when this terrible event occurred. He would always vividly remember when the telegram was delivered to the STILL home on Sunnyside Road. His parents (Bessie & Jiim) were unaware that he just happened to be playing in a closet nearby. It was Kenny and only Kenny who heard our mother's agonized wail of shock and horror when she first read the telegram. He also heard his mother shouting at his father in anger. Why had he allowed their son to go to work in the mines at such a young age? His parents almost never displayed such emotion. They had never before talked to each other in such a way.
This event would become a recurring nightmare that would emotionally plague Kenny for the rest of his life. It left a wound that would never heal.
Kenny occasionally kept a diary which I happened upon many, many years later. Here are a few quotes from his writings about his childhood (in his own words):  "I was a happy child with only the odd snatch of distress such as I will discuss later (Ernie's accident). For the most part it was idyllic. We were not a well-to-do family, but we were not in poverty either. - - I vaguely remember being quite concerned over having to go to school."
Kenny later accompanied his mother and Ernie's wife (Yvonne) when they went to visit Ernie in Toronto where he was hospitalized and undergoing surgery.
A Passion for the North Country
1956 was the year that I (Gary) got my job with the Hudson's Bay Company as a clerk at the outpost of Weenisk on Hudson Bay. Kenny was an impressionable 12 year old then. From my letters, and from my tales of adventure when I returned home, he developed a desire to emulate my own experiences and my passion for living at remote places of the far north. In his later life he would fulfill those ambitions in his own way. ** MORE ABOUT GARY STILL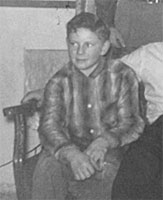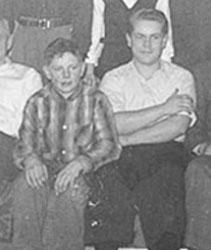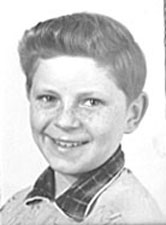 L-M: Kenny & Me just before I left for Weenisk in 1956 - R: Kenny age 12 (school picture)
In his teenage years, some of Kenny's close friends were the KITCHEN brothers (Wayne & Doug), Dick & Doug McKENZIE and Donald GOWEN. His best friend was George FREEMAN. He and George were your typical rebels without a cause; they and their girl-friends were rapscallions of the first degree. I often used to think of that 'Bonnie & Clyde' and the 'Barrow Brothers' typified their characters. 'The Adventures of Tom Sawyer & Huckleberry Finn' also reminded me of their exploits.
Nightmares & Hallucinations
Almost all of the STILL brothers developed a boozing habit that began in their teen years. Kenny was no exception. I know only too well of the deep depression that often results from a weekend binge.
Ken served a relatively short stint in the Army.
Ken gained an Auto Mechanic's Licence.
In 1963 I (Gary) began to work with Forestry Canada with headquarters in Winnipeg.
Marriage to Diane GOWEN
1965
On Jan 23, 1965 Ken married Phyllis Diane GOWEN, daughter of Bernice McKENZIE & George GOWEN (1911-2000). ** MORE ABOUT GEORGE GOWEN
Daughter Liz Anne was born in the spring of 1966; son Kyle was born in 1969.
In 1970 I was moved to Alberta which became my home during the rest of Kenny's life.. In the spring of 1971 I returned to Selkirk to marry Eldred THOMAS. Thereafter I didn't see much of Kenny and his family. I was only in Selkirk during my summer travel seasons with Forestry Canada; I travelled extensively, with only brief stays in Selkirk.
In the early 1970's, Ken and his family lived in a manufactured log house (Pan-Abode) west of Petersfield. I remember visiting them when Kyle was just a tiny youngster.
For a number of years Ken (and Dick McKENZIE) worked at Holmes Auto Service at Lockport (owned by Elmer HOLMES). During that period he and Dick built a stock car that they raced at the Brooklyn Speedway in Winnipeg.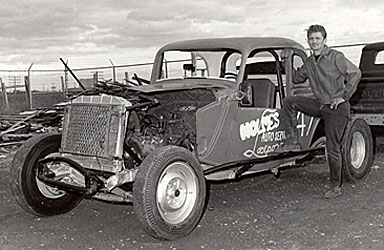 Ken & Dick McKENZIE jointly (Ken-Rich Enterprises) owned their own Service Station across from the Manitoba Rolling Mills (MRM), and later another business near the Sand Plant north of Selkirk (I hope someone will provide me with more details).
Kenny, an original Ice Road Trucker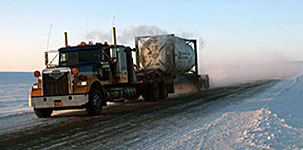 Kenny ought a semi-truck-trailer (Kenworth) and worked with Kap's Transport.
For a time he was a truly original Ice Road Trucker
Watch this Video
The Flying Bandit Provides Inspiration
Kenneth LEISHMAN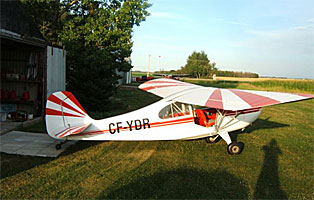 After gaining a flying license Ken bought this Cessna aircraft.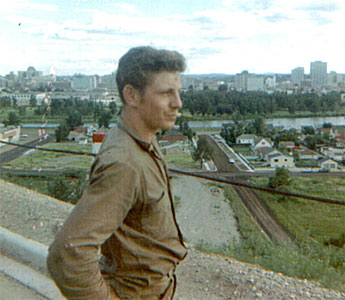 Kenny at Yellowknife, NWT
(Photo courtesy George Freeman)
Telefilm Canada: Family man. Escape artist. Bank robber. Ken Leishman: The Flying Bandit tells the amazing story of the man who masterminded both the biggest gold heist and the biggest jailbreak in Canadian history. Earning his nickname with his daring airborne getaways, LEISHMAN was an unforgettable character from the turbulent 1960s - a true Canadian folk hero.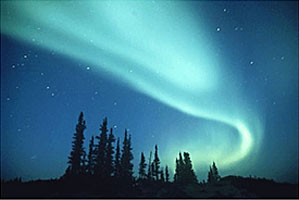 Northern Lights, the Aurora Borealis
On Dec 16, 1980, Kenneth LEISHMAN was declared legally dead at the age of 48. He left behind his wife of 30 years, seven children and quite a legend. His obituary, which makes no mention of the time before his release in 1977, includes a poem written that appeared in the Winnipeg Free Press on May 7, 1980. Kenny read Leishman's poem and was touched by the way it reflected his own affection for the North Country. ** MORE ABOUT KEN LEISHMAN in Wikipedia
Leishman's Poem
The day's are long and endless
And the sun does not take rest
Tis a barren hostile country
And man is put to test.

Yet there's a compelling remote beauty
In this land so fresh and clean
With it's waters pure as crystal
And trout that few have seen.

I've drunk of nature's beauty
And I've suffered natures pests
I've co-existed with God's creatures
And I've met and passed the test.

But this is a land of special beauty
It's a land for special men.
When I leave I'll do so gladly
But I know I'll come again.

I'll bear memories of kind people
Of sunsets without end
I'll respect and fear the northland
And I'll do so as a friend.
Kenny was so inspired by LEISHMAN's poem that he tried to compose one of his own.
Oh Canada Goose
Refrain from Kenny's Poem
Oh Canada goose, your daddy's loose
And your mothers off and flying
Like the tall oak tree you've gotta be free
Can't settle down for trying.

On Nov 16, 1980 Ken's father (Jim) died at the age of 86.
A Foreshadowing
In 1981 Kenny was working in the NWT with the PURVIS Brothers (Hay River – Aklavic). During the winter of 1981-82 he dropped in for a visit at my home in Devon, Alberta. He was on his way home from his latest stint in the far north. I was delighted! I hadn't seen him for several years. I rarely did much boozing since I got married and had kids, but somehow this seemed to be an occasion to let loose. We drank whisky, played our favourite old country songs and chatted long into the night, philosophizing and reminiscing about the 'good old days'. This was the last time I would ever see him!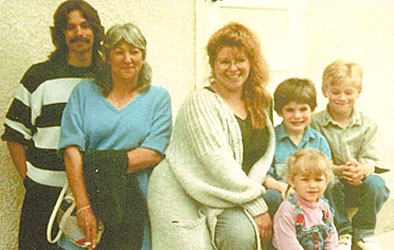 Dianne with  Kyle, Lizanne and Grandchildren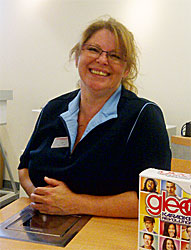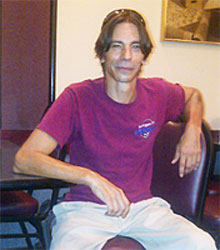 Lizanne & Kyle in 2012
One of Kenny's favorite singers was Johnny Cash. Whenever I hear the following tear-jerker, it makes me  think of Kenny.
This Page is under construction
As further details (and pictures) are found this page will be updated. To share stories and information about Kenny, please do so at the following link:  DISCUSSION FORUM re KENNY STILL
============================= Family Details =============================
Children:
1. 1966 ELIZABETH "LIZ-ANNE" STILL
2. 1969 KYLE STILL